How to Disable Notification Badge in Samsung Mobiles
How to disable notification badge in Samsung mobiles? If you are getting problems due to the read and white combo badges on any Samsung mobile, here is how to solve that issue. These days, Samsung is progressing effectively. Numerous cool new smartphones and phablets are already launched by Samsung. Basically, Samsung is in demand because of reasonably priced smartphone and tablets. In terms of features and hardware, there are very rare competitors out there of Samsung.
Every mobile company comes with several unique features and those features are obtainable only in those manufacturer's mobiles. There is no exception to Samsung mobiles. Samsung mobiles and tablets include a handy feature, which is called Notification Badge. Notification Badge basically designed for making your smartphone smarter by showing all unseen notifications.
What is Notification Badge in Samsung mobiles?
Notification Badge is nothing but a tiny feature that can show unseen notifications on the app. You will get the number on the respective app icon that will indicate the number of unseen notifications. For example, if you have SMS app and you haven't read 3 email, you will get 3 with a red circle on the app icon in your menu.
Problem:
This is a great feature indeed. People can use this feature to check whether they have any unseen notification or not without even opening the app.
However, sometime, when you have unseen notifications of all apps, you will get the Notification Badge on all apps. Some people take it a good thing when rest of the people think this is really awkward. And actually, it is.
There are also some other Samsung users, who do not like this awkward Notification Badge. If you are one of them and want to disable Notification Badge in Samsung mobiles, here is a solution.
Disable Notification Badge in Samsung Mobiles
The most beautiful thing is you do not have to install any third party app in your mobile to get things done. There is no need to root your mobile either. Although, the option is not available as user friendly manner, but the option is included by Samsung itself.
There is a background process called BadgeProvider, which runs in the background all the time. In one hand, it shows pending notifications and in the other hand, it consumes battery a lot. Although, this is not a battery killer, yet it consumes a lot of battery.
To disable Notification Badge, all you need to do is to disable BadgeProvider. To do so, do follow these steps,
At first, open Settings. Then go to Applications and Application manager. After that, you have to show all system apps. For that, tap on the More button and select Show system apps.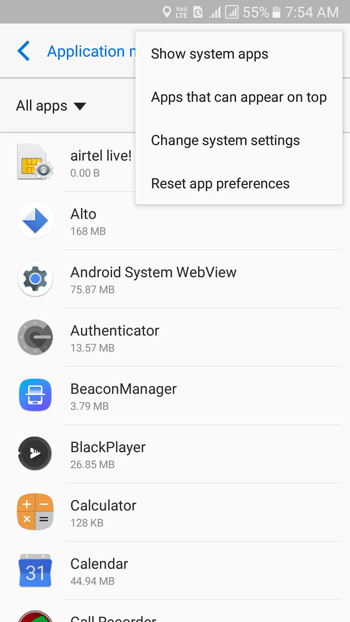 Following that, scroll down and find out BadgeProvider. Tap on this to open the settings. Now, tap on FORCE STOP and stop the BadgeProvider process. After that, go to Storage settings and hit the CLEAR DATA and DISABLE buttons respectively. After that, you will have to restart your device.
After restarting, you will not find any Notification Badge. Hope this tutorial will help you a lot.