How To Import LinkedIn Contacts To Gmail
Your LinkedIn profile is a valuable asset for your professional career, it helps you find and connect with like minded people who are on the same career path as yours. Overtime, as you switch employers and companies, your LinkedIn address book grows and you have a good list of friends and professionals whom you would not want to lose.
There is a strong reason why I would suggest you to backup and export contacts from LinkedIn, Facebook and other social media accounts and import them in your email account. Let's say you are friends with a very good contact who is a recruiting manager in one of your dream companies. You interact with this person often, send him personal messages, comment on his updates and interact quite often. You do not know his email address but you are just friends with him on LinkedIn.
After a few months, you see that the contact is missing from your LinkedIn profile. As it turns out, either the person has deleted you from his network or he has shut down his LinkedIn account which means now there is no way you can contact this person or send him an email. However, if you had a backup file containing the email addresses or phone numbers of all your LinkedIn friends, you still have the chance of contacting this person.
Export LinkedIn Contacts As A CSV FIle
Unfortunately, LinkedIn has no easy way to migrate contacts from LinkedIn to Gmail directly from the web. You have to export all your LinkedIn contacts as a CSV file and then import the whole list into your Gmail account or Google contacts.
Here is how to backup LinkedIn contacts and export the backup as a CSV file, which can be used later on:
1. Login to your LinkedIn account and go to the "Contacts" page.
2. Clicking the small "Select all" option will select all your LinkedIn contacts.Once that is done, scroll down and click "Export connections" at the bottom of the page.
This is important. If you want to export the contact details of selected LinkedIn friends, you can do so by removing contacts from the right sidebar. There are different options to sort LinkeIn contacts by companies and connections, so you can filter by company name and export LinkedIn contacts from a specific company or employer.
3. In the next page, choose "Export to Microsoft Outlook (.csv)" and hit the "Export" button. This will export all your LinkedIn contacts into a CSV file, which you can save in your computer's hard drive.
Import LinkedIn Contacts To Gmail
Now that you have successfully downloaded a backup of all your LinkedIn contacts, it's time to import the whole contacts list in your Gmail account. Before you import LinkedIn contacts to your Google account, here are a few things you should know
First, the backup file will have the following fields for all contacts that are connected to you on LinkedIn
Job title
First Name
Middle Name
Last Name
E-mail Address
Address
City
State
Postal Code
Country
Company
Website
Second, you might end up with some duplicate contacts in your Google account, these are the contacts which you already know and have them saved within your Gmail account. But that is fine, you can easily sort duplicate contacts in Gmail and merge them into a single contact.
Now back to importing a CSV list of LinkedIn contacts in your Gmail or Google account:
1. Login to your Gmail account, and click the "Gmail" drop-down right below the Google logo. Next, choose "Contacts"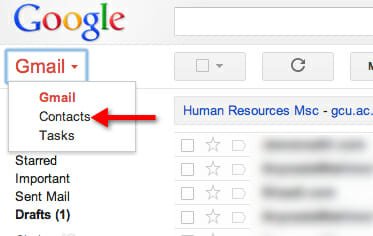 2. Next, click "Import contacts" from the left sidebar and then choose the csv file which you exported from your LinkedIn account.
3. Hit "Import" and you have successfully transferred email addresses of all your LinkedIn friends and contacts to your Google account.
The only problem with this approach is of course it is manual and you have to do it time and again to ensure that all your LinkedIn contacts and Gmail contacts are in sync. For example, once in every 6 months, I clean up unnecessary friends from my social media accounts (Facebook, Twitter, Google Plus, LinkedIn) and merge contacts from all my social accounts into Gmail. I do this because I don't want to lose a contact, if the person decides to shut down his LinkedIn account or Facebook account for some reason.