Apple iPad Pro vs Microsoft Surface Pro 4 : Which is Better?
The famous software companies Apple and Microsoft had their big events this year. Both released some cool new devices, tablets are one of them. While Apple released their brand new iPad Pro on September, Microsoft had launched Surface Pro 4 couple of days ago. People are now looking at these devices together because they have some common features, though they differ in some areas. Apple had adopted a keyboard and a stylus this year for the first time in a tablet, which are already present in Surface Pro 4. So these two make some interesting comparison. If you want to buy a tablet this year but in confusion, this post would help you to chose which one is better.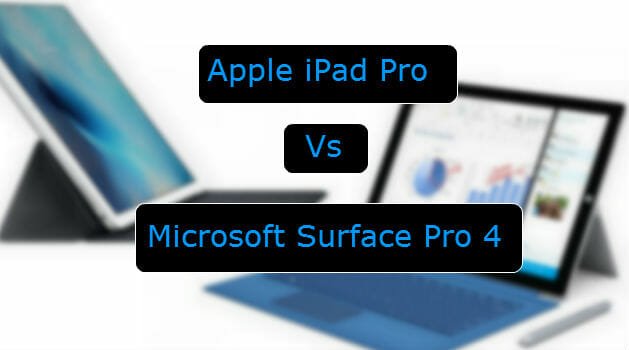 Lets compare specs on paper first.
Dimensions and Display
Both devices came out with wide screen huge displays this year. Microsoft's surface Pro display may look ordinary in its line, but iPad Pro's display is a huge improvement from it's predecessors. It is a larger tablet that ever built by Apple.
Surface Pro 4 has a 12.3 inch PixelTouch display with 2736×1824 resolution at 267 pixels per inch, whereas iPad Pro has 12.9 inch retina display with 2732×2048 resolution at 264 pixels per inch. As one can see both are Quad HD crispy displays with great viewing angels.
Coming to dimensions, iPad Pro has more length and breadth than Surface Pro 4. But surprisingly, it's thinner than Surface Pro 4 and weighs much less than it. If you look at both devices as tablets, iPad Pro wins with its design and dimensions, since weight is one of the important factors while using it as a tablet.
Technical Specifications and Performance
Both devices run the latest version of OS by their respective companies. iPad Pro runs iOS 9 where as Surface Pro 4 runs Windows 10. Coming to processor, iPad Pro comes with super fast Apple A9x chip with M9 motion co-processor, where as Surface Pro has different variants depending on the processor it has. It comes with Intel m3, i5 or i7. No doubt that iPad Pro runs blazingly fast with it's super fast processor, Surface Pro 4 also has runs very well with Intel's latest processors without any lag.
iPad Pro has 4GB RAM which would improve this guy's performance to handle some high end processing. Surface Pro 4 came out with variants in RAM, it has 4GB/8GB/16GB variants. Coming to Storage, iPad Pro is available on 32/128 Gigs of storage, whereas Surface Pro 4 has more storage options such as 128/256/512/1024 Gigs.
Camera
Both devices got 8MP primary camera on the back. However, Apple is known for giving some great photos with less pixels with amazing processing inside. So, one can expect that iPad Pro would give lot more crispier shots. Coming to front camera, iPad Pro has 1.2MP sensor, whereas Surface Pro 4 has 5MP shooter.
Both devices are capable of taking 1080p HD videos with their sensors.
Battery
For a tablet, battery backup is an important consideration while buying one. In this department, iPad Pro wins with 10 hours of battery backup. Even though Surface Pro 4 is capable of 9 hours of video playback, it would also give some good battery life. Again, battery life depends on usage also. Overall,both devices are capable of delivering good experience.
Sensors
For tablets, sensors also play an important role. iPad Pro has sensors such as three-axis gyro, Accelerometer, Barometer and Ambient light sensors where as Surface Pro 4 has Ambient light sensor,Accelerometer, and Gyroscope sensors. iPad Pro has Touch ID sensor for security.
iPad Pro comes in two variants such as Wi-Fi variant and Wi-Fi + Cellular Variant which supports Apple SIM, which allows us to use iPad Pro with a SIM card data connection. iPad Pro has Bluetooth 4.2 technology, and supports Wi-Fi (802.11 a/b/g/n/ac). However, Surface Pro 4 came out with Bluetooth 4.0 wireless technology and supports Wifi (802.11 a/b/g/n). Clearly iPad Pro has more facilities than Surface Pro 4.
Other Features
The interesting reason to compare iPad Pro with Surface Pro 4 would be the new accessories with which iPad Pro came out this year, which are already been there with Surface Pro series.
Surface Pro 4 has accessories such as a keyboard which lets you connect to the device and use it as a laptop comfortably, and a stylus which is known as Surface Pen to perform some cool tasks such as drawing, taking notes using Microsoft One Note, Waking up Cortana etc. Both are available in different colors. More info can be found on accessorieshere.
This year Apple had announced their tablet with some cool accessories. Now iPad has Smart Keyboard with smart connector which means you can use it as a laptop if you want to.
Apple also introduced a stylus, it's called Apple Pencil. It is a stylus with multiple pressure sensors.This can be useful while drawing something, as you can apply different pressures to get different shades.
The only difference between two styluses is Apple Pencil needs to be charged, it has a port on top. So you have to take care of that.
Both devices had their own Voice Assistants Cortana, Siri embedded inside. So, both will be able to respond to voice commands and perform some tasks.
Unique Features
iPad Pro:
Along with Wifi, iPad Pro has support for Apple SIM which enables you to select data plan and use with Apple SIM supporting carriers even though you don't have wi-fi.
iPad Pro does handle multi media very well. It can easily view and edit some crispy 4K videos without any lag. As I said earlier, it's asset is it's retina display.
It has Touch ID, which means you can use your fingerprint to unlock the device.
With it's bigger size, this might look weird for some people to use it as a tablet in hands, with it's new accessories, it can be used as a laptop, and deliver fast performance without any issues.
iPad Pro is available on different colors: Silver, Gold and Space Gray
All unique features you get with iOS9
Surface Pro 4:
Surface Pro 4, as it's always been, is a great tablet/laptop.
It has Windows Hello feature, with which you can authenticate yourself with your smile
Even though both devices has keyboards and styluses, Surface Pro 4 can be customized as we want because it's accessories are available in different colors
Now the important question,
Which one is better?
Deciding which one is best between the two is not straight forward and depends on one's interests and needs. The platform (Windows or iOS) you are comfortable with also plays a key role here.
Even though both devices have some great specs, they have their own strengths and weaknesses. One has to take care of price bracket which they belong to. 32 GB iPad Pro is priced at $799 and 128GB is priced at $949, where as 128GB with 4G will cost $1079. Smart Keyboard and Apple pencil will be sold separately, which cost $169 and $99 respectively. Surface Pro 4 starts at $899, keyboard being sold separately. Surface Pro 4 coming out with variety of options than iPad Pro with different processors and storage capacities, so one can chose depending on interest.
What would you want to buy between the two? Do let us know in comments.