Specifications and first impressions of Microsoft Surface Pro 4
Microsoft just announced their 4th successor in surface pro series which is a combination of a tablet and a laptop. While Google and Apple already had announced their tablet devices – Google pixel C and iPad pro, this new announcement got everybody's attention. This hybrid device got some cool features and improvements from its predecessor surface pro 3. It's lighter, thinner and more powerful. Let's take a look at specifications and see whether it would be able to stand in the competition.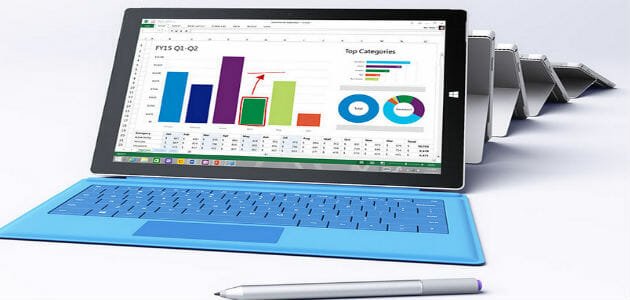 Body and dimensions
The new surface pro 4 built with Magnesium casing. It's available on Silver color and embedded volume rockers and power button.
It's a curved rectangular tablet with 292.1mm length and 201.42mm breadth and only 8.45mm thin. The weight of this guy varies depending upon which processor it has inside. It's available with 6th Gen Intel core m3, i5 or i7. The wights are 766 grams (for m3 variant), 786 grams(for i5 variant) and 786 grams (for i7 variant).
Display
The new surface pro 4 has got a 12.3 inch display which is an improvement from last year's pro(which was 12 inch) with 2736 by 1824 resolution with 267 ppi(pixels per inch) with 3:2 aspect ratio having 10 point multi-touch capability. The company claims that the display got equipped with PixelSense technology with extremely high contrast and low glare.This would give some nice display with better viewing angels.
Operating System, CPU and storage
This guy got latest Operating System Windows 10 Pro which comes with all latest features including Cortana, Microsoft voice assistance. You can actually use Surface Pen to activate it by holding the button. It also has Office 30-day trail pack included.
As I mentioned earlier, this Surface Pro 4 is available with different processors. Intel 6th generation Core m3, i5 or i7. It is available with 4GB, 8GB or 16GB RAM. On paper these specs would run new Windows 10 very nicely handling multi tasking without causing a single lag. It comes with 128GB, 256 GB , 512 GB and 1TB storage options as well.
Camera, Audio and Video
This device got a 8MP rear facing auto focus 1080p HD camera on the back, which is an improvement from it's predecessor's 5MP sensor. The front camera is same as last year with 5MP HD shooter. Even though these sensors are not best in the world, they would justify the needs of taking some good photos and video calling.
The device got Stereo microphones and stereo speakers with Dolby audio which would deliver some good amount of listening experience to the users.
Battery
The company claims that the device is capable of delivering up to 9 hours of video playback. This would give some better battery performance on the device and would last all day, as said by the company.
Unique features
Surface Pro series gives its users the experience of both tablet and laptop with single device. You can fit the keyboard to the device to use it as a laptop, and remove it if needed be. Even though it's got bigger display this time, you can fit pro 3 keyboards as well to this device. It's got a finger print sensor also on the front.
It comes with a stylus known as surface pen which allows users to do a bunch of things. You can activate Cortana to use the voice assistant, take notes using Microsoft One note with one click along with what you can do with a stylus. This time the stylus comes in different colors as well.
Now the big question,
Can this device replace a laptop?
The company promotes this device as a tablet that can replace your laptop. But can we use this as our daily driver?The answer to this question is not straight forward. The device comes with starting price of $899 (keyboard sold separately), which is expensive. There are some good laptops with good amount of specs are available on the market with lesser price in India. But if you like its features and money is not a big question for you, you can definitely try this out, this thing won't disappoint you.