KineMaster – Best Free Video Editor for Android
Although, today's smartphone can capture high-resolution images and record awesome videos with the help of a high-tech camera, but sometimes those images need a distinct effect to look better. You know that most of the Android smartphones have reasonably good camera by which users can capture photos and record videos easily.
However, when it comes to video editor, Android was left behind other platforms. iOS come with some high-quality video editing app. On the other hand, Windows, Mac etc. have tons of awesome and convenient video editors such as Camtasia (basic editing) and more others. However, now it's time to present a great video editor for Android so that you can give an extraordinary effect to your images and videos.
Introducing KineMaster for Android
KineMaster is one of the best video editors for Android that is obtainable for free to download. KineMaster can be downloaded and installed on Android 4.1.2 and later version. So, do check your phone's Android version before trying to install it.
Before started editing a video doing anything else, you should know that KineMaster is not 100% free. Even though, you can download it for free but you cannot export the edited video at free of cost. You have to purchase a subscription to get things done.
Features of KineMaster
KineMaster can do a professional editing for you. Although, there are some other video editors for Android but you cannot find all the KineMaster's features in them. This is where KineMaster excels.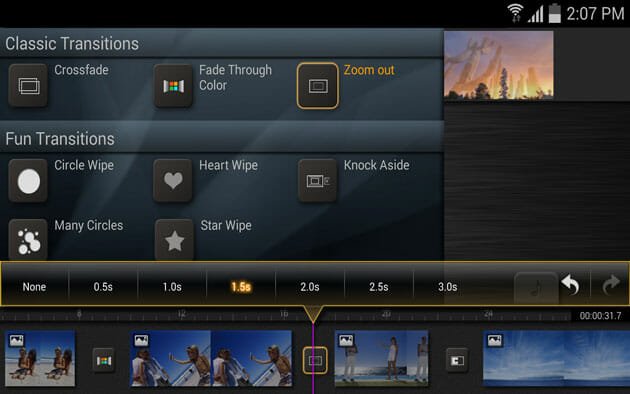 Create Slideshow
By making use of KineMaster, you can easily create awesome slideshows within minutes. All you have to choose the images before started doing anything with the app.
Merge Video and Image
Generally, most of the video editing apps do not let users do this. They work with either images or videos. Nevertheless, KineMaster can aid you to merge and work with both formats.
Add Starting and Ending Theme
Suppose, you are creating a slideshow with your last football match's pictures. At such time, if you want to add a starting theme that contains a football related preset, you can do so using this editor. The same thing can be done at the ending.
Adjust Brightness, Contrast
Usually, most of the video editors allow you to adjust brightness, contrast etc. of all images. But, KineMaster can help you to adjust them one by one.
Add Handwriting
If you want to add your own writing on the image or video, just select Handwriting and start writing. This is as simple as said.
Transition
The most useful thing of any video editor and must have thing for creating slideshow. You can get tons of transitions in KineMaster app for Android. With the help of those transitions, you can easily give a special effect to your regular video.
There are more other features in KineMaster for Android. You can get them once you download. So, don't waste your time and download it right away. If you need a detailed user manual, do check the following video.
Hope you have liked it. Do share your opinion with us.