How To Know The Release Dates Of Movies, Music Albums And DVDs
To know the release dates of a movie, game or a book, all you have to do is "Google the name", go to the official website and find when a particular movie, book, game or DVD that is coming to the market. It works most of the time but how do you find out which movies are releasing next week? How do you find out when your favorite author is going to release his next novel or when your favorite band is going to release a new music album?
It is almost impossible to check the official websites of each and every organization manually, every single day.  Subscribing to news sources or blogs is an option but sometimes, they spread wrong information about the release dates, just  to attract eyeballs.
In this tutorial, we will discuss some ways to know the release dates of an upcoming movie, book, music album, DVD's and games. This applies not only to upcoming releases but to the already released stuff as well.
Use Google To Know The Release Date Of a Movie
Google does a neat job in accumulating the sources which claim that they have the information when a movie or a music album is going to be released. Most of the times, the result is pretty accurate.
Use the name of the movie followed by the words "release date" (without quotes) and Google should have the answer.
The above method is useful when you are enquiring about a specific movie. But there can be situations when you don't know the exact name of the movie or want to know which movies are going to hit the theatres this month or the next month. That's when you need the release date section of comingsoon.net.
This site does a pretty decent job in organizing the names of all movies that are scheduled to release in the current calendar year. You can click through the months and see which movies are releasing the next month, the month after and so on. [see example]
The ImDb website is again another trusted source to find information regarding upcoming movies and know their release date. The good thing regarding IMDb is that you can watch a small trailer and read a brief preview of the story before you make up your mind that this is the movie you are going to watch on the weekend.
IMDb has a large collection (1.5 Million) of previous movie titles and TV shows and you can sign in with your Facebook account to add movies to your "watch list". Android users might want to install the free IMDb app, which sends instant notifications when the release date of a movie is changed [see example].
Know The Release Dates Of DVD's, Music Albums And Videos
Just a simple search at YouTube and you will find a dozen trailer videos of upcoming music albums or a DVD, which is not available in the market or out of sale. On most occasions, these pre – release videos are either captured from Television advertisements or they are downloaded from pirated websites, torrent and are not official in nature.
To know when a particular DVD or music album is going to hit your nearest retail store, use VideoETA.com.
VideoETA houses a wealth of information about release dates of music albums, music videos, blu ray discs and DVD's. You can read a brief synopsis of the product before buying it and can also subscribe to email alerts when an upcoming DVD is about to get released for sale. Movie insider is a similar website but not as comprehensive as Video ETA, which has information about all kinds of videos, not limited to only movies.
This article would be incomplete if I don't mention Whatsoutt.com.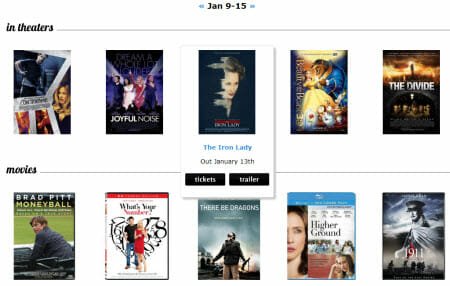 Whatsoutt is a really fun way to explore all the recent movies, videos, books, games and albums that is going to release in a couple of weeks. Everything is shown in a single page and it is an ideal match for someone, who wants to find new stuff, be it a book, a computer game or a movie.
Whatoutt provides web links to purchase or pre-order an item from Amazon or iTunes store, the moment it is released to the market. You can subscribe to email notifications and the site will alert you when a movie, music album, game or a book has just been released by its publisher. Compared to other sites, Whatsoutt provides a really clean and clutter free interface but then, it is limited for releases up to two weeks only.