Most Useful Windows Apps For Students
If you are a college or school student and you want to do more with your computer, you should install these apps on your Windows computer. No matter whether you want to give a test or get some problems to solve, you can find these apps very useful. From taking study notes to improve your skill to increase productivity, these apps are capable of doing everything on demand. Some of the apps are available for free, and some of them are paid. However, you do not have to pay a huge amount of money since they are very affordable.
Most Useful Windows Apps For Students
1] Grammarly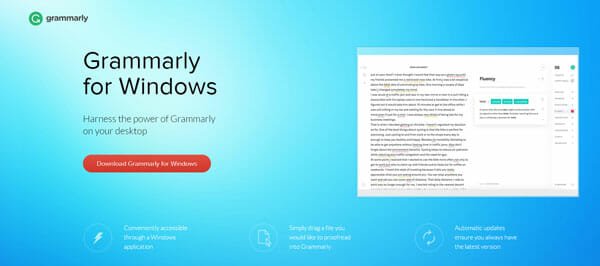 When you are writing a project for your graduation or something else, you should make it 100% error free. This is quite important apart from including information. Grammarly is such an app that lets you check the grammar for you and inform you when something wrong is written in the project. The best thing about Grammarly is you can install it as a dedicated tool, but you can use the add-on to use it directly with Microsoft Word and other Office tools. It saves a lot of your time by checking the grammatical mistakes within moments. You can just review the problems and rectify them according to your wish. This tool is not available for free, and it costs around $20 per month.
2] Microsoft Word/Excel/PowerPoint
Microsoft Office is a very important package for anybody. No matter whether you are a student or office employee, who needs to create some presentations for projects and all, you can certainly use the Microsoft PowerPoint. Like that, you can use Microsoft Word to write text and Excel to create spreadsheets. No matter wherever you go, you must have to create some spreadsheets. From school to college to the workplace, spreadsheet won't leave you. That is why Microsoft Office package is anessential tool for every student. You should learn how to use Excel so that it won't create problems in the future. On the other hand, you can use Microsoft Word to write texts and all. As you are a student, you should get a discount against your college or any other educational institution. However, if you want to purchase the regular subscription, $100 per year.
3] Google Drive and Docs/Sheets/Slides
If you do not want to spend money on Microsoft Office, you have two options.
Google Drive and Docs/Sheets/Slides
Microsoft OneDrive and Word/Excel/PowerPoint Online
Although the Microsoft package is pretty good, Google's package tops the list every time. As Google Drive offers more storage, and the tools are up to the mark for a student, you should try Google Drive alongside Google Docs, Sheets, and Slides combo. If you have a Gmail account, there is nothing else required. Also, you can use them for free. In case you need more storage, you can opt for the paid version, which is very affordable for student as well. The user interface of those Google tools is pretty good, and they come with all the essential options. However, you cannot access them as a dedicated app, but you can use them via a browser.
4] OneNote
As you are a student, you need to take care of a lot of things including your upcoming projects, notes, homework, etc. If you often forget important things, you can try a note taking app. Obviously, Evernote is a pretty good solution, but you need to pay some money to use it on more than two devices. On the other side, OneNote is available for free, and you can use it on as many devices as you want. The UI is pretty neat and clean. You can use it on Windows, Android, iOS, Mac, etc. In fact, it has a web version too.
5] Wunderlist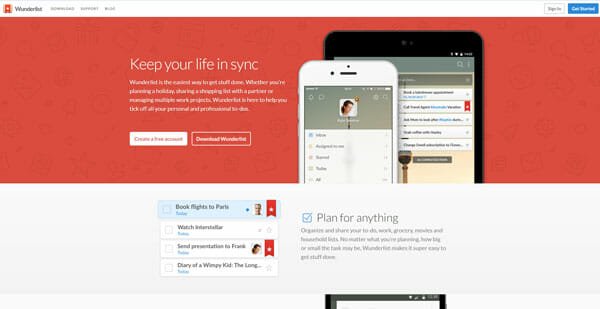 A note-taking app is always required. However, if you are working on a project and you need to do some important things for the project, you should use a list making an app or to-do list app. A list-making app aka Wunderlist helps you consolidate everything under one roof so that you do not forget anything. Wunderlist is available for free for Windows computers. You need to create an account so that you can synchronize your notes across multiple devices.
6] myHomework
Do you want to track your homework? As the name suggests, myHomework lets you do that with ease. It doesn't matter whether you are studying in a school or college, you can certainly use the myHomework app to track your class schedules, homework, assignments, and so forth. It is available for multiple operating systems including Windows. The free version comes with ads alongside class tracker, assignment tracker; free synchronize across multiple devices, upcoming homework widget, and more others. On the other hand, the PRO or PREMIUM version costs $4.99/year, and it has themes, file attachments, external calendar access, and more others. If your teacher is using Teachers.io, you can get the assignments and homework directly to the myHomework since fetches data from other apps as well.
That's all! There are more other apps for students. However, these are some of the best free and paid Windows apps for students.