Best Camera Tips And Tricks Of Redmi Note 7 Pro
Redmi Note 7 Pro is the first mobile that comes with a 48MP rear camera with AI support, and it is powered by Sony IMX586 camera sensor. In simples words, it has a beast on the rear side so that users can capture more than awesome photographs and record detailed video. As the price of this mobile is not that high, budget mobile users have already grabbed it. If you have purchased this mobile and you want to use the camera to capture image or record video but you want to learn first, you can check out these camera tips and tricks of Redmi Note 7 Pro.
Enable 48MP Camera
Countless people have purchased this mobile just for the camera. Redmi has successfully integrated such good camera in a so low range mobile. However, the problem with this camera is it doesn't use the 48MP sensor all the times. By default, it uses a 12MP camera. Therefore, if you want to get the most out of your mobile's camera, you must need to enable the 48MP sensor. This is pretty easy, not much time consuming, and you do not need expert knowledge to activate it. If you want to enable the 48 MP camera option, you need to open the Camera app > tap the button that looks like three horizontal lines > select 48MP option. One thing you should keep in mind that this 48MP camera is option is available only for Photo and Pro modes.
Disable Photo Watermark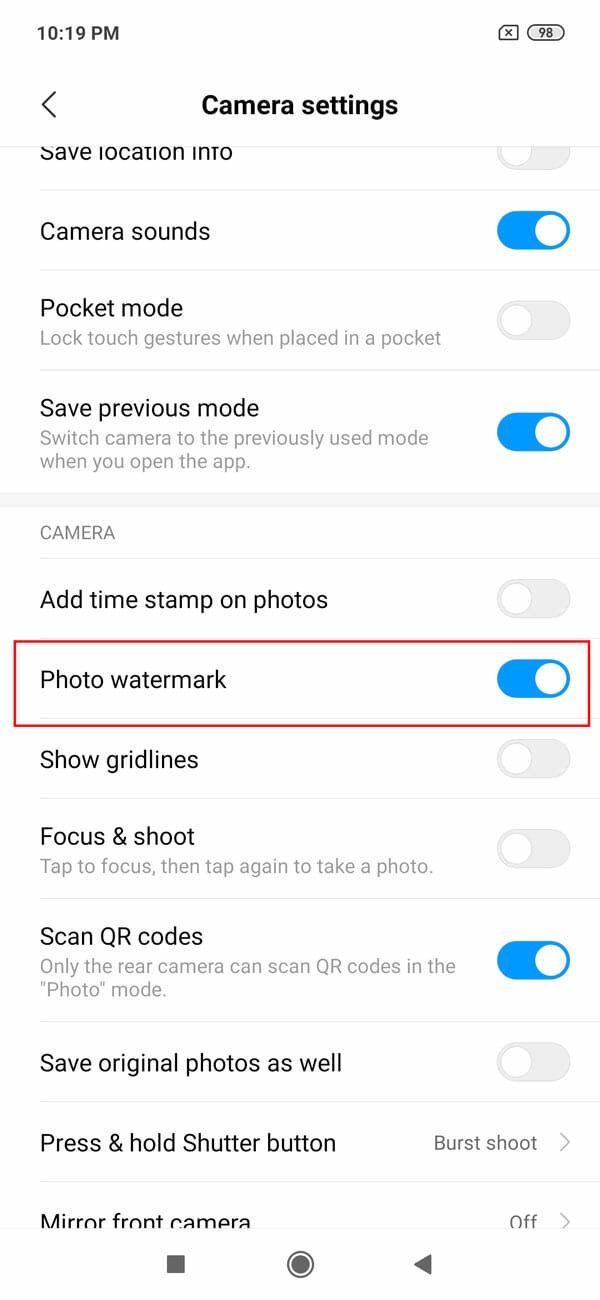 Previously, only digital camera users used to get the watermark or camera information on the photo. However, nowadays mobile manufacturers have started adding the same. They do it just for promotion. There are many people, who like to get a watermark. However, if you do not want to get the watermark on your image, you can disable it. For that, open the Camera app and go to Settings. Now you should find an option called Photo watermark under CAMERA section. Use the toggle button to disable this functionality.
Mirror Front Camera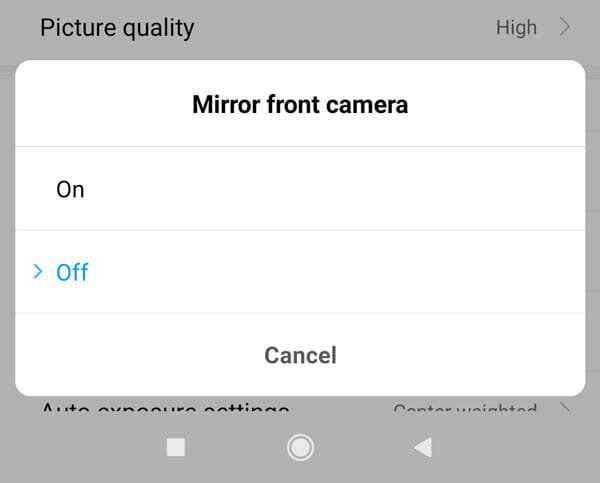 When you capture a selfie using your front camera, the background looks like a mirror reflection. In other words, everything turns into the opposite side. You can understand it better if you capture numbers or words or something like that. If you do not like that feature, you disable the Mirror front camera option and get the perfect photograph. To do that, open Camera settings in your mobile and find out Mirror front camera option under CAMERA section. Make sure it is turned off. Otherwise, everything will get in the opposite direction.
Change Camera Frame And Image Quality
As it has a very good rear camera with such an awesome sensor, the manufacturer offers some options so that users can set it up properly to get the best photo. This is possible to alter the default camera frame size and picture quality. For instance, if you do not have a good amount of storage, you can choose the low quality. Obviously, the image quality won't be as good as High, but it will get the job done. To change these settings, open the Camera settings and go to Camera frame option. From here, you can choose either 4:3 or 16:9. The second option is Picture quality. From here, you can choose High, Standard, and Low.
Use Hidden Editing Features
Redmi Note 7 Pro comes with a huge amount of options to edit a photograph. The best part is every single mode has a specific set of features that appear only when you open an image. For example, the Portrait mode has some very handy option such as blur level adjustment, lighting management, studio lighting, and so on. To use them, capture someone's face using the Portrait mode and open the photograph. You should find a button like this-
Tap on it to show all the options as mentioned earlier.
Night Mode
Note 7 Pro is the first Redmi mobile, which comes with Night mode. If you are familiar with this, skip this part. Otherwise, read on. Night mode helps you capture a photo with more ISO and shutter speed. There are many times when we need to capture a photo in a very low light area. At such moments, high ISO and higher shutter speed can be your companion. Night mode does the exact job. Therefore, you can use this night mode functionality of your mobile to capture better photo in low night surroundings.
Adjust Video Recording Options
This mobile offers a lot of option so that you can record a top-notch video. Although the factory settings are pretty useful, not all the people like them. Therefore, open the Camera settings from the Video section and go to VIDEO. Here are you can find some options like these
Image stabilization: If you do not have a tripod or a steady hand but you want to record moving object, or you want to use this phone as a vlogging camera, you should enable image stabilization.
Video quality: It does support 4K video recording at 30FPS. However, the default setting allows users to get 1080p video. Therefore, if you want to change the default video quality and frame rate, open it and change it accordingly.
Video encoder: It has two options, i.e., H.264 High capability and H.265 High performance. If you are using recording a video with high wind blast, use the second option. Otherwise, the first option is good enough.
Video HFR: Video HFR or High Frame Rate can be changed on this mobile. It is helpful when you need to capture a slow-motion video. It offers two options and they are 720p 120 FPS and 1080p 120 FPS.
Time lapse interval: As you have already seen that it lets users capture time-lapse video. You can choose the capture interval from this page.
Hope these simple tips and tricks would be helpful to get the most out of your phone's camera.