How to Schedule SMS on Android and iOS
Do you use SMS a lot? Although, this is the era of instant messaging, still thousands of people use SMS to be connected with friends, relative and colleagues. If you always need to send SMS to notify something to someone or to remember something to someone frequently, you may have faced an issue, which is called short term memory loss.
Generally, when we have to work a lot in a day, we start forgetting important things every now and then. Certainly, you can use note taking application such as Google Keep, Any.Do etc. to keep in mind everything, but what about sending SMS. If you often forget to send important SMS to someone, here is a solution. On the other hand, if you do not want to break your relationship with someone due to heavy pressure of work, you can use this same solution to send SMS at predefined time.
BroApp is such a great cross platform application that could help you a lot when it comes to schedule SMS. As of now, BroApp is available for Android and iOS. Unfortunately, this is now available for other platforms such as BlackBerry or Windows Phone.
BroApp is developed to maintain the relationship with your girlfriend. However, you can use it to send schedules messages to anyone you want. Obviously, you will have tons of conditions to choose so that you can send perfect message to the perfect person at the perfect time.
BroApp is available at free of cost. But make sure that you have at least Android 4.0 or iOS 7.0 to install and use it. The most beautiful thing is you do not have to create any account or do anything else to use BroApp on your mobile.
How to use BroApp to schedule your SMS?
This is however very easy and not yet much time consuming. The setup is very straightforward.  At first, download and install it. [You can get the download link at the bottom of the post.]
After opening it, you will get a screen something like the following picture;
Now, you have to choose the number of your girlfriend anybody to whom you want to send the scheduled SMS. After that, you will have to select SMS that you want to send. It comes with some SMS templates. You can either use them or write your own SMS.
You need to select at least five SMS. Then, you need to select the day.
You can choose as per your wish. The next step is really very important. This app requires WiFi connection to execute better. You can choose the WiFi network near to your girlfriend so that it stops sending SMS when you are with your friend or girlfriend.
In the next step, you have to choose the day. Previous day selection works on specific SMS template and this day selection works on all over templates.
After selecting days, you need to select time.
Thereafter, write down your email ID so that BroApp can send confirmation to you.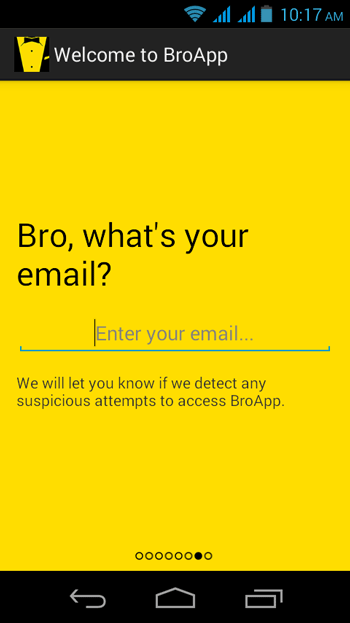 At last, you will get all the settings. Do check that carefully to rectify errors.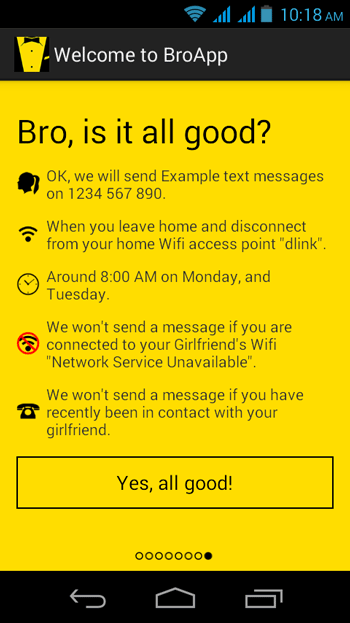 That's all! Hope this little app will help you a lot.