Send: A Brand New Email App for iOS by Microsoft
The software giant, Microsoft has unveiled a brand new email chat application that is mainly designed for them, who do not like the subject line and all to send just a reminder email or want to chat with someone over email instead of Facebook, WhatsApp, Hangouts etc. This new smooth, fast and handy email app for iOS will let you do everything in a different and comparatively faster way. This is the main principle of Send.
Deep look into Send for iOS
Send email client for iOS is now available at free of cost. iOS 8.0 is required to get Send on your iOS. FYI, this is compatible with iPhone 5 and all later iPhones. At the same time, you can use this app on iPad and iPod touch. As of now, Send is available in US and Canada only and hope it will be available across the globe very soon.
After a quite long time, Microsoft has launched a brilliant app for iOS. Nowadays, people talk to their friends over Facebook or other instant messengers. Email was never an option for chatting. Nevertheless, the era is going to get a full stop because of having email client like Send.
Send is actually designed for them, who often send email to others to current affairs. Instead of using Facebook, WhatsApp, Hike etc. there are so many people, who think email is more secure than anything else available on the web. Send will fit perfectly with them.
Features of Send for iOS
Send comes with less features but all the available features are very useful. You can use any Windows Live account with Send for iOS. At the same time, this is possible to use Office 365 business and school account with this app. That simply means your messages will be synchronized with Outlook and can be accessed from anywhere you want.
All the regular features like Send email, receive email, forward, delete, archive, junk etc. are available in Send. On the other hand, Skype is integrated into Send and this is possible to contact with any Skype user right from the email client.
The most beautiful thing for that Send is going to be popular is users do not have to write down any subject line, signature etc. in the email. The second useful thing is you will get a Quick Reply button that will aid you to reply quickly to your email with some readymade text like "On my way", "I'll get back to you" etc. Just like mobile's Text Reply feature, you can get Quick Reply in a mail app. Obviously, this is possible to edit those quick reply texts according to your wish.
According to Microsoft, they do not store all the email in the app to make you more productive. You will get only those conversations, what have started through this app.
User Interface of Send for iOS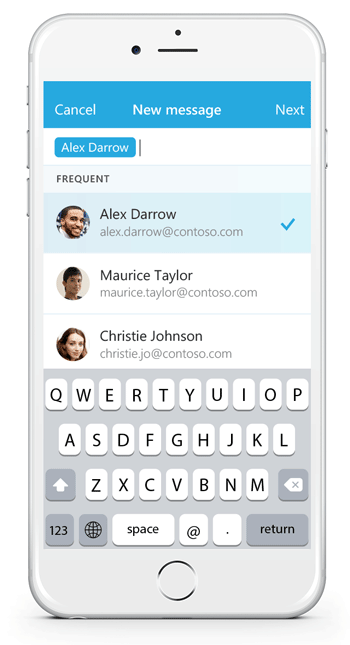 As Microsoft and iOS are going deep into flat UI, Send has the same pattern. Send's user interface looks pretty awesome and the flat UI is certainly great. As mentioned above that it doesn't contain loads of features but all the features are well categorized. You will have to expand each of them to learn more.
Final Word
Although, iOS has tons of email clients at free of cost, but there is a high chance to be popular for Send since Microsoft has taken a different initiative, which sounds amazing. Hope you will like as well.