Useful and Unknown Software and Tools of 2019 for Windows
With the changing year upgrade your system with unique software to perform different tasks. In this article, you can find out some of the worth using tools you can download and use them on your Windows computer. All of them are free of cost and can be used without any problem.
Best Less Known Software for Windows of 2019
There are tons of software developers, and they have launched countless apps for Windows 10/8/7 and if you want to avail them, do check out this following list.
1. AutoClose
AutoClose is a freeware that allows you to close any specific program at a scheduled time. It doesn't matter whether you want to close a single application or multiple apps at a time, you can certainly do that with the help of this free software. The best part about this tool is you can download the portable version of AutoClose. This is possible to download it for Windows XP and later versions including Windows 10. Also, it is compatible with 32-bit as well as 64-bit versions of Windows. It also has a pro version that costs $29.95. Download
2. RouterPassView
If you have a Wi-Fi router in your home and you have set it up a long time ago, there is a high chance that you might have forgotten the password of your Wi-Fi. If so, you can recover that password with the help of this freeware, which is available for all the latest versions of Windows including Windows 10/8/7. This is very easy to use the tool. Being said that, you just need to open it to find the connected router's username and password. Download
3. MusicBee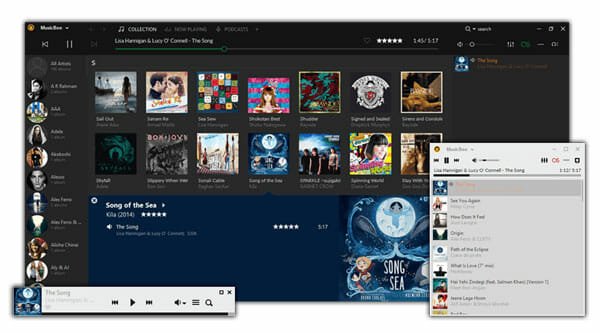 You might have heard and used VLC Media Player, and other players to listen to audio files and watch movies on your computer. However, there is another music player called MusicBee but more then music it works as music file manager and organizer. It comes with 10-band as well as 15-band equalizer, which will let you fine-tune the audio file. On the other hand, it offers beautiful some awesome skins so that you can customize it based on your wish. This music player is compatible with Windows 7 and all the latest versions including Windows 10. Download
4. Razer Game Booster
Razer is a well-known company, which makes computer and gaming peripherals. Even if you are not using any Razer component to play games, you can still use a free tool by Razer called Razer Game Booster. As the name says, it will let you boost your computer's performance so that you can keep playing games without any problem. In other words, it will help you use more resources of your computer so that the game never lags even if you do not have a very high-end PC for games. The user interface of this tool is pretty good and it comes with all the necessary options so that you can perform all the tasks without any issue. Download
5. Snip & Sketch
Snipping Tool is a very old tool for a Windows computer to capture screenshots. However, recently Microsoft has started using another tool alongside that old Snipping Tool, which is known as Snip & Sketch. This tool has been made by Microsoft, and you can find it on your computer as an in-built tool. This screen capture software for Windows 10 requires Version 17687 or later version. For your information, you can download it for 32-bit as well as the 64-bit machine. The user interface of Snip and Sketch is pretty good, and it has all the useful features so that you can edit the screenshot according to your requirements. Download
6. DocSecrets
First thing first. DocSecrets is not a Windows software. In fact, this is a Chrome extension, having said that, you can install this extension in any Chrome browser installed on any platform including Windows, macOS, etc. Talking about the main point, there are many times when we want to share a document with someone but do not want to share everything mentioned in the document. At such moments, you can use this Chrome extension to hide sensitive data and still share the document with anybody you want. Download
7. PlayStatic
Let's assume that you do the exact same stuff every day after signing into your PC. Instead of doing them manually, you can install this software that will let you perform those tasks in automation. This is free software, and you can download it for Windows 10 as well. After installing, you need to set it up properly. This is important. Otherwise, you will end up wasting your time. Download
8. ShutUp10
In Windows 10, you might find several useful features related to privacy and security. If you are not familiar with them, you should install this software in your Windows 10 computer. Like other security and privacy apps, you can download it for free. ShutUp10 is a very light-weight app, and it comes with several useful features that will block certain settings in your Windows 10 computer. From app privacy or security to disable Windows updates completely, you can do everything with the help of this software. It has an elegant UI, where you can find all the options openly so that you can enable or disable something quickly. Download
9. Backup Start Menu Layout
If you have set up the start menu in one computer running Windows 10 and you want to get the exact same layout with exact same apps in another Windows 10 computer, you can use this freeware. You must have to install all those apps on the second computer, but it eventually does the job pretty well. You can backup and restore the start menu layout with the help of this portable software. For your information, it is available for Windows 10 only. Download