5 Android Browsers To Speed Up Internet Surfing
Internet speed on your mobile not only depends on the Internet plan you use but also the way in which you handle your smartphone. An average Internet connection may seem pretty fast with the right tools, especially the browser you choose. Although Google Chrome has been dubbed as the fastest browser, many users report better experiences with other browsers in the app store. Check them out and speed up Internet surfing –
1. Opera Mini
Specially designed for low end phones and poor Internet connections, Opera Mini performs even better than the heavyweight Opera in terms of faster page connection. It is also impressively light to install and use and eats much less processing compared to other browsers. You can even disable image loading to further speed up surfing and also choose to view the website in a single column view. Users who don't care about the quality of the web page, Opera Mini is your savior.
Although it is as fast as any other browser out there, Javelin helps to speed up surfing through better time management. It helps you multitask efficiently by opening a pop up browser directly on top of other apps. Thus you don't have to switch apps continuously while using other apps like Facebook. It also has an in-built advertisement blocker which is available even in the free version. This makes web pages lighter to load.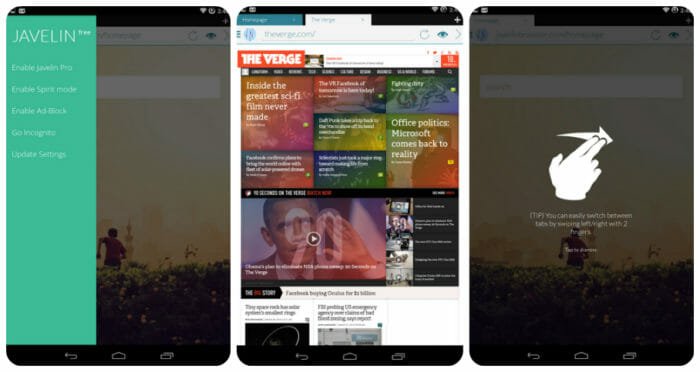 Also Read : 2 Ways To Make Facebook App Open Links Externally
Free and tailor made for android, Maxthon is a browser that is one of its kind. It takes speed browsing to a whole new level with its 'Fetch Mode' feature. While using this mode, the browser automatically starts loading the next page you want to surf in the background. This feature was also introduced by Microsoft in the latest Internet Explorer 11 for Windows. Thus this makes you feel like you have lightning speed Internet even when you are on a weak network. Other features include cloud sync across multiple devices, screenshot assistant and Push Cloud which lets you easily share files to other devices.
Apart from being one of the oldest and naturally fast android browsers, Dolphin is beautifully designed too. You can add custom made gestures to access web pages. For example, you can associate drawing an 'A' on the screen to go to Ampercent, or an 'F' to launch Facebook. The browser also comes with a 'Dolphin Reader' which converts the web page into a reading mode analogous to an ebook reader. This helps protect your eyes and enhances the reading experience.
The final entry in our list is Next Browser, developed by the Go Launcher team. The play store app page of the app boldly claims that it takes no more than 1.5 seconds for the browser to load a web page. And tests proved it to be more factual than deceptive. This coupled with a simple interface makes it one of the best browsers in terms of speed and processing. This means less usage of memory and reduced power consumption.
Conclusion
This is not a ranking list but rather an informative one. All the browsers are equally good and it all comes down to how you want to surf the Internet and the features you desire. If we missed out on any of your favorite browsers, please tell use through the comments.