Talk.to – Seamless chatting across Facebook and Google and Send free SMS!
One of the common chores while browsing the internet is chats. You have chats open in Facebook, chat boxes in your Gmail window, even in Windows Live. It surely is a big task managing all your friend's chats and miss a few pings that you wish you could reply to. For those chat addicts, chatting with friends all at one place would be great. Though it is not the first app, Talk.to certainly aims to integrate all your chats in one place in an elegant interface and seamless experience.
Talk.to is available on Chrome desktop browser as well as on iOS, Android and Windows Phone. After installing from the Chrome Web Store, Talk.to acts as a webapp that you can access from the list of other webapps. Talk.to supports Facebook, Google Talk, Windows Live and Pingpong.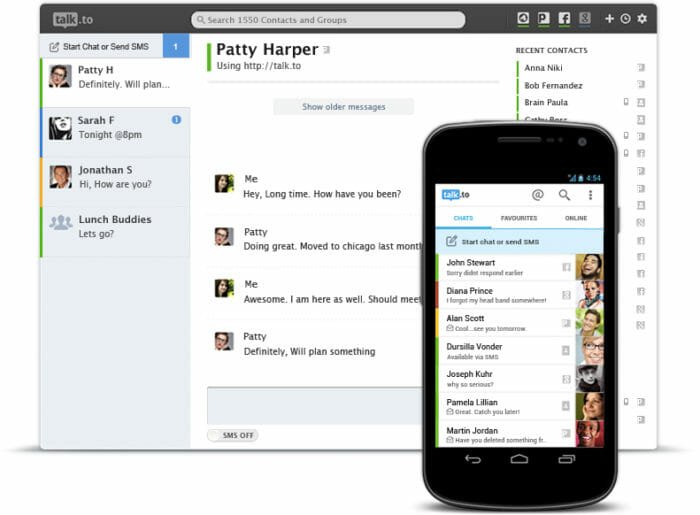 One can set up the respective accounts with ease. While integrating Facebook, remember to check whether you want the app to post on your behalf that is visible to your friends. It is highly suggested that you choose "Only me" option from the dropdown.
Talk.to imports contacts from the accounts you have integrated, displays them on the right sidebar. Online users have a neat green indicator adjacent to their name (Google Talk contacts will have a red indicator if they are busy). You can start chatting with any of the contacts in the list. All the active chats appear on the left and you can choose to close them through the close indicator. The clean interface is refreshing and offer little distraction while you chat.
Talk.to also opens up whenever somebody from either of the accounts pings you. It has its own notification sound and in chrome it appears in the bubble notification. You can also carry over a chat in Talk.to from Google, Facebook, etc. All the chat history will be stored in the sites, so you won't miss any of the previous conversation.
Talk.to also allows you to send SMS to the contacts if they are not online or are not responding. The app though does not import the contact details, so you will have to enter the number yourself. Even then this feature is handy and you get up to 200 SMS free with additional 5 free SMS every Sunday to your credit.
Talk.to has groups, where other users of Talk.to can join in to discuss. This is handy especially when all your friends are on different networks. One can create a group and invite users to the group. The best part is this is not temporary, so you can chat to multiple users any time. Talk.to has also integrated search box, that let you search for contacts and groups from all the accounts you have logged in.
On the mobile platforms, Talk.to offers nearly the same functionality. On Android, Talk.to has widget support that show notifications and active chat windows open. Future versions will have group chats and smiley packs in the mobile version.
Talk.to is free to download on all platforms. A standalone app is available for Windows users, though the webapp on Chrome browser is a pleasure to use. Download Talk.to for seamless integrated chat experience.
Source: Talk.to, Google Play