Top 5 New Features and Improvements of iOS 9
Whenever Apple proclaims a new version of iOS, people start acquiring what is new in the impending version. Basically, this is not Apple lovers' problem. Instead, as Apple has produced countless amazing features in iOS and a fascination in public mind, people always look for the new features and betterments in the new edition of iOS. This time, Apple is going to launch iOS 9 in November with iPhone 6S, 6S Plus and iPad Pro.
If you are excited to know about the new features and improvements of iOS 9, the following list will assist you for sure. Here is top 5 new features and upgrades that makes iOS 9 more desirable. Let's check them out.
Brand New News App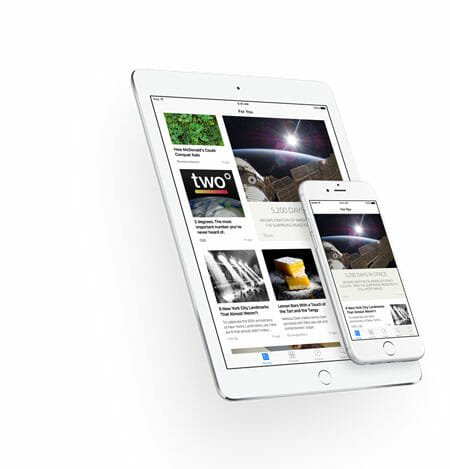 These days, people do not go through that traditional newspaper in the morning because they know it's been already 24 hours since that news was composed. If someone wants instantaneous news pertaining to technology, sports, telecom, business etc. he/she must has to get a news app or RSS feed reader. There are plenty of third party news apps those will make your morning brimming with news. Not just morning, you will keep getting all the current happenings on your mobile screen throughout the day too.
Having said that, now, you can read the most recent news using a completely new News app for iOS 9. Apple has bundled this new app to let you know all the news around you. By a single touch, all the trending news will be extracted from the web and will be on your screen.
Notes Everywhere
Caused by a hectic agenda, people always forget their valuable tasks. At some point, you get some thoughts but fail to remember after a little span of time. Similar to this, a lot of people forget what they have to bring from the market. To eliminate all those complications, you can certainly make use of a note taking app, which will help you to keep everything in mind. The new improvement of Notes app for iOS 9 enables you to accomplish that many things other than just taking notes. The new iCloud integration will also allow you to synchronize notes across all the devices. This is great since if you switch from iPhone to MacBook, your notes will still be with you.
Multi-Tasking
This is probably the most effective feature of iOS 9 that will be available in iPad only. Multi-tasking is always employed to make you more productive and this is the reason why Apple has included this multi-tasking option in iPad. You can use more than one app at a time. Suppose, you are watching a video and meanwhile, you have to take a note. Rather than closing the video and opening Notes app, you can just press the HOME button to put your video in the corner and then open the Notes app. Just like that, you will have "Slide Over", "Split View" and "Picture in Picture".
QuickType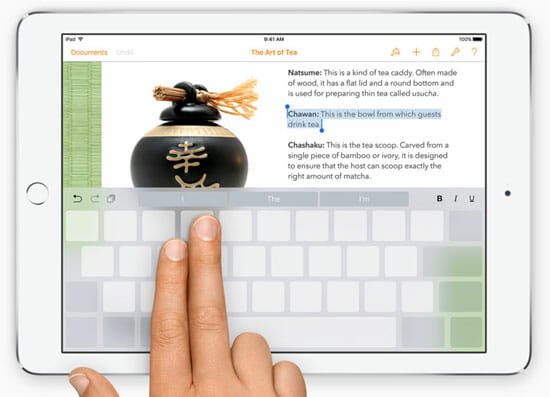 Here is another improvement, which is going to be loved by millions of people. Some new iOS users often face problem to copy text from the screen. But, now, the problem is going to solve because Apple has added a new feature called QuickType that will you help you to copy text from anywhere using two finger touch. The handiest feature is the new keyboard has so many keyboard shortcuts to make your tasks quicker. If you use any wireless keyboard, you will get even more keyboard shortcuts.
Security
Here is something you will love for sure. Apple has integrated a higher security in iOS 9. It has mainly included two new features. First, 6-digits passcode instead of 4-digits. Second, two factor authentication.
Usually, people understand that PIN means a 4-digits code. However, Apple is going to change the definition of PIN by adding the capability of using 6-digits PIN. On the other hand, a 2-factr authentication system has been installed in iOS 9, which will certainly make your device 2x more secure. Not only iOS 9, but also OS X El Capitan has also received this feature.
What do you say?
With a little UI makeover, some cool new features and massive improvements, iOS 9 is going to blast the smartphone market in November. Apart from having these aforementioned improvements, iOS 9 will provide a better Siri and Android migration feature as well.