Top 7 Online Grocery Shopping Apps in India
Do you find yourself waiting for hours at the grocery store or at the mall to pay your bill? No one would like to stop at an overcrowded grocery store to get their provisions only to realize that they have to haggle for shoppers' discounts. You do not have to now prepare a shopping list, dictate it to the shopkeeper, or worry about paying your bills instantly. With the best grocery shopping apps in India, you can now place orders for groceries and pay conveniently by cash or by credit card.
In this article, let's have a closer look at some of the top grocery shopping applications that you should consider using. You will be amazed at the ease with which you can purchase food items online, thereby saving plenty of time that is otherwise spent in visiting crowded supermarkets for your daily household grocery needs.
Popular Online Free Grocery Shopping Mobile Applications
1. ZopNow
The ZopNow application for grocery shopping is available for free. You can download it for your smartphone from the below-mentioned links:
Free Install ZopNow Android App
ZopNow Free Download for iOS
Download ZopNow Windows App for Free
This large grocery hypermarket is meant for customers, who want to shop on the go. It operates in Mumbai, Pune, Bangalore, Thane, Hyderabad, and Gurgaon. ZopNow is said to deliver groceries within a matter of 3 hours from the time of ordering to its customers. Additionally, there is no minimum order size or value. This application provides an easy and customer-friendly mechanism to place orders. The company is a strategic partnership with two of the topmost offline retailers of India, viz. Aditya Birla Retail, and Hypercity Retail. ZopNow was founded in the year 2011. Each of the employees of ZopNow has been provided with a smartphone so that they can fulfill orders really fast.
If you are an existing ZopNow customer, you can easily look at the products you purchased in the past (or liked), thereby saving some more time for you. You can then search for new products to add them to your previously saved list of items or create a new shopping list of grocery items for your next purchase. Thus, you can enjoy a personalized grocery shopping experience.
2. AaramShop
The download of this daily grocery mobile application is free. Now, you can safely shop for your groceries using your smartphone. It brings a unique service for the consumers to shop for daily groceries while they are on the go. All you need to do is to download the application, browse through thousands of products that are being offered by top grocery brands. Then, choose a retailer near your area (many Aaramshop partner retailers exist in top cities across India) and confirm the order. Customers can easily check for attractive discounts and online grocery shopping deals available at any of your favorite grocery store.
The unique thing about AaramShop is the business opportunity it provides to offline FMCG retailers. It is an ideal hybrid retail platform that partners with physical grocery stores and allows them to get their web presence and deliver products to customers easily. Thus, it creates a win-win situation for itself as well as the retail stores. The AaramShop shops are located all over India and the products are usually delivered within a span of few hours after the time of order.
Free Download AaramShop Android App
Free Install AaramShop Application for iOS
3. Godrej Nature's Basket
You can enjoy purchasing groceries using Godrej Nature's Basket mobile phone app. Godrej Nature's Basket is the retail venture of Godrej Group and is India's foremost retail shop that sells some of the finest foods from across the world. Mumbai-based online grocery store named 'Ekstop.com' was acquired and integrated into Nature Basket's online store earlier this year.
Established in 2005, they have now transformed into a mobile and an online platform that provides highest level of service to the online grocery shoppers. It has evolved as a leading premium gourmet store chain (around 32 stores as of now). The Godrej Nature's Basket stores have been strategically located in Delhi/NCR, Mumbai, Pune, Bengaluru, and Hyderabad. You can select delivery times of your choice while ordering groceries with them and it would be delivered as per the choice of the customers.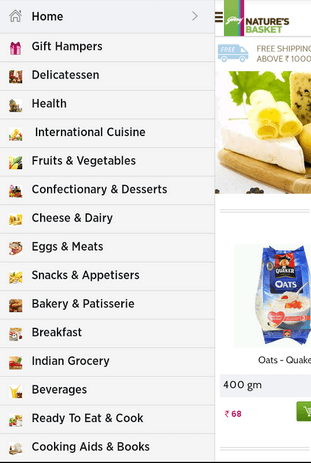 This app is a real treat for international cuisine lovers who get access to a wide variety of selections such as fresh spicy ingredients from Thailand, different types of cheese from countries like France, Italy, etc., handcrafted ham as well as salami from European regions, Mediterranean vinegar and oils, fresh organic produce and so on. New delicious food items get added frequently by the special team of experts at Godrej Nature's Basket Online, who are constantly on the lookout for the latest food items across the globe. Their support team can also help you in getting a customized gift hamper (tea & coffee gift hamper, organic & health gift hamper, get well soon gift hamper, world cuisine gift hamper, etc.) done with your selection of finest foods for any special occasions. You can even get access to meticulously chosen cheese or meat platters.
Another USP of this app is separate food sections for the health-conscious people. You can get access to weight management food items, wellness and immunity boosters, healthy heart foodstuff, etc. One can get hold of this mobile app from below mentioned links:
Download Godrej Nature's Basket Android App for Free
Free Download of Godrej Nature's Basket iOS App
4. PepperTap
If you have always wanted an on-demand grocery store app, then PepperTap mobile application is the ideal one for you. It currently offers grocery products delivery to cities like Pune, Delhi/NCR, Bengaluru, Hyderabad, Jaipur, Chennai, and Chandigarh. More cities would be added soon to this application.
This is a company that is dedicated to taking away the pain of grocery shopping through the use of a simple user-friendly application. Home delivery is done in less than two hours of the time of the order or as per the customer's selected delivery time slot.
The executives working with PepperTap would pick out the best quality fruits, vegetables, and grocery supplies and deliver them to you in a flash. You can buy dairy items, household items; kitchen items, baby care products online in a seamless manner using the PepperTap mobile application. If you are dissatisfied with the quality of the items delivered, you can return them, and no questions would be asked ever and a suitable refund would be made to you.
You can download PepperTap mobile application from the below links:
Free Download of PepperTap Android Application
Free Download of PepperTap iOS Application
5. BigBasket
With the BigBasket smartphone application, you can save yourself the drudgery of regular grocery shopping. No more waiting in queues to pay bills, no more parking problems, and no more getting stuck in traffic jams. Simply place an order with BigBasket and get all your groceries delivered to you. The minimum order value for free home delivery is Rs. 1,000 and the delivery schedule is flexible (4 different delivery slots to choose between 7 a.m. to 10 p.m.). Among the several online grocery portals, BigBasket has fast emerged as India's leading online grocery store with new cities being added frequently (for delivery).
You can place an order and it would be delivered within 3 hours of your placing the order. You could easily select from among 14,000 or more different products including fresh fruits, vegetables, beverages, meat, etc. All you would need to do is to tap your smartphone a few times and you could get your order delivered at your doorstep. You even have the option to choose same-day delivery of food items via BigBasket app. The delivery locations include Mumbai, Pune, Mysore, Delhi/NCR, Hyderabad, Bengaluru, as well as Chennai. You could choose from any mode of payment, including Cash on Delivery (COD) as well as a credit card, debit card, or other online payment options. In fact, you can even pay using Sodexo food coupons upon delivery.
BigBasket also sells cut and packaged vegetables, fruits, coffee, fresh meat, and other staples under its own brand labels. It has already started work to stuff its own brands like Popular, Fresho, and Royal from offline stores. It shall tie-up with plenty of physical grocery stores to manage immediate deliveries of several grocery items and even allow pick-up of online orders from such stores by customers who may not be available at home for receiving the deliveries.
You can download the BigBasket app on your mobile by referring the below mentioned links:
Free Install BigBasket Android App
Free Download BigBasket Application for iOS
6. LocalBanya
LocalBanya is a free mobile application for shopping groceries. The minimum order amount is Rs.500 if you wish to avail free home delivery (with Rs.50 delivery charges for order value below Rs.500). The delivery locations are Mumbai, Hyderabad, Gurgaon, Delhi/NCR, Noida / Ghaziabad, and Pune. It is one of the fast growing grocery portals that is expected to give stiff competition to BigBasket.
There are more than 14,000 products available with LocalBanya, which is slowly turning into one of India's premier online convenience store that revolutionizes your grocery shopping experience. All you need to do is to place an order using the LocalBanya application on your smartphone by browsing through the well-stocked aisles across different categories like Fruits & Vegetables, International & Gourmet, Grocery & Staples, etc.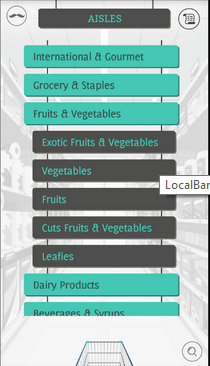 The timings for delivery are flexible and the customer should select from among a range of delivery timing slots available for the area where the food items need to be delivered. You can select your delivery time slot between an extended time interval of 7 a.m. to 11:30 p.m. If you are staying either in Mumbai, Navi Mumbai, or Thane, you could select express delivery by paying Rs. 30 extra. Same day delivery is available in Pune, Hyderabad, Delhi/NCR, and Noida/Ghaziabad.
In case you are not at home at the time of delivery, your order delivery will be rescheduled and it would be attempted once again. If you intend to get a change of time slots after your order has been dispatched, then you will be charged an additional Rs. 30 for the same. You could select from among the various payment options, including Cash on Delivery, credit card, and other online payment options. Just like BigBasket, this app also enables you to pay using Sodexo meal pass. LocalBanya also offers a hassle-free return policy.
You can try out the LocalBanya mobile application using appropriate download links shared below:
Free Download LocalBanya App for Android
Free Download LocalBanya iOS App
7. Grofers
Grofers is yet another useful and reliable grocery shopping app that you can use in India. Although they do not provide service to all the places, most of the locations are being covered by this app. They offer some great deals so that you can purchase your daily essentials at a cheap rate. The user interface of Grofers is pretty good and you should not find any problem while using it for the very first time. If you used Zomato or Swiggy earlier, you should not have any issue while using Grofers on your Android or iOS mobile. At first, you need to create an account and enter your delivery address. Following that, you can start adding items to your list one after one.
If you always wondered, "how to shop online for grocery items in India?" then these popular online grocery shopping apps can help you purchase groceries with ease. India is slowly realizing the benefits of online grocery shopping and these apps are constantly coming up with new features to make it easier and convenient for people who are not used to shop online for food items, baby care products, or daily essentials. The fact that online stores like BigBasket and AaramShop are also offering additional business opportunities to offline retail stores, is a welcome innovation! These apps are here to stay and you can expect most of them to combine together with offline stores to provide the best shopping experience to customers!