Top Apps and Sites for Book Lovers to Increase Knowledge
Books can either build you or destroy you, and that is the reason you should choose a book very wisely. It doesn't matter whether you like Sci-Fi, Suspense, or any genre, you can certainly find at least one thousand books in your category. However, if you have recently started getting into a new genre, and you want to find some new books those can help you get a better idea, or if you just want to know the review of a book or you want to read a book online, you can do everything with the help of these apps and sites.
Best Sites for Book Lovers
There are countless websites that can help you find a book that you might like to read. Some of them are mentioned below.
1. Goodreads
Goodreads is one of the best websites you can check out to find some of the best books in the world. It doesn't matter whether you like biography, comics, fiction, horror or anything else, you can certainly find something new to increase your collection. Apart from that, you can check some of the trending books, best debut authors, best books of the year and more others. However, you need to create an account to do all these mentioned above. The overall website looks pretty good, and you should not encounter any problem finding any book. As it has a huge number of users, you can find many people with the same taste of books as yours.
2. LibraryThing
LibraryThing is yet another website where you can create your collection and share with other people. If you search for a book, you can find the rating, reviews, and popularity so that you can understand whether that book is good or not. This is recommended to use the review section to find out if a book is good or average or bad for you. You can also find a brief description so that you can understand the book before reading. There are many books, which do not come with a summary. You can use this website to find that summary and read that before reading.
3. Book Riot
Although the name is quite different than usual, this is the perfect place for a person, who is looking for a good and new book. This website enlists a lot of books based on the category, i.e., Sci-fi, Horror, Comedy and so on. Not only that but also you can find a brief review of all the books so that you can choose if a good is suitable for you or not. The best thing is you can find some podcasts as well as audiobooks so that you can listen to books. There are many people who want to listen to the audio version of a book. Those people can use this functionality. Visit Website
4. BookFinder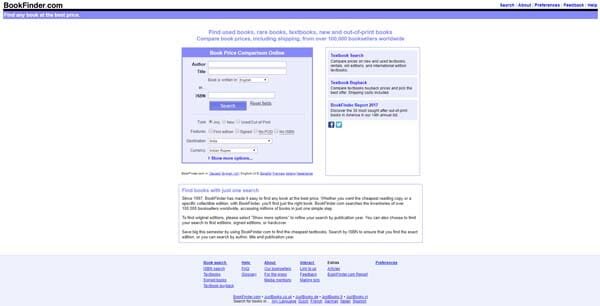 As the name suggests, you can find books based on your requirements. No matter whether you like comedy, romance, fantasy, fiction, or anything else, you can certainly find your books from this website. Let's assume that you have read a book of a particular author and you want to find out some other books of that same author. That is also possible while using BookFinder website. You will have several options to find a particular book. For instance, you can search a book by author, title, book language, type, features, binding, ISBN, publisher and more others. Not just that, you can also order a book from this website.
Best Apps for Book Lovers
1. Storytel
Storytel is probably the best app you can use to listen to audiobooks. Many people do not want to read physical books. For them, Storytel is probably the best website. It has a huge collection of books from different genres, and you can listen to all of them without any problem. It costs only Rs. 299 per month. The user interface of Storytel is neat and clean, and you should have any problem using this app for a long time. No matter whether you use the Android version of an iOS version, you will get the same UI. For Android users, you need to have Android 4.1 or later version. However, if you are an iOS user, you should have iOS 8.0 or later version.
2. Google Play Books
Google Play Books is another great app that you can use to read books on your mobile. Instead of downloading the eBook, you can use Google Play Books and buy from them. Once you purchase a book from Google Play Books, you can have them forever. Let's assume that you have two devices and you have installed Google Play Books on both devices. You can leave reading on one device and keep reading on another device. It gets synchronized almost instantly. The user interface of Google Play Books is pretty good, and you should not find any problem finding a book of your favorite genre.
That's all! Hope these apps and websites will help you increase your book collection as well as knowledge.