What Is The Best Cloud Storage For Multiple Users
Although there are so many cloud storage provides, not all of them are good enough for more than one person. If you and your family want to use one single cloud storage package, you cannot install standard Google Drive on all mobiles and computers. That is the reason why you should check out these best cloud storage options for multiple users so that you can perform tasks together. These services will help you when you and your family members or team members want to upload and download files simultaneously.
Best Cloud Storage For Multiple Users
1] Dropbox For Business
Dropbox is one of the best cloud storage services that has been in the market for a long time now. They offer a huge list of features, and all those things are compatible with every team member you have included in your account. This cloud storage service makes things easy for team collaboration so that people can upload, download, and manage files simultaneously without any problem. They offer a 30 days trial period, and it is recommended to use it before opting for a paid version. Talking about the price, the Standard version costs only $15/user/month, and it included 5 TB of storage, and you must have to include at least three members. On the other hand, the Advanced edition costs $25/user/month, and it offers unlimited storage, according to the official statement. Visit website
2] Sync
Sync is probably the most secure cloud storage service that you can use with multiple users. The advantage of using Sync is that there is no minimum limit on a number of users. For example, you must have to include at least three people to your Dropbox account, whereas you can start using the Sync account alone and then add more people on the go. Regarding the number, it is possible to add up to 100 people to your account, and they can transfer any amount of data between them. However, the total storage has a limitation, and that depends on the account. If you purchase the Standard version, it will cost you only $5/user/month, and it will provide 1 TB storage. The Plus version costs $8/user/month for 4 TB storage and the Advanced version costs $15/user/month for 10 TB storage. Check website
3] SpiderOak
SpiderOak is a very popular data backup service based in the USA (if you know what it means). It offers quite expensive plans, but the advantage of this SpiderOak is that you can back up an unlimited number of devices as long as you have the minimum free storage. Regarding the price, it offers 150 GB of storage for $6/month, 400 GB storage for $11/month, 2 TB storage for $14/month and 5 TB storage for $29/month. No matter which plans you choose, you can install it on an unlimited number of devices and back your data up. Feature and UI-wise, SpiderOak won't disappoint you for sure. Check website
4] pCloud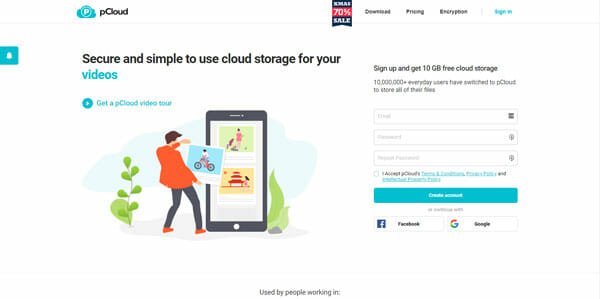 pCloud is known as secure cloud storage and many other good reasons. The second reason is that you can use this cloud storage on multiple computers, or multiple people can use it at the same time. Although many people hesitate to buy pCloud storage because of peculiar pricing, you might like it after knowing the feature list. It is a convenient tool for team collaboration, and it works without compromising the basic security function. The file management system of pCloud is pretty good since it doesn't make things complex. Regarding the price, it offers two types of pricing, i.e. annual and lifetime. You can get 500 GB storage for $3.99/month or 2 TB storage for $7.99/month (billed annually). On the other hand, if you opt for the lifetime pricing, it would be cheaper as the 500 GB variant costs only $175, and the 2 TB variant costs $350 only. Check website
5] Box For Business
Box is another handy cloud storage service that you can use when you want to allow multiple users to access one account. They have pretty good pricing and the features so that users get attracted quickly. The good news is that you can try any account for free so that you can know if it suits your needs or not. Talking about the features, it doesn't have any limitations on the maximum number of users, but you must have to include at least three people to your account. Apart from that, you can get the app for your computer as well as mobile, check the version history of a file, get SSL support, manage all the users, etc. Unlike some other services, it has a limitation on the size of a single file upload. In other words, you cannot upload a single file that is more than 5 GB. Regarding the price, it starts from $5/user/month, and you can choose one that can fulfill your requirements. Visit website
6] Google Drive Enterprise
Although users get the same user interface, this version is not the same as the regular Google Drive. You need to have a business email (you@yourcompany.com) to use the Google Drive Enterprise version. As usual, you can use all Google Drive features and online editing tools such as Google Docs, Sheets, Slides, etc. If you are willing to opt for this service, you should use the pricing calculator to know the estimated monthly bill. For your information, you need to pay $64/month, if you add ten users and 20 GB for each person. Check the pricing before signing up.
These are some of the best cloud storage services for multiple users. I hope you will like them.