Top 5 Wi-Fi Signal Strength Analyzer for Android
As long as you have unlimited broadband connection at your home, you do not need to use Cellular data on your mobile to browse the web or watch any video or do anything. A Wi-Fi router can do your job much smoother and cheaper. You do not have to spend a lot of money on Cellular data. But, here is a problem. Some ISPs do not provide the bandwidth, what you should. For example, some people often claim that they have 20mbps internet package but they are getting less than 5mbps.
Sometime, there may have some network issue, but that is not all the time. This is when you should check the speed. On the other hand, suppose, you are standing somewhere and you have 5 Wi-Fi signals right now. Obviously, you will be confused due to this number. Therefore, if you want to connect to the best Wi-Fi network, you have to check the signal strength. This is possible only when you are connected to a network. Speedtest.net is a popular website to check the internet speed.
But, there is another way to do the same prior to connect the network. Here are some WiFi signal strength analyzer that will let you check the internet speed and signal strength easily. You do not have to spend a lot of time to get things done. Just open the app and get the info.
#1 NETGEAR WiFi Analytics
NETGEAR WiFi Analytics is one of the oldest but very effective WiFi Signal strength analyzer that has been helping more than 500k users. Although, the development of this app has been paused temporarily, yet, this app is still very handy for everyone. The modest UI is quite helpful for new users to understand the features. It required Android 2.2 and later version to run. On the other hand, you can check the signal strength of more than 1 Wi-Fi network at once.
#2 Wifi Analyzer
As the name says, WiFi Analyzer will let you analyze each and every WiFi network you are going to connect to. It uses various things like EU Cookie law etc. At the same time, it has support of up to 5Ghz. Some public WiFi holders often change the WiFi SSID. That creates problem to connect with a good Wi-Fi network that you had previously connected to. This app has the capability of recognizing those previously used WiFi networks. This is where it excels.
#3 WiFi Analyzer
This is another WiFi Signal Strength analyzer that assists users to check real-time latency, link speed, signal strength and many more. You resolve DNS issue, analyze the overlapping networks, latency, signal power etc. The detailed graph is the plus point of this app which generally more useful than any other options. This graph is very useful and almost unavailable in other apps.
#4 WIFi Signal Strength
Although, WiFi Signal Strength has no advanced feature, yet, this is very popular among new and non-techies since it is consisted with some very common options. It only shows the WiFi Signal Strength on the screen, which helps users to choose whether a network is perfect for you or not. This app is very small and it is available for Android 2.2 and later versions.
#5 WiFi Signal Strength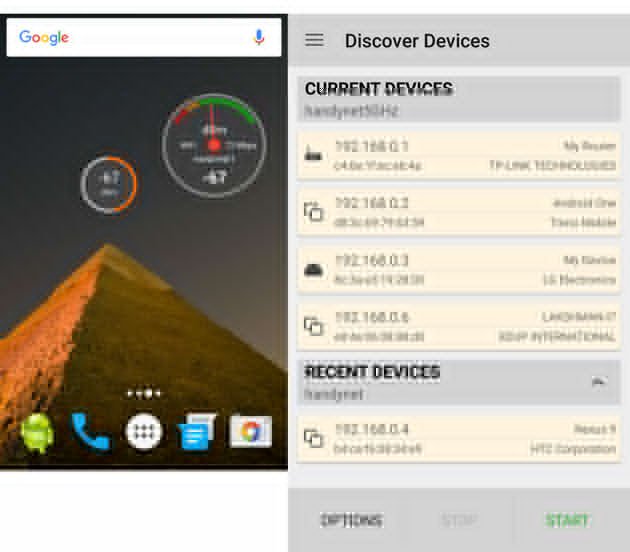 This is another app that keeps all the information about any WiFi signal. You can check a detailed information including network speed, signal strength and so forth. You can also add a home screen widget so that you can check the details all the time. Apart from that, you will get full screen graphical signal strength meter, discover all the devices those are connected with your network and more others. This app is available for Android 4.1 and later versions. [Download Now]
Final Word
Instead of trying to connect with 'not so good' WiFi network, this is far better to check the signal strength before connecting to. These apps are free and all of them available on Google Play Store.