Boost Your Mouse Integration With These Two Windows Apps
Despite the type of mouse you use, I am almost sure you feel that there are some features missing in its integration with the operating system. Of course that some of those features might actually be found with specific kinds or brands of mice, but sometimes those peripherals might be quite expensive.
In order to boost your mouse with two awesome and handy features, let me present these free and lightweight apps: WizMouse and Touchpad Blocker.
WizMouse
Developed by Antibody Software, this application fixes something that should be natural and provided by default with Windows operating systems: the ability to scroll inside inactive windows through an external mouse in Windows.
In the default Windows systems, you can only scroll in a window if that window is selected or, in other words, if it is active. With WizMouse, you can also scroll windows in the background without the need to click on them: just hover the cursor on them and scroll. So, basically, there is no need to click a window to scroll on it, you just have to have the cursor on top of that window.
The latest version, 1.6.0.2, brought two important new features: the possibility to (automatically) run the program in an Administrator level, using Task Scheduler, which allows for WizMouse to scroll windows with that level of security, and the possibility to use "Reverse Mouse Scrolling", similar to OS X "Natural Scrolling".
Touchpad Blocker
We all love the wonders of a nice touchpad, with all the features provided by that small and sensitive piece of "hardware". However, many times they also bring a few nightmares to their users, specially while typing. Everyone must have experienced the frustration of writing a huge email and, without wanting to, slightly touched the touchpad, clinking the 'Send' button and, thus, sending an incomplete text to the recipient.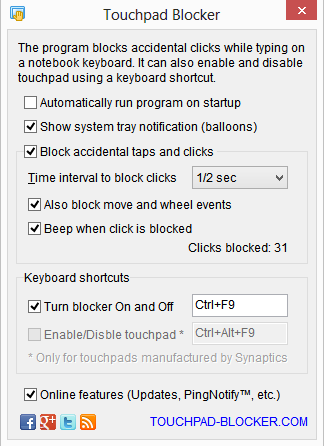 With Touchpad Blocker, a smalll app developed by KARPOLAN, this problem finally comes to an end: it blocks mouse movements while you are typing. It seems simple (and it is, really), but it makes a huge impact in the touchpad usage. It has some useful options, allowing for the user to set a delay for the blocking and setting a keyboard shortcut to enable or disable the program and even the touchpad itself, if the touchpad is manufactured by Synaptics.
Final Thoughts
Even though these apps are quite small and simple in design, they are really quite handy and useful. They both work in the background, so the only thing you will see relating to them is the tray icon, from which you can enable or disable them as well.
They also provide the option to be booted along with Windows startup but, even though I recommend this for WizMouse, I do not recommend it for Thouchpad Blocker, if you often use an "external" mouse with your laptop. Why? Because, due to its action, it may mess with simple commands like Ctrl + C and, whenever you use an "external" mouse, you surely disable your touchpad anyway, so there is no need for it to be enabled at all times.
Do you find this programs to be useful? Let us know in the comments.