Top 5 Most Popular and Less Known Android Apps by Microsoft
Microsoft is a giant of software development. Even though, Microsoft has their own platform to run mobile phones but still they have been developing various useful Android apps since past couple of years. As of now, they have launched more than 40 apps for Android and almost all of them are much useful. Just like other popular companies, Microsoft has unveiled all their Android apps at free of cost.
However, today I am going to mention some popular Android apps those are developed by Microsoft. Usually, all of them are available at free of cost and obtainable on almost all major Android versions. Let's take a look at them.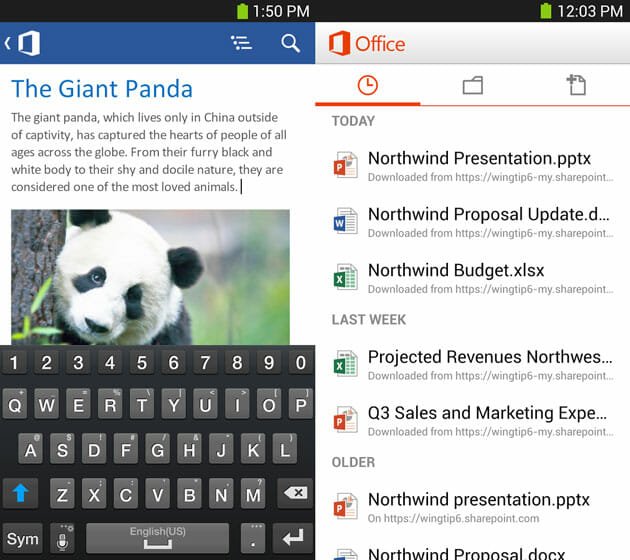 This is one of the most popular apps for Android that is available on Android 4.0. Although, earlier, the app has been available and usable for free for Office 365 subscribers only, but, now, Microsoft has made it available and usable for everyone. Now, anybody, without having an Office 365 subscriber, can use this app on their mobile and tablet. Microsoft Office Mobile is the best document viewer and editor for Android. The UI and features are more than enough. On the other hand, this app synchronizes all the document and other files with OneDrive. Hence, you can use all your OneDrive document from anywhere.
OneDrive (formerly SkyDrive) is yet another awesome cloud storage app available on Android 2.3.6 and later versions. Although, this is pretty large in size compared with other similar apps but still this is far better than other apps in terms of usability, performance and ease of access. You can easily synchronize and upload all your files on OneDrive and get them at anywhere. The visual design in pretty good and not much cluttered. The most beautiful thing is Camera Backup. By making use of this feature, you can easily backup your captured pictures to OneDrive when you will be on WiFi connection.
This is another awesome Android app that is compatible with Android Wear gadgets. Even though, Android Wear has tons of great apps available at free of cost but Torque Voice Search is one of the most popular among them. You can search for anything by shaking your phone. This app is available on Android 4.3 and later versions. After installing this app, whenever you will share your phone, it will open a new voice search window to capture your command or question. Just ask question to get the answer. This app works with some popular Android Wear gadgets such as LG G Watch, Samsung Gear live, Moto 360 and more. Watch the above video to know more.
When you do not like to use the default lock screen because of its lack of features, try Next Lock Screen. This is one of the best lock screen app available on Android 4.0 and up. You can get several things on lock screen including important notes, calendar schedules, dial pad, quick app launcher and more others. The user interface looks pretty good and much attractive. However, the only problem is Microsoft has not launched this lock screen app across the globe. Only few European countries have got the app on Android.
Microsoft has done a great business and their Business Analyzer app is really awesome just like their business. Although, this app is not so popular like other business or finance apps but it is covered with tons of awesome features. Business Analyzer required Android 4.4 but available at free of cost. You will love the visual design since this is really uncluttered. Although, it has many features but still all the options are separated and available in a compact version. Although, this app has no such option to communicate and create plan in real time on multiple devices but you can share everything via screenshot.
Bottom Line
Microsoft has developed more other awesome apps but today I have mentioned only five of them. No matter what kind of app you use on your device but you won't be destructed by their UI since they are very much uncluttered.