How to Turn Any Android Phone into an Android Lollipop Phone
Android is a widely popular mobile platform that is being developed by Google. Their latest update aka Android L or Android Lollipop is a progressive update that Google have ever made. Tons of new features and improvements are incorporated in Android Lollipop. But unfortunately, not all the devices would be able to get Android Lollipop update officially. Obviously, you can try Android L ROM to get the taste but here is yet another way to turn your any lover version Android device into an Android lollipop mobile.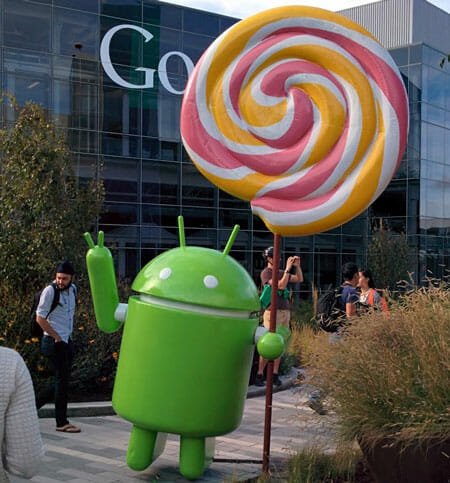 The solution is exceptionally simple and there is no trick. All you need is Lollipop Launcher. Lollipop Launcher is a free Android launcher, which is available on Android 4.0.3 and later versions. Even if, you can download various launchers i.e. Go Launcher, Nova Launcher, Apex Launcher and others but this particular Lollipop Launcher is much lighter than all of them. It requires less RAM and memory usage and hence it provides faster and smoother performance.
Features of Lollipop Launcher
Lollipop Launcher is covered with tons of features and options. However, the first thing is, Lollipop Launcher will change the icon pack from A to Z. by saying icon pack, I mean you will get new icon only on Homescreen and App Drawer. No matter, what Android version you have been using on your device but it will show Android Lollipop icons instead of them. Now, here is a drawback of this launcher. It won't change anything inside Dialer, Settings and so forth.
As Lollipop Launcher can integrate into Google Now, you will obviously get a better looks and options to get things done via Ok Google. Actually, this launcher is developed on the Google Now launcher concept and this is why it is very easy to use and much configurable.
Set up Lollipop Launcher
Although, it doesn't come with Android Lollipop wallpaper or any other features what belong to Android 5.0 but still you will get some options to run it according to your wish. Some of the most significant options are enlisted below.
Unlike other apps, all of its options are organized in six different categories. You can explore them to know more. Also, all the categories contain only couple of options those can be read within 5 minutes.
General Settings
It has four options i.e. Screen Orientation, Enable/Disable OK Google, Keep data in memory and Set default launcher. All the options do what they say.
Desktop Settings
If you do not like the 4 X 4 grid style, you can simply change the number of row and column from Desktop Settings. On the other hand, this is also possible to change Horizontal Margin, Vertical Margin, Transition Effect, Enable/Disable Infinite Scrolling, Elastic Scrolling, Wallpaper Scrolling, Show/Hide indicator, Search bar, Status bar. This page will let you create a new screen, delete a screen and more others.
Drawer Settings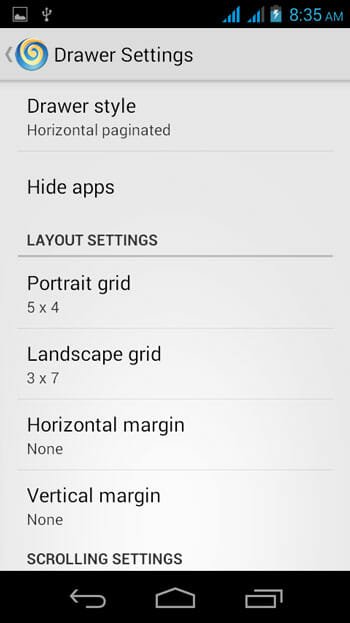 You can customize the App Drawer layout from this section. That means, you can change the number of row and column, change Horizontal and Vertical Margin, Transition Effect, enable/disable Infinite Scrolling, Elastic Scrolling, Background Transparency and so on.
Dock Settings
Dock is a great place on Android's Home screen that gives you the option to pin your favorite apps. If you do not like to use this Dock, you can simply turn it off from Dock Settings. However, if you would like to use it, you can manage everything of this Dock. You can change number of icon to be shown in the Dock, change Horizontal and Vertical Margin, enable/disable Infinite and Elastic Scrolling and some others.
Appearance Settings
This is where it excels. Although, today's most of the Android Launchers have the ability to carry third party icon pack but Lollipop Launcher is pretty different in terms of this. You can simply choose default icon pack or use any other icon pack right from this menu. On the other hand, you can also change the icon size, text size and icon font from Appearance Settings.
Gestures & Keys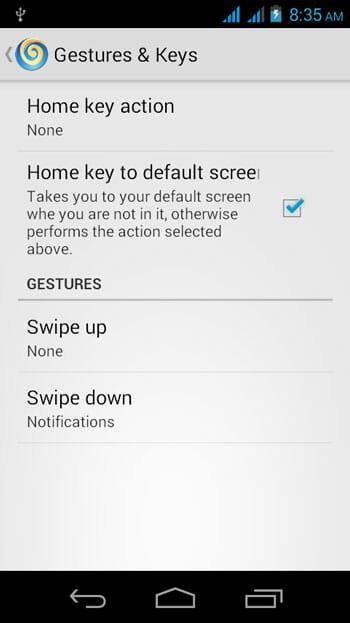 This is another great setting you have. You can select Home Key Action, Enable/Disable Home Key to Default Screen etc.
Conclusion
Obviously, you can use third party Android launchers but in most of the cases, this has been proved that they take more memory and make your mobile comparatively slower. Therefore, considering all the features of Lollipop Launcher, I would recommend you to give it a try. But before installing it, make sure you have Android 4.0.3 or later version.