Best Back To School Android Apps
After summer vacation all students would be going back to school. So, while going to schools and colleges, in the mean time make use of your Android device which would help you to the full. There are many Android applications for every category and there are some apps which would help you when you are going back to school. They may be timetable, calendar or pocket readers. We will list you some of the best Android Apps which would be useful while going back to school.
List Of Best Back To School Android Apps
Timetable – Create and Track Schedule
Timetable app let you organize your time in a day, in a well defined manner. You can set dates for your assignments, attending classes and can track your entire schedule. You can add tasks and assign a different color to those tasks. It also allows you to mute your mobile in your class timings. So, it will not be disturbing you when you are in the class. Once you create a Timetable in one device and if you logged in to other devices with same credentials, this gets synced to all other devices at a time. It also allows users to search through tasks and assignments. It offers many widgets and it is free of cost.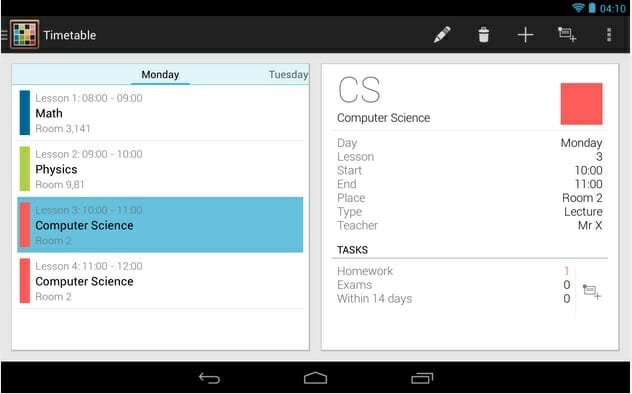 Quizlet – Create and access Flash Cards
Quizlet will help you in remembering important points of a subject. This allows you to create flash cards kind of thing for every point you want to remember. Those flash cards can be saved online and can be accessed from Quizlet. It also prepares questions on the points you saved. This is the best app to study and to revise important points at the time of examination. This has got the good user interface and can access all of your flash cards at one place categorized in to subjects.
CamScanner – Scan and Save important pages
CamScanner is said to be the mobile scanner or portable scanner. If you came across any important topic and you want to have a soft copy of that topic. Then, open the CamScanner and scan that page. It saves the scanned copy in any format you like as JPEG, word document or PDF Format. Later, it allows you to save the file to Google Drive or email it to someone or save it in your mobile itself. It is similar to scanning a document and saving the soft copy and the same can be done by using CamScanner. You can even share the scanned copy via email or other sharing apps. This is very handy and can scan multiple pages in to a single page. Clarity of the scanned copy will be good.
All these apps are really useful and easy to use. Start the new year of school or College with these apps. So, here are some of the apps that are very useful when you are going back to school or college. If you come across any more apps like this, please do share them with us.