Best Flip Screen Camera For Vlogging 
Nowadays, vlogging is being considered as a career by a countless amount of people. If you are a vlogger, who makes videos for YouTube or any other website, you should buy a flip screen camera. A flip screen camera helps you adjust the frame better when you are walking down the street and recording yourself alone. They will let you set the frame and check if everything is working fine or not. In this article, we have enlisted some of the best flip screen cameras for vlogging that you can purchase online as well as offline.
Best Flip Screen Camera For Vlogging
1] Canon G7X Marl II
When you need a compact and feature-rich camera for vlogging, you should check out this camera called Canon G7X Mark II. No matter whether you make videos as a profession or casual purposes, you can use this smooth camera to get most out of it. It has a 1-inch 20.1 megapixel CMOS sensor with an aperture of f/1.8-2.8. f/1.8 aperture is good enough to play with the light. In other words, you won't have any issue while recording in a low light area. The flip screen appears on the top of the camera, and that is quite useful because you do not need to look on the side to check the ongoing recording. Check the deal
2] Panasonic Lumix G85
Panasonic is a well-known manufacturer in the camera industry, and the Lumix G85 is a great device as well. It comes with a 16 megapixel CMOS sensor with 12-60mm lens + optical image stabilization. However, you can opt for a different variant that comes with the 45-150mm lens, which is suitable for long-range videography and photography. 4K video recording option is available in this camera so that users can create great videos at an affordable price. This camera weighs 1.11lbs, and that means you can carry it anywhere without taking tons of pressure on your shoulders. Check the deal
3] Panasonic LUMIX DC-ZS70S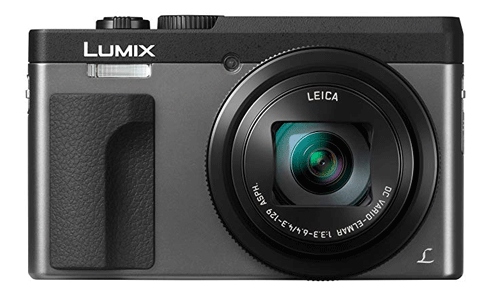 Panasonic LUMIX DC-ZS70S is another camera from the same brand as above. It has almost everything as the aforementioned camera, but you will miss some features. That is because of the price difference. For your information, this camera costs less than the Lumix G85. Talking about the specification, you can get 20.3 megapixels MOS sensor with 24-720mm ELMAR lens, 5-axis hybrid optical image stabilization, etc. It also has a 166k-dot electronic viewfinder for photography. Like most of the other cameras on this list, you can record 4K videos with the help of this specific camera. It weighs minimal – to be precise; it is only 11.4 ounces. In other words, you won't have a problem to carry it in your bag. Check the deal
4] Canon EOS 80D
If you make videos as a profession, you should opt for a DSLR instead of mirrorless or point-and-shoot camera. Canon EOS 80D is an excellent choice for newbie video makers, who are getting started with YouTube. It gets everything – from flip screen to CMOS sensor. You can find a 24.2 APS-C CMOS sensor in this camera, and it has 45-point all cross-type AF system so that it can autofocus on anything very swiftly. The base variant comes with an EF-S 18-55mm f3.5-5.6 STM lens, but you should upgrade it to a prime lens for better videography. Because of being a DSLR, it weighs more than other cameras. Regarding the weights, it weighs around 3.95lbs. Check the deal
5] Sony DSC-RX100
It is a mirrorless camera that comes with a flip screen facility for the users. The price of this camera is pretty higher as compared to others, but the features will impress you for sure. It comes with a 3-inch OLED screen, 20.1 megapixel CMOS sensor with DRAM for better picture quality, phase detection, 315 autofocus points, hybrid autofocus system, etc. It is needless to mention that you are getting 4K video recording capability in this camera. Another handy feature of this camera is that it has slow-motion videos quickly. For more information, you can record a slow-motion video at 960FPS, which is more than enough even for a professional video maker. It also has 3.6x optical zoom so that you can capture long-range scenes without any noise. Check the deal
6] Nikon D5600
Nikon comes to mind when you need sharp images instead of matte colours. Nikon is a famous camera brand, and the Nikon D5600 is an excellent option for video makers. Like the Canon 80D, it has every essential functionality so that users can do whatever they want to do. For your information, you are getting 24.5 megapixel CMOS sensor that you can use to record videos at up to 60FPS at 1080p. This camera comes with an 18-55mm f/3.5-5.6 and AF-P DX NIKKOR 70-300 mm f/4.5-6.3 G ED lenses. The first lens has VR or vibration reduction system so that you can reduce the noise in your images if you have a shaky hand. Check the deal
7] Canon M50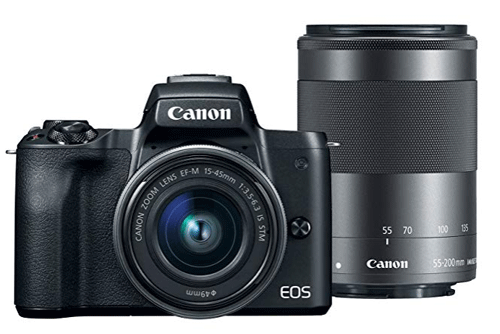 The full name of this camera is Canon EOS M50, and as the title says, it has optical image stabilization for better photo and videography. You can record 4K videos without any issues with the help of this camera. The highlight of this M50 is that it has dual pixel CMOS autofocus system. Talking about the lens and sensor, you are getting 24.1 megapixels APS-C CMOS sensor with DIGIC 8 image processor and EF-M15-45mm alongside EF-M55-200mm lenses. In other words, no matter whether you want to use it to capture images or record videos, you should not get any problem with it. Check the deal
These are some of the best flip screen cameras for vlogging. I hope you will like them.