The Best Portable Photo Printers To Print Photos On The Go
Want to make your vacations and special moments even more exciting? Want to put them in your scrapbook, on-the-go? To help you do that, we have put together a list of some of the best portable photo printers. You can use them to print high-quality pictures, on-the-go. These portable photo printers let you create your memorabilia even before you get back home from a vacation.
While these are a great addition to your collection of mobile and camera accessories, picking one randomly could backfire. Buying one of these toys isn't easy, and if you are keen on getting yourself the best portable photo printer, then that's going to be even more challenging. So to help you pick the right one, we have skimmed through a ton of portable photo printers and picked the best ones for you. In fact, we also have a little surprise for you, but you must read until the end to get to it. So let's start by taking a quick look at each of the portable photo printers that we've listed down for you.
Sprocket, The Best Portable Photo Printer by HP
The HP Sprocket is one of the best portable photo printers, which works on inkless technology and prints on Zink papers (10 come free). The coolest part about it is that it can print a 2 by 3 size photo in less than ten seconds, which is pretty fast compared to the rest. Also, you can sync it with your social media applications in no time and print as many photos as you want. The Zink papers come with a sticky back, so you can peel off its cover and stick it wherever you want to.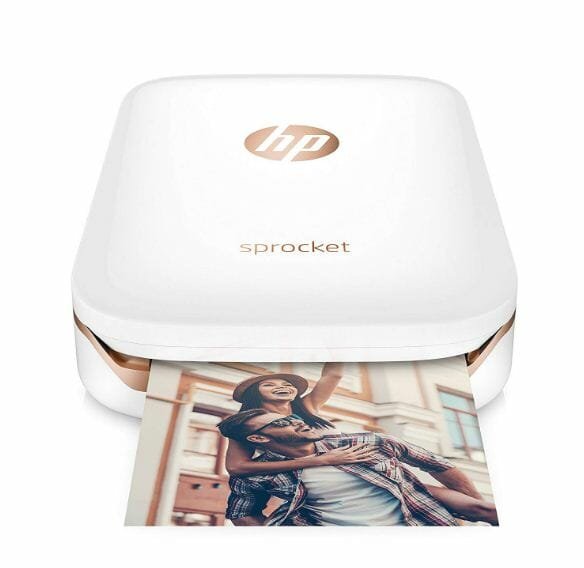 However, you must connect the HP Sprocket to your smart device via its official application from the Google Playstore or the Apple App Store. The Sprocket Application also lets you edit the pictures, before you print them and you can add text, emojis and a lot more to make your scrapbook even more exciting. The Sprocket connects to your mobile device via Bluetooth and is designed to fit in your pocket or handbag, without consuming too much space.
Fuji Film Instax SP 2
The Fujifilm Instax SP-2 is one of the best portable photo printers available, which also comes with fast-printing technology, just like the HP Sprocket. This lets you print a photo from your mobile phone in less than 10 seconds. All you need to do is install the free application on your smartphone, sync the two devices via Bluetooth and start printing.
Appearance-wise, this one is narrower and longer than the Fuji Film Instax SP-1, but speaking of performance, the two are incomparable. The easiest way to know the difference is by printing a picture with natural lighting and a light background. When you do this, you'll see that the photo printed through the SP-1 looks blown out, while the one from SP -2 comes out brighter and clearer. You can use this portable photo printer with devices that have Android version 2.3.3 or later and iOS version 7.1 or later.
Polaroid Zip Wireless Portable Printer
When one talks of photo printers, one simply cannot ignore Polaroid. The Polaroid Zip Wireless is one of the best portable photo printers that may not give you studio-level clarity but does the job for an average user. This printer also prints on Zink Paper but still turns out to be a lot cheaper than most other portable printers. The reason is pretty straightforward — Polaroid sells reasonably priced zink papers and you can buy 50 for around $22. Despite all the plus points of this product, we have listed this one below HP's Sprocket and Fuji Film's Instax SP 2 because the Polaroid Zip Wireless portable photo printer takes around sixty seconds to print one single photograph. Now that's a wee bit longer than the rest of the 2 by 3 portable photo printers.
To start printing, simply install Polaroid's official app and establish a connection. The App is called Polaroid Zip and you would require the QR code from behind the box to use it. Make sure to click a picture of it and save it beforehand, and yes! This QR code is different from the one in the manual. Now it's time for a pro tip! Most people who own the Polaroid Zip Wireless, find it difficult to print pictures with low lighting, so here's a simple trick to fix that. To get better clarity, you need to first edit the picture on your phone (without the Polaroid App) and then print it. We hope this glitch in Polaroid's app is fixed soon. In the meantime, you could always use this little trick.
Canon's Best Portable Photo Printer — The Ivy Mini
This is another inkless printer and its from Canon, the industry leader in printing technology. The Ivy Mini uses Bluetooth connectivity to connect with other devices. You can then transfer pictures via the Canon Mini Print app which you can download for free. We would like to clarify that we have ranked this one below other portable photo printers because it takes around fifty seconds to print a photo.
However, we could not ignore its super portable design, picture clarity, and several other features. A point to note is that you need Android 4.4 or iOS 9.0 and above if you plan to use your mobile phone to print photos. This portable printer is great for entertainment and to keep yourself amused, but like most other portable photo printers, don't expect pro-level quality.
Canon Selphy CP1300
If you want to click bigger photos from your portable photo printer, then try out the Canon Selphy CP1300. You can produce 4 by 6 postcard-sized prints, exactly like the ones you get from a color lab. It makes use of WiFi connectivity, so you can use it to print from almost any smart device. However, if you plan to go camping deep in the jungles with no internet connectivity, or if you've run out of data then you can also use the USB cord to connect your device to Canon Selphy CP1300. It also comes with an SD card slot, where you can simply insert your SD card, choose the photograph from the LCD screen and start printing.
However, this one works on ink so you must insert the ink spool, and connect the power supply. You can also buy a battery pack for it, and use it instead of the power supply. Next, load the paper in the tray, flip it open and insert it into your Canon Selphy CP1300. Finally, turn on the power button, choose the picture from the 3.2 inch LCD and print it out. Also, the printing cost is pretty low and is quite a bargain when compared to the costs incurred by those who own inkless printers that work on zink papers.
For example, the canon KP 108IN color ink paper set lets you print over a hundred 4 by 6 photographs. This set comes with 108 sheets of 4 by 6 size and costs just around $28. So the printing isn't just cost-effective but also value-driven as you get much bigger pictures for a lot lesser. In our opinion, this is the best portable photo printer in the ink printing category. Especially, if you want to print bigger pictures.
Epson PictureMate PM-400
The Epson PictureMate PM-400 is yet another portable photo printer, which is ideal to print larger pictures. It lets you print 4×6 and 5×7 sized photos and the picture quality is awesome. Also, this compact inkjet printer prints really fast without compromising on the picture quality. While some printers take a minute to print a smaller picture, this one takes less than 36 seconds. Now that's the time taken to print a 5 by 7 photo and is pretty good. The best part is that you can use papers of any brand and not necessarily from Epson.
It uses WiFi and WiFi Direct technologies and easily connects with smartphones and tablets. It also comes with an in-built card slot, a 2.7-inch display, and settings that let you make minor corrections. This is the best portable photo printer to capture precious family moments. You definitely wouldn't want to capture those in 2 by 3s. Epson claims that these photos would survive for at least 200 years without succumbing to damage. However, we don't think we would be able to attest that for at least a couple of centuries. With that said, what we truly like about the Epson PictureMate PM-400 is its picture quality, picture size, and flexibility.
Kodak Dock and WiFi Portable 4×6 Printer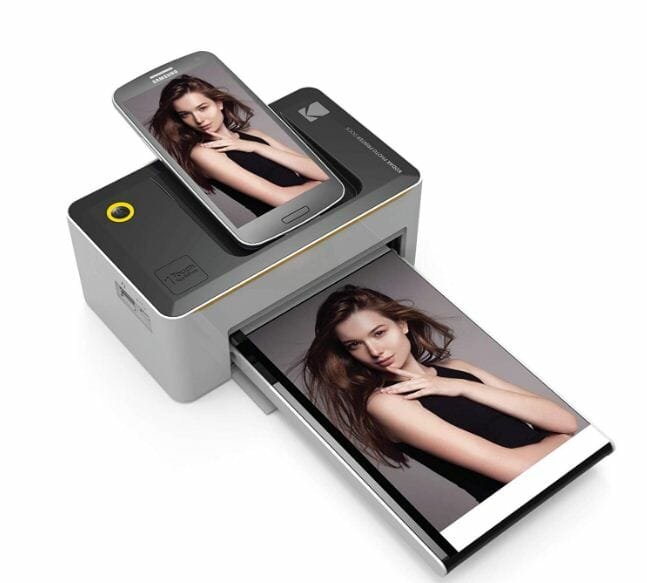 This is one of the best portable photo printers when it comes to printing larger pictures and the quality is extremely good. Since it doesn't come with a rechargeable power source, we have ranked it low. However, if you don't mind connecting it to a power source, then go for it. Also, it doesn't support iCloud transfers but here's a quick trick. If you want to print such pictures from your phone, then do this. Choose the photo that you want to print and then hit the 'Copy' option, and that's it. Once you do that, the Kodak App is able to recognize the picture and you can easily print it.
LifePrint with Augmented Reality
We saved the best one for the last and unless you really experience this portable photo printer, you are not going to believe what it can do. Like all other inkless printers out there, this one also requires zink paper. However, what it manages to capture is way too awesome for words to explain. Yet, we will do our best to explain it.
To start with, you can print 3 by 4.5 size photos with this inkless printer. This is a lot bigger than most other inkless printers, which print 2 by 3s. You can then peel off its back and stick it wherever you want to. Now that sounds pretty average, doesn't it? Well, what if we told you that you could use this printer to print out videos? You'd probably imagine a series of photos, well, but that's not what we mean.
How would you like to capture a video of your favorite artist's concert and embed it into a photograph? Now, this is exactly what you can do with this portable printer. You can embed videos in a photo and gift it to your relatives and friends. Then all that the recipient needs to do is see the picture through the app and voila! What is then visible isn't a static photo but an entire video.
However, this portable printer is only compatible with devices that run on iOS 11.0.X, Android 8.0 and their later versions. It is great for those who wish to send out greeting cards to friends and relatives. It is also ideal for those who fancy having pictures that contain videos. You could also take it on family vacations if you wish to. As the picture size is much bigger than other inkless printers, it works just fine.
Now that you have an overview of some of the best portable photo printers, you can choose the appropriate one. If you plan to buy it as a gift, then take note of the recipient's preferences. You must also watch out for long-term maintenance costs, device compatibility, battery life, connectivity and the size of the photo.
Finally, you also need to take into account the printing speed depending on how you plan to use it. If you are taking it to a weekend bash, then timing may not be a worry. But what about time-restricted events? You don't want to take a printer that takes about a minute to print a single photograph to such events. At least, not on your Graduation Day, else you'd never be able to click pictures with all your peers.