Best Video Doorbells For Your Home In 2020
Days are gone when you needed to open the door to know who is waiting for you outside of your main gate. Nowadays, you can install a doorbell camera to know about the person. Such a device will make your home even smarter, and you may not need to rush to the main gate every time someone calls you. No matter whether you have a new or old house, you can install a video doorbell in 2020.
Best Video Doorbells For Your Home
1] Google Nest Hello – $229
Google Nest is where you can find some smart products for your home, and the Google Nest Hello is one of them. It is a wireless video camera that you can put in your main gate, and it will work like a doorbell. It is quite small, but it does the job well. For example, you can record 1600 x 1200-pixel video at 30FPS with the 3 MP camera included in it. It has a 160-degree view so that you can see someone even when he/she is in front of the camera. Also, it comes with 850 nm infrared LEDs, 128-bit AES with TLS/SSL for security, etc. You should have a 2.4Ghz or 5GHz wireless connection in your home to make it work. The appearance of the doorbell is pretty good, and it looks fancy from outside. Check the deal
2] Ring Video Doorbell 2 – $199
Ring has several video doorbells, and the Video Doorbell 2 is one of the best things you can buy to improve the smartness of your home. The dimension of this camera is 5.05 x 2.50 x 1.08 in so that you do not need to consume a lot of space to install it in your home. Right now, you can find it in two different color combinations – Satin Nickel and Venetian. The best thing about this video doorbell is that it can record 1080p video so that you can get a clear picture of the person who is standing in front of your gate. On the other hand, it has Live View and Night Vision so that it can keep helping you – no matter how the situation is. On the other hand, it has a 160-degree horizontal and 90-degree vertical range. Another important thing about this doorbell is that it comes with two-way audio so that you can talk to the person individually. It has a rechargeable battery pack, but you can buy the solar panel from the official website so that it gets charged automatically. Although it works with Alexa, it is not compatible with Google Assistant. Check the deal
3] eufy Video Doorbell – $160
Eufy Video Doorbell is a sophisticated doorbell for your smart home as it can differentiate between a human and an animal such as a cat, dog, etc. It allows you to remove the video in 1920 x 2560 pixel so that you do not miss out on any detail – be it an identity card or anything else. It stores all the videos in local storage so that you do not need to buy a subscription on any cloud storage to store your recordings. The corresponding app of this video doorbell allows you to check on the person who is standing in front of your gate from your mobile. You can get a facial snapshot of the person and unlock your door accordingly. It offers AES 256-Bit encryption to protect your data from information thieves. On the other hand, this doorbell can be used with Alexa voice command. The last but not the least advantage of this doorbell is the two-way audio communication. Check the deal
4] SimpliSafe Video Doorbell – $169
SimpliSafe Video Doorbell can record videos in 1080p so that you do not find any blurry image on your mobile. On the other hand, it has HDR imaging to make the image sharper. Apart from that, it comes with infrared night vision, two-way audio, zoom in, etc. This wireless video doorbell has motion alerts. In other words, if someone has walked by your door, you can get a notification on your mobile. The viewing angle of this camera is decent as it covers the 162-degree field of view without losing quality. As mentioned earlier, it is a wireless camera, and it requires a Wi-Fi connection to set it up. The camera looks quite fancy, and it should be fit with any color of your home. You can enable various notifications (monition alerts, dual-sensor trigger, motion from cars) to receive alerts. It doesn't support Google home, but you can work with Alexa. Check the deal
5] Vivint Doorbell – $250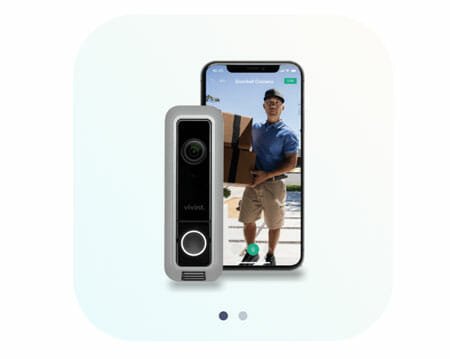 Although it looks quite expensive, it covers more other smart home gadgets in that package. The best part about this video doorbell is that you can use it with Amazon Alexa as well as Google Home flawlessly. The important thing is that you do not need to do any work as the officials will visit your home to set it up properly. Talking about the features, it sports night vision, 180-degree viewing angle, two-way audio communication, 30-second video clip, etc. As usual, the mobile app of Vivint will let you get all alerts and notifications on the go. No matter where you are, you can answer your door using your mobile. The person may not see you, but he/she can hear your voice without any lag. The only drawback of this video doorbell is that you record up to 720p video with the 1.3MP camera. Check the deal
No matter which video doorbell you buy, make sure that it comes with a good quality of the recording. Otherwise, you won't be able to recognize the face, and thus, you will waste your money.