Best Bluetooth Headsets With Good Battery Life
Do you love music and are on a lookout for a Bluetooth headset with good battery life? Are you addicted to ebooks and your headset's battery wears down midway, leaving you frustrated? Do you want a headset that doesn't require you to charge it for long hours? The answer to all of these problems is an energy-efficient headset with good battery life. So, we recommend that you prioritize the battery life of a Bluetooth headset while buying one. Now, this can get tricky, with the sellers making tall claims on one side and the disgruntled buyers pouring out their frustration on the other. Sometimes, it is simply your budget that messes it all up.
Now all of that makes it tougher for you to narrow down to a headset that stands up to your expectations. So, to simplify the entire process, we did some hardcore research and have compiled a list of some of the best Bluetooth headsets with good battery life. In ranking them, we have also taken into consideration other features that it offers. So, whether you have very specific technical requirements or are absolutely clueless about headphones, stick around for some sound advice.
Here's a word of caution — although some of these may seem a wee bit expensive, you get what you pay for. Moreover, what's a Bluetooth headset that can't hold up until you get back home and have the time to charge it? Now let's get started with the list of the best Bluetooth headsets with good battery life.
1. Plantronics' Voyager Legend Bluetooth headset
When you set out to buy a good headset, you are definitely looking out for something that has at least an average or above-average microphone, but that seldom happens. Most headsets come with a microphone that has a much inferior sound quality as compared to an in-built microphone in your mobile or laptop.
However, that's not the case with Voyager Legend Bluetooth headset by Plantronics, as it comes with Bluetooth 3.0 and wideband audio support. This ensures faster data transfer and better voice clarity. This headset comes with a battery life of up to 7 hours of talk time and 11 days of standby. Also, this headset can be fully charged in 90 minutes, making it ideal for those who spend more time away from home.
We rank this Bluetooth headset on number one, because of its powerful battery, high sound clarity, and effective noise cancellation. It also features a powerful microphone and a host of other innovative features, which brings it to the top. This headset is ideal for rough use as its P2i nano-coating makes it water-resistant. So you can wear it during sweaty workouts or even when there is a light drizzle.
Its smart sensor technology lets you answer calls without taking your hands out of your pocket — just say 'Answer' or 'Ignore'. Once you decide to answer the call, you don't have to bother about the noise around you (not unless it exceeds 80 decibels). This Bluetooth headset makes use of triple microphone technology that is extremely effective when it comes to noise cancellation. On the whole, we would like to say that this is definitely one of the best Bluetooth headsets with good battery life, noise cancellation, and other innovative features.
2. Icomtofit Bluetooth Headset with good battery life
Our second most preferred Bluetooth headset is the Icomtofit, which lets you talk for up to 10 hours and offers standby of 7 days. All of that is possible because this product comes with a 110 mAh battery. That makes it ideal for those who work in offices, where having a sleeping bag under the table is part of the routine. It's easy to charge and takes about an hour and a half for it to charge completely. Besides having a remarkable battery life, this Bluetooth headset also comes with a powerful microphone which makes use of the CVC 6.0 for noise reduction.
To offer you the best comfort, it comes with ear gels, which are available in three different sizes so you can be sure that this one won't pop out of your ear as you move about. It also comes with a one-touch button that lets you mute or unmute calls or control the music. You can connect this Bluetooth headset to a host of devices such as laptop, smartwatch, iPad, PSP, and several other smart devices. You can even use it to simultaneously pair two devices. Although not as popular as some of the other brands like Plantronics or Sennheiser, this Icomtofit Bluetooth headset comes with good battery life and all the other basic features that a headset must essentially have.
3. Langdom Bluetooth Headset
If you are done with those uncomfortable in-ear headsets then try Langdom which comes with a high-comfort cushion on the earpiece. This headset uses Bluetooth 5.0, which quadruples the range and is much more advanced than its previous versions. The brand goes by the claim that this product is lighter than an egg. However, what gets this product onto our list is the 24-hour talk time, and 250 hours of standby.
Also, it takes just four hours to completely charge this Bluetooth headset. However, this product hasn't received its fair share of popularity (probably due to its design). Although lightweight, it appears bigger than the in-ear headsets and isn't something that you can toss into your pocket, quite easily. However, this headset comes with volume control and an adjustable headband, which justifies its design.
You can use this device to connect up to two devices, within a range of 10 meters. Although this one may not seem like it's the most compact headset, its battery life and comfortable cushioning make it ideal for office use. So if your job involves handling important calls and conferences on Phone and Skype, then this one should suffice your needs.
4. Aminy Bluetooth Headset with good battery life and 2 Batteries
For those seeking a distraction-free experience, this headset by Aminy would do the job as it comes with a powerful battery and also a spare one, which gives it double power. However, as there's one for each ear, so be prepared to shift the earpiece when you have exhausted one battery. Each battery stays good for 8 hours and takes an hour or two in order to charge completely. So that gives you 16 hours of talk time, and the flexibility to swap batteries and charge them alternately.
Also, this is an economic option that's great for students and those who commute for long hours and need something to kill time, without spending a fortune on it. Although this Bluetooth Headset has a good battery life, it isn't perfect when it comes to noise cancellation. Nonetheless, it comes with an HD built-in microphone, which ensures high clarity. Also, Aminy Bluetooth's nano-coating makes it water-resistant, which makes it ideal for those who perspire a lot or live in rainy regions.
5. BlueParrott B450-XT
Looking out for a Bluetooth headset with good battery life and an excellent range? Then here's BlueParrott, the perfect solution for all your needs. This headset comes with a 300 mAh battery and lets you talk for over 24 hours, at a stretch. All you need to do is charge it for 3 hours and you can walk away from the device and remain connected within a range of 300 feet. Also, the makers of this Bluetooth headset have designed this piece with a plush ear cushion.
Its powerful microphone and its ability to reduce background noise by 96 percent make it ideal for those who drive long distances or for those who commute via tube on a daily basis. The best part about this type of design is that you can wear it and work out on the treadmill, elliptical or anything else. Its design (although a little bigger) ensures that it won't drop off while you workout. That lets you stay fit and receive important calls at the same time.
6. Fimitech Bluetooth Headset with good battery life
Fimitech Bluetooth headset comes with a flexible, microphone which you can rotate up to 180 degrees. This rotatable microphone makes it convenient for you to use it on either ear, according to your convenience. As far as battery life is concerned, you can use Fimitech's Bluetooth headset continuously for a period of nine hours. This Bluetooth headset requires around hours to fully charge and gives you 180 hours of standby. Its voice prompt ensures that you diligently attend to all your calls, while you work on other tasks. This Bluetooth headset also offers a one-key activation option for Siri and separate buttons for power and volume control. On the whole, this is an above-average mid-range Bluetooth headset with good battery life.
7. Conambo Bluetooth Headset
This Bluetooth headset comes with CVC 8.0 dual-microphone noise reduction technology and a battery that can last up to eight hours. However, if you can invest a wee bit more, then you can get a Bluetooth headset with good battery life and a triple microphone for better noise cancellation. However, if you are a college student who likes to listen to audiobooks, and intends to use it to talk to your gang of friends, then you can go for it. That's because unlike the professional folks out there, you need not bother much about the microphone or noise cancellation.
It's a decently priced Bluetooth headset with good battery life, which makes it ideal for college students. Also, this product is water-resistant, so you can sip your coffee while using it, without worrying about liquid spills. You can also connect it to Siri or other voice assistants and can connect multiple devices, at once. Along with this Bluetooth headset, you get three ear tips, and one of those should definitely work for you.
8. New Bee B41 Headset
The New Bee B41 Headset is yet another economic Bluetooth headset with good battery life. It's a super lightweight product that weighs around 18 grams and that makes it extremely comfortable. It's also light on your pocket as it is priced under $20, which makes it ideal for stay-at-home parents and students.
Although this may not be the best choice for those who intend to use it mainly for professional purposes, it works great for those seeking some hard-core entertainment. So if you want a headset that you can use while cooking, traveling or just for fun, then this one works great. Although the battery lasts up to 24 hours and comes with a sixty-day standby, it takes up to 3 hours to charge. Nonetheless, the New Bee B41 Headset is one of the best Bluetooth headsets with good battery life.
9. Yamay BH M98 Bluetooth Headset
Yamay is great for professionals who need to move about and are involved in sales, delivery, maintenance or any other job that requires them to visit customers. As it supports multiple devices, you can use Google Maps to navigate and at the same time receive calls as to where a delivery needs to be made.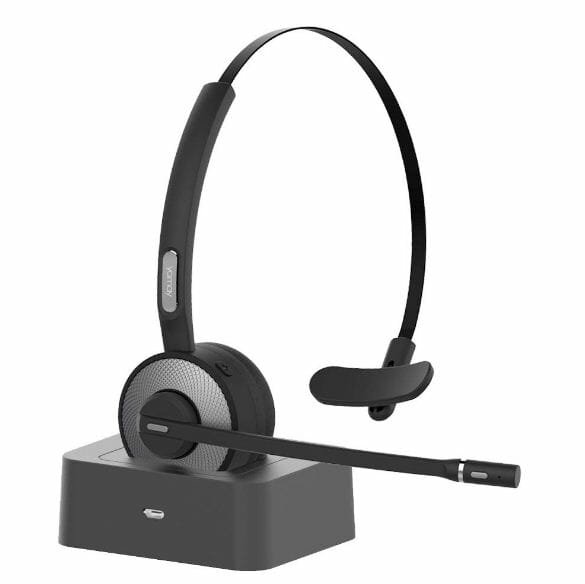 With a single charge, you can use it for fifteen to eighteen hours, but only if you keep the volume at fifty percent. It comes with a well-cushioned headset and a microphone that you can rotate up to 270 degrees. According to some users, this one does not cause any sweat build-up under the ear pad. That makes it ideal for those who need to wear it for long hours but are concerned about its design.
Above listed are some of the best-selling and top-rated Bluetooth headsets with good battery life. Each product has its own strength and weaknesses and you need to pick one based on your personal needs. As individual requirements vary, you need to assess your own needs by taking into account the frequency of your calls, travel or how many devices you intend to connect it to.
Also, depending on your lifestyle, you can choose one with an average or high noise cancellation. Some other crucial factors include range and purpose, so if you plan to use it for professional purposes, you need to have an idea about the distance between your work desk and the conference room. So set your priorities before you finalize a Bluetooth headset, but always pick one that offers longer battery life.