Comprehensive List of Best Bluetooth Keyboards For Smartphones
Your smartphone can do almost everything that your laptop can, but that's only until you want to type your resignation. That's exactly when Bluetooth keyboards come handy, and not just to type your resignation letter, but any other long piece of text. The best part is that you can connect it to your mobile and work on your assignments without carrying a bulky laptop. This works great for college students because you simply don't have to waste time while getting back home. Instead, you could start working on your assignments, on your way home. That gives you more spare time to do the things you enjoy doing, once you get back home. To help you do that and a lot more, we have listed the best Bluetooth keyboards for your Smartphone.
Omoton Ultra Thin Sliding Bluetooth Keyboard For Smartphones
Stuck with a smaller Bluetooth keyboard that doesn't really do what it's supposed to? Then try out this product from Omoton, which isn't petite but is extremely lightweight. In fact, this product makes you feel like you are typing on your laptop, but without the number pad (for those who want one with a number pad, check out the one by Macally). This is one of the best Bluetooth keyboards for Smartphones, in the lightweight category and is also light on the pocket. In fact, it costs less than a fifth of the price of Apple's Bluetooth keyboard. However, performance-wise you won't experience much of a difference, and that's what we call value for money.
The Omoton Ultra-thin sliding Bluetooth keyboard comes with a slider, which is perfect to slide in your mobile phone. This Bluetooth keyboard is also compatible with other devices such as your Ipad and more. Also, Omoton's customer support team is proactive and if at all you come across any serious issues, they send you a replacement in no time. However, you are going to require 2 AAA batteries to get this thing started, and once you do, you will definitely start loving it.
Arteck Bluetooth Keyboard For Smartphones
If you aren't keen on the AAA batteries and are strictly looking out for a product that works on a lithium battery, then here's a fine replacement. This product by Arteck is ultra-slim and comes with a sleek body that's made from zinc, and weighs just 0.37 lb. Arteck combines art and technology to bring you the best Bluetooth keyboards for smartphones.
This product comes with seven different backlight colors, which is great for those who work late at night and often doze off on their desks. It's extremely versatile and comes with system-specific function keys like playback, copy-paste and more. Once fully charged, its battery can hold up for five to six hours and you can extend that by adjusting the brightness level of the backlight.
IClever Foldable — the best Bluetooth keyboard for smartphones
Looking for a keyboard that you can tuck inside your pocket? Try this wallet-sized keyboard from iClever. Now that doesn't mean you have to go through the discomfort of typing on a smaller keyboard. This keyboard is compact only when you fold it, and once you unfold it, you'll see that it's of the same size as your laptop's keyboard.
However, the portability which comes from its foldable design makes it ideal for those who don't prefer to carry any bags. That's because you can simply carry this one in your pocket. As it can sync up with multiple devices and offers a wide range of compatibility, you can use it on your computer, smartphone, smart tv, and all other smart devices. In our opinion, this one looks smart, is compact, versatile, and is definitely the best Bluetooth keyboard for smartphones.
Logitech Bluetooth K480
If you have been missing the 'Delete' key (which you won't find on most Bluetooth keyboards) then try Logitech Bluetooth K480. It is ergonomically designed to stand out from the rest and the spacing in between the keys makes you forget that you are typing on a Bluetooth keyboard. Also, this is the best Bluetooth keyboard for smartphones, when it comes to compatibility. So, if you have faced compatibility issues in the past and stay away from Bluetooth keyboards due to that, then this one is for you. It is compatible with devices that run on Windows 7, Windows 8, Windows 10 and also those that run on Android 3.2 or its later versions. For iPhone users, the minimum requirement is iOS 5 or its later versions.
Another striking feature of the Logitech Bluetooth K480 is its rubberized mounting slot that ensures a better grip. So you can simply slide in your smartphone, and start typing on it without worrying about dropping off your smartphone. The mounting slot is big enough to hold two smartphones, at once. That makes sense as this Bluetooth keyboard can support multiple Bluetooth enabled devices and you can simultaneously connect it to three devices.
Jelly Comb Pocket-sized Bluetooth keyboard for Smartphones
This is one of the best Bluetooth keyboards for smartphones, which comes with a touchpad and an immaculate design. As it is foldable, you need not worry about carrying it around, nor do you have to compromise on your comfort because once opened, this keyboard feels like the one you use on your laptop. It comes with an inbuilt battery and lets you conserve power with the automatic sleep function.
However, if you use an iOS phone, then the touchpad function won't work as it isn't compatible, but only for that specific function. Also, the 'F', 'T', and 'V' keys are a wee bit smaller, as compared to the rest. That's because it folds on those portions, but if these two issues aren't creating a roadblock, then this is the best Bluetooth keyboard for smartphones. It is made from aircraft-grade aluminum and is pretty sturdy. That makes it ideal for those who travel frequently.
Samsers Foldable Bluetooth Keyboard
This is one of the best Bluetooth keyboards for smartphones, in the foldable wireless keyboards category. Once paired with the smartphone, it auto connects when opened and disconnects when closed. It is made from PU leather and when folded, can easily fit into your pocket. This product comes with a free stand for the smartphone which ensures the proper angle of the smartphone screen.
All of that definitely makes it a pleasure to use this product, but there is more to come. This Bluetooth keyboard takes just a couple of hours, in order to completely charge. Once that is done, you can work on it for 40 hours, with a standby time of 180 days. Now that makes this keyboard perfect for those who wish to use it for long hours. Also, it automatically slips into the sleep mode, in case of inactivity. So you need not worry about draining the battery if you fall asleep while working on it.
Sounwill Portable Keyboard
This small and classy Bluetooth keyboard is a great alternative for the regular keyboard and is almost the same size when opened. However, it looks like a diary with a classy leather exterior when you close it and looks extremely professional and neat. This product comes in two different colors, black, and silver, however, we like the black one better. The PU leather does a good job when it comes to safeguarding it from scratches, but if you are particular about having a case for it, then you would have to purchase one yourself. However, you get a free mobile holder stand with this Bluetooth keyboard that lets you adjust your smartphone in six convenient angles.
The Best Bluetooth Keyboard for Smartphones by ZaggKeys
Now here's a Bluetooth keyboard that comes with a protective case, which can also be used as a mobile stand. Although this make-shift stand works pretty well for Smartphones, avoid using it for bulkier smart devices. That's because it appears as though the stand is made solely for smartphones, which are much lighter than other smart devices such as Tablets. The Zaggkeys keyboard is quite productive and comes with a powerful battery and lets you work for long hours without your laptop.
We also like its island-styled keys, which make it more convenient. Also, it is compatible with a wide range of smartphones, and you can switch between various operating systems, by simply flipping a button. The makers of this product have put in a considerable amount of effort in ensuring customer satisfaction. So, in our opinion, we conclude this to be the best Bluetooth keyboard for smartphones, in the under $15 category.
Moko's Bluetooth Keyboard for Smartphones
This Bluetooth keyboard by Moko is ultra-thin and sleek (ideal to gift your girlfriend), besides being extremely productive. When you open it, this keyboard forms a U-shape and features a 166 degrees angle, which is perfect to type on-the-go. Also, it features a magnetic switch that turns on when opened and turns off when you flip it close. The battery charges pretty fast and takes around a couple of hours to charge completely. With one complete charge, you can use this keyboard for around sixty hours and enjoy a standby time of thirty days. However, as it isn't compatible with Windows mobile, we haven't ranked the Moko Bluetooth keyboard as high as we otherwise would.
The Bluetooth Keyboard with Number Pad from Macally
Are you a shortcut buff? Then try this Bluetooth keyboard from Macally, which comes with 20 shortcut keys, and also a number pad. This works great for number-crunchers working on spreadsheets because most Bluetooth keyboards come without a number pad. So if you are into investments or accounts, then this one should work well for you. The best part is that you don't really need any drivers to connect it to your smartphone or any other smart devices. Its' extremely convenient to connect it and comes with a rechargeable lithium battery, that takes just an hour to charge completely.
For Gaming Addicts – Dierya
Are you looking for a gaming keyboard that lets you play your favorite games? Then try this one by Dierya, which works well with several devices, including the older ones. You can use it with Windows 2000 and above versions, and also with Android 4.4 and above versions. It makes use of an in-built 1900 mAh lithium battery, which lasts up to 100 hours when fully charged. As it comes with a backlight, you can play all the games that you want to, even at night. Now that's definitely something that almost every gaming enthusiast would look forward to.
Sparin Bluetooth Keyboard for Smartphones
We rank Sparin's Bluetooth Keyboard as the last one on our list because of certain issues, which although bothersome, aren't grave enough to be classified as "flaws". In fact, it may not even seem like an issue, considering the positive traits of this product. The first issue crops up when you pause for a couple of minutes, and then hit the keys — your first keystroke may not be recognized.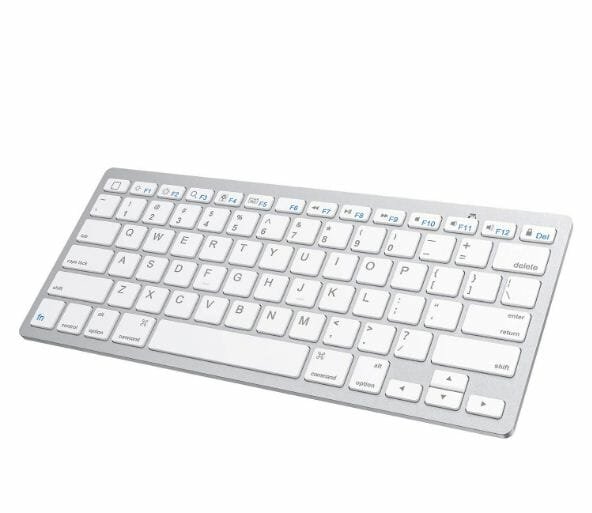 The second and last issue is that there is no escape key. If that doesn't bother you, then this Bluetooth keyboard brings you the best value for your money and is compatible with almost all operating systems. The coolest thing about this keyboard is that it makes use of AAA batteries, so if you go camping, all you need to carry is a couple of spare AAA batteries. You can reserve the power bank solely for your smartphone.
Final Takeaway
While choosing from the abovementioned list of best Bluetooth keyboards for smartphones, we recommend that you first run a self-assessment to identify your requirements. You don't want to spend on another Bluetooth keyboard for at least a couple of years. So ask yourself, how do you want to use it? Do you want to use it on a regular basis?
Do you want one that you can travel with, occasionally? Or do you want one that offers wide compatibility because you plan to use it with various operating systems? Once you have answered that, ask yourself how do you wish to carry it? Do you want to tuck it inside your bag or want something that's wallet-sized?
Once you have all the answers, then you can make the final decision in no time. To make this entire process easier, we have mentioned the suitability of each product. So we hope that you pick the right one based on your personal preferences.