Best CPU Temperature Monitoring Apps For Windows And Mac
A computer is nothing without the CPU since it is the main component. You can have an old motherboard with an old processor or vice versa, but it is the main part of your computer. When you do a lot of high-end tasks such as running a virtual machine, rendering 4K video, etc., you should take care of your CPU very much. A high temperature is bad for the CPU and CPUs to capture high temperature when your system is using the maximum resource. Therefore, it is quite essential to monitor CPU temperature. If you are using Windows or Mac, it is quite easy since there are some handy tools for that. This article contains some of the best CPU temperature monitoring apps for Windows and Mac that you can use for your benefit.
Best CPU Temperature Monitoring Apps For Windows And Mac
Some of the following tools do more than just showing the CPU temperature. Therefore, you should check them all and install the best one.
1. CPU Thermometer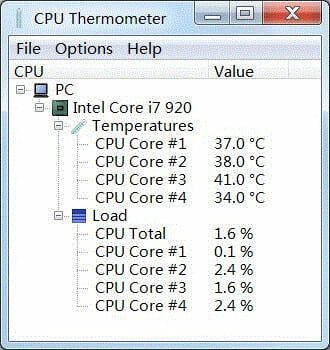 No matter, whether you have an old configuration or new, you can certainly track the CPU temperature in real-time with the help of CPU Thermometer application for Windows. It is compatible with Windows XP or later version, and the best thing is you can use it in Windows 10 as well. It doesn't come with a lot of features and the main functionality, CPU temperature tracking, works pretty well. The user interface of this app looks old-school, but it does what it is intended for. You can find out the current temperature according to the cores. Therefore, it will be quite easy for you to find out the problem quickly.
2. Open Hardware Monitor
When you need to get a detailed and very informative panel to monitor the CPU performance deeply, you should make use of the Open Hardware Monitor software. It requires Windows 7 x64 or later version. On the other hand, you must have Microsoft .NET framework. Apart from the temperature window, you can see the fan's RPM, Bus speed, voltage consumption and many more. Another important thing about this software is Open Hardware Monitor is an open-source tool.
3. HWMonitor
HWMonitor comes from a popular software development company called CPUID. Apart from showing hardware configuration, it shows the real-time temperature of your CPU so that you can track the flaw and rectify it as soon as possible. Although it has a PRO/PAID version, the free edition does almost everything quite fluently. Like the aforementioned tool, you can find the temperature by core, fan's RPM count, Pump PWM (if you have), and more others. Not only just a motherboard or processor temperature but also it shows graphics card temperature. More specifically, it uses S.M.A.R.T to show everything on your screen.
4. Temperature Monitor
Although the development of Temperature Monitor has been stopped, you can still use this tool to check out the CPU temperature in the Menu bar of Mac computers. It is available for free and you can download it on the latest version of macOS. Like a standard tool, you can see the temperature count based on the core your computer has. On the other hand, you can check battery temperature, battery charger proximity temperature, left palm rest temperature and so on. As mentioned earlier, you do not have to open any software to check them out. You can click the corresponding button in your Menu bar.
5. iStat Menu 6
iStat Menu is being developed continuously, and you should not find any problem related to bug or lag. iStat Menu 6 is a very good looking, professional, easy to use, and handy tool for them, who want to check the CPU temperature. Some tools do more than just showing the temperature, and iStat Menu 6 is one of them. The user interface of this tool is pretty good, and you should not encounter any problem while using it for the first time. It is available for free, but you should purchase a subscription to unlock all the functionalities. It is quite affordable since it costs around $14.15 for a single PC.
6. Fanny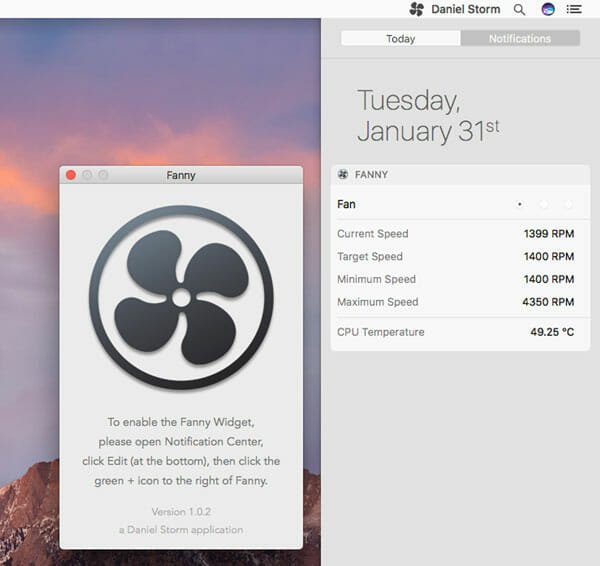 If you do not need a lot of options to track the temperature and you need simpler UI with easy-to-find information panel, Fanny could help you a lot. Fanny is a Notification Center widget and menu bar app that helps you find all the information right from those two places. Being said that, you can check the current speed of your fan, maximum/minimum speed, and so on. This is meaningless to mention that it shows the CPU temperature. However, you can just check the temperature and nothing else.
There are more other similar tools. However, these are some of the best in terms of features, compatibility, ease of use, and price.
Did I miss anything?