Create A Mobile Version Of Your Blog With A Branded URL
With the rising demand for iPad, iPhone, Android and all other mobile devices, a new age of mobile computing has started. Everybody is busy making their product/service available with a mobile app of their own. So either you have to be be a coder or pay one to build your app. If you are not left with any of the choices, here is what you could try to get a mobile friendly version of your blog.
Sign Up And Configure Your MobStac Account
1. Signup for a free account with MobStac. You can also sign in using Twitter or Facebook login. Once you had signed up, you will be sent a verification link to your mailing account. Click that link to verify and then sign in with the details.
2. Enter your blog URL and scan.
3. Once the scan is complete you will be shown all the options for your blog you need to edit. Enter all the details and then opt for a preview.
4. Check out both the small screen and large screen previews. If you are satisfied, scroll down and use the button "Okay! Take me live" to create the mobile version of your blog.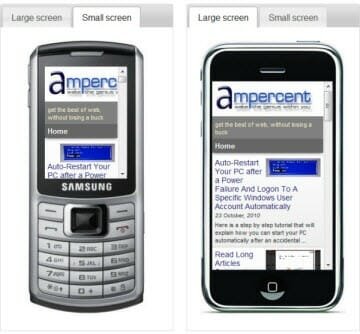 5. In the next page, you will be provided with an API key and your mobile blog URL. Copy them to a notepad and keep the notepad window minimized.
Setting Up Redirection Using Mobstac Plugin:
If you are using WordPress, here is an easy way you can redirect all your mobile readers to the MobStac page i.e whenever someone tries to open your blog url using a mobile device, he/she will get redirected to the MobStac page, which is more friendly for the device.
1. Download the MobStac WordPress plugin.
2. Login to your WordPress admin account and go to Plugins page.
3. Click "Add New", and then select the downloaded zip file. After uploading is complete, activate the plugin.
4. Go to Plugins > MobStac Configuration. Open the notepad window (you kept minimized) and enter the details you copied to the respective fields. Press Save Changes.
Setting Up A Branded URL e.g. m.yourblog.com
From branding perspective, a MobStac URL does not look pro. You must have seen reputed websites have a nice looking URL for their mobile website e.g. m.facebook.com. Well that is quite tricky to set up if you do not have the proper knowledge. But you can surely show off a branded URL like m.yourblog.com using a little DNS trick. If you own a domain, you can use DNS redirection from your cPanel to redirect all visitors using the branded URL to the MobStac URL. Let us see how.
1. Login to your cPanel and go to Parked domains.
2. Create a new parked domain with the a suitable mobile URL. The most commonly used form is m.yourblog.com.
3. Now edit the newly created parked domain for managing the redirection settings.
4. Enter the MobStac URL (http://yourblog.mobstac.com) as the URL to be redirected to and save the settings. Wait for the redirection to be confirmed.
5. Go back to Parked domains and confirm the redirection.
Features:
MobStac has a lot more to offer you along with the free mobile website.
1. You can customize what content you wish to show your mobile users. Say you have a blog which writes on mobile hacks, apps and OS (Windows, Linux) hacks as well. You can filter the feed to show your mobile users the mobile specific content to target a specific niche. To select categories go to, Dashboard > Categories.
2. MobStac also provides a simple analytics page which shows the number of mobile visitors. Go to Dashboard > Analytics.
3. MobStac lets you monetize your mobile web with Google Adsense, AdMob and InMobi ads. This is really great if you get a large number of mobile viewers. To edit your ad setting go to Dashboard > Settings.
So now that you have a mobile friendly version of your blog and that also with a branded URL, go ahead and take advantage of it and monetize your content to earn a few more bucks. Let us know, if there is any other way to make a mobile version of your blog.