Facebook Launches Groups App to Manage Your Groups
Facebook, the social networking giant, has launched a brand new app for iOS and Android, which is called Facebook Groups. Although, Facebook has started showing tons of advertisements, but still millions of people use this social networking website everywhere. You can simply log in to Facebook to connect with your friends, relatives and family.
On the other hand, Facebook has become a medium to get thousands of traffic via paid advertising, group and page. Facebook page is a brilliant support for new website or business owners to get connected with their customers and grow their business. Besides, Facebook group is yet another place where online businesses can rigid their base.
If you have multiple Facebook pages, you can simply download Facebook Page Manager and start getting more out of pages. But, there was no such app to manage your more than one Facebook groups. The user interaction has been growing swiftly at various groups. Facebook, the giant of user interaction tracking, has noticed it and launched their official app to manage groups. This Facebook Groups app will let you do even more than native Facebook app.
Availability
As of now, Facebook Groups app is available on iOS and Android. There is no such announcement on Windows version of this app. Although, the required Android version is not enlisted on Google Play Store but it seems you must have at least Android 4.0 to install it. On the other hand, you can download this group management app on iOS 7.0 and later versions. The most beautiful news is this app is optimized for iPhone 6 and iPhone 6 Plus.
Read Also: Top 6 Apps Optimized for iPhone 6 and iPhone 6 Plus
You can download it on both platforms at free of cost.
Visual Design and Features
The user interface is really attractive and much faster. This app is very easy to use since all its options are well organized. It has four tabs.
The very first tab contains all the group names. You can simply find all your groups. You can find number of unread notifications on corresponding group name.
Just tap on any group and get involved. After opening any group, you will get a screen something like the following picture:
If you have noticed it minutely, you can find a plus icon, which can be used to add member to the group. To comment or like any post on any group, just click on the Comment and Like button respectively.
The second tab is Notification. This tab will display all the notifications, what are received by you for any group activity.
If any notification is unread, you can find a blue button beside the notification.
Third tab presents Suggestions based on your joined groups. Suppose, you have joined some groups related to Online Deals. Therefore, this tab will show some more groups related to the same niche.
The fourth tab has couple of settings to use it according to your wish. From this tab, you can enable or disable Push Notification, In-App Sounds, manage notification priorities and more.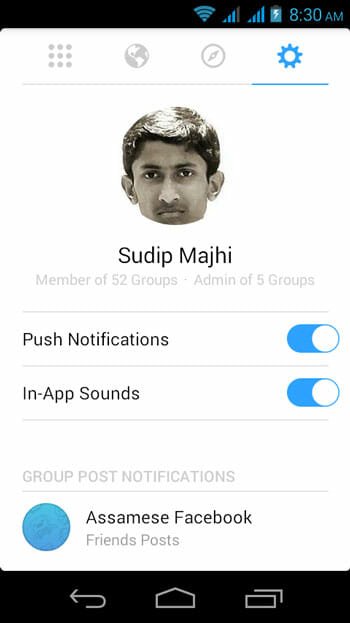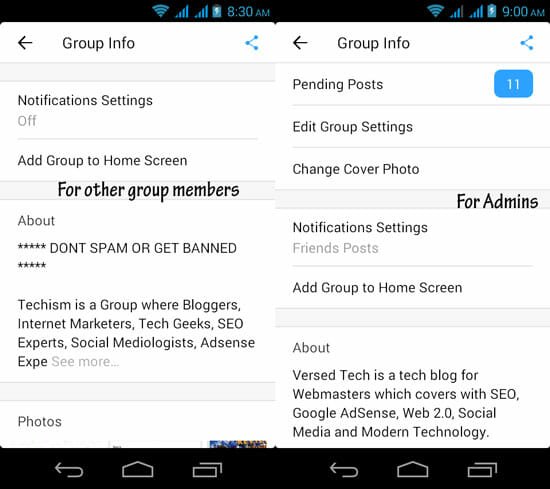 Conclusion
Indeed, this app is really helpful for busy folks, who want to manage their groups in a better way. Alike Facebook Page Manager, Facebook Groups will help thousands of people across the globe to better usability, features etc. As this is a standalone app like Facebook Messenger, native Facebook app is totally optional to you to have.