Soluto Fixes Your Slow Computer, Now Comes With Remote PC Management From The Web
You know what's the most frustrating thing about using a Windows computer every day? It's nothing but slow start up, lengthy booting time and sluggish behavior.
You can't help it by simply upgrading your hardware; Windows will continue to act slow, especially if the latest install of your operating system is fairly "old" (6-8 months) and your system is loaded with heavyweight apps e.g Adobe Air, Photoshop, Games and so forth.
Since I write a technology blog, I have to try out different programs and software applications on a regular basis. I do not keep junk programs or apps and if I am not using them regularly, I uninstall them right away . But some programs do not remove all the data,  registry entries and junk files once you have uninstalled them from your system. This added hog of temporary files, shadow copies and unused registry entries on your operating system is the real cause why windows takes a long time to start-up. Not to forget the entire army of programs, services, applications and processes that are configured to run during Windows start up, slowing down Windows booting time to a great extent.
If you want an easy way to fix a slow computer, try Soluto. Soluto is a nifty little utility which scans your computer and finds the reason(s) why it is taking ages to boot. The program lets you remove unwanted programs from Windows start up, fix applications that often crash or act non responsive and update apps that have a newer version available.
Fix Slow Boot Time Of Windows With Soluto
Here is how to use Soluto and speed up Windows booting time:
1. Once you have installed Soluto, run a scan and reboot Windows.  Start Soluto the next time Windows starts, and you will see a detailed report, as shown below:
As you can see, my Windows booting time before optimization is 1 minute and 18 seconds. Soluto has examined the condition of my computer and divided the programs, processes, applications and services into 3 broad categories:
No Brainer: You should block these processes and services from executing themselves. In my "No brainer" list were programs such as Teamviewer, Google Update, Java update etc, which I don't want to run automatically, whenever I restart my computer.If you don't want a service to run after Windows restarts, choose "Pause". If you want a service to run after Windows has finished booting, choose "Delay".

Soluto will delay the execution of Apps, processes and background services as it will boot the system first, log you in and then launch these services one by one in the background.

Potentially removable: This section is for advanced users and proceed only when you know what you're doing. In this section, you can disable unnecesary Windows services from running in the background, which will reduce Windows booting time to a great extent.
In my system I delayed the execution of the following services and the booting time reduced by 20 seconds:- Samsung Kies, Tata Photon Internet modem service, Microsoft Windows search indexer, XP-723b3dc7.exe, Windows live essentials, DCShost.exe,925761.exe, rpcnet.exe, zssnp211.exe, Facebook Installer.exe, domino.exe, fsusbexservice.exe.
Cannot be removed: These are programs and services required by Windows to work, so you should not touch anything here. In fact, you can't.
Soluto also lets you disable unnecessary browser plugins with just a few mouse clicks. Using Soluto, I disabled the Google talk chat plugin, Facebook desktop plugin, VlC web plugin and Picasa photo upload plugin. While you can always perform the same action from your browser, Soluto offers an easy way to remove unnecessary software services that constantly hog down your system memory and makes it slow.
Whats interesting about Soluto is that the program now comes with remote management features, so you can manage all your computers from a web based interface. Once you have installed Soluto on all your computers, create a free Soluto account and add all the computers one by one. Next, let the program scan the current state of your system and you're done.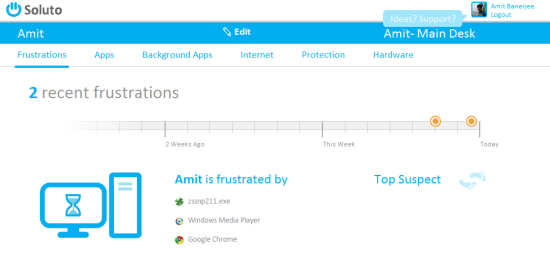 Soluto will log all the reports directly on your Soluto account and will preserve the system history in a sleek timeline, so you have an archive of your entire PC history, stored on the web. This includes a history of which apps often crash on your system, which apps are responsible for slow booting time and which apps take a long time to start up.
Moreover, you can update all the outdated software applications to their latest version, directly from your online Soluto dashboard.
All in all, Soluto is a sweet little utility which can figure out which apps are slowing down Windows and which apps frequently crash. Soluto will save all the crash reports in your Soluto account and will provide a viable solution by comparing similar problems of other Soluto users.
Remote PC Management
What I really liked about Soluto is its unique remote management feature, which allows you to fix and solve problems of any Windows computer from a web based interface. If you have a friend who needs assistance, just ask him to download the Soluto client and add his computer to your own Soluto account. Once his computer is added to your Soluto dashboard, you can analyze crash reports, update apps, remove programs from Windows start-up and optimize system settings directly from your Soluto account.
The changes will be propagated to the host computer via the Soluto desktop client. Easy business!
Thanks Ashish.