Hidden GPS Tracker for Car, Bike, Phone, Chlid and Pets: Best of 2019
Security is the most debated subject in this digital age. I bet, you agree with me. But, it's expensive too. Clearly, it's a necessary evil. And, for security current global search queries which are flooding on the web are like, hidden GPS tracker for cars, hidden GPS tracker for bikes, hidden GPS tracker for children, hidden GPS tracker for phone, hidden GPS tracker for Pets and so on.
Yes. Hidden GPS tracker or tracking systems for everything that we love are raising up as these systems can provide real-time location monitoring access.
So, in this article, we will assist you to pick the best-hidden GPS tracker for each aspect of our lives. Let's roll.
How to Select the Best Hidden GPS Tracker for Yourself?
There are some basic features which you should consider before choosing any kind of GPS tracker based on your purpose.
The device should be a real-time tracker.

Make sure that the tracker should monitor your vehicles/assets/living beings by the active update mode. There is a passive mode as well, which gives you a previous location rather than the present point.

Always check the advanced technological/network support of the GPS tracker. Because there are 2G to 4G support based GPS trackers in the market. The 4G GPS gives you 100% success rate in urban and rural areas.

A good tracker must have solid battery life. A sleek and trendy GPS is not so energy efficient compared to a

 big one. Therefore, for the long term purpose (car/truck), it is better to select the bulky trackers. And for daily and short-time usage (child/pet), go for sleek and easy to hide tiny devices.

Go for branded trackers with high accuracy level.
Best Hidden GPS tracker for cars:
By breaking the concept of usage complexity, Spy Tech STI GL300 Real-Time Vehicle GPS Tracker made it so simple to use. It's about 3 inches long and weighs about 8 ounces, easily fits the bottom of the seat. But don't go on its size, a strong lifespan battery lasts up to 2weeks between charges.
With its compatibility with Google Maps, it sends information frequently. Alike Google Map, it has similar large and clear templets to describe your location within every 5 minutes duration. You can get your alerts by e-mail or text message as well (Geo-Fencing).
It is the most pocket-friendly GPS tracker containing all of the basic features that are needed. But, remember it's a 2G- based network tracker. Network quality in cities is ok but in rural areas, it's too poor. It can be the best-hidden GPS tracker for bikes. This compact-sized GPS tracker's price is $25/month with no activation/cancellation fees.
To get the maximum accuracy on location, speed, traffic condition while motoring cars in real-time, you need to grab this GPS tracker. It's directly connected with Google maps and it gives you update on a free mobile app on every 60 seconds. It also featured with the Geo-Fencing.
If you are a parent of teen children and want to keep a track of your teenager's driving checkup like -speed, acceleration, and other habits, then MOTOsafety OBD GPS Tracker is ideal for you. Some cool features like automatic fuel alerts and others made it so convenient. With no activation or cancellation fees, it comes on a flexible $19.99/month basis pricing plan.
Best GPS Tracker for Boats
This tracking device is a bundle of modern technology.
SPOT Trace has a tremendous battery quality (4 AAA cells) that lasts six months.

IPX7 rated waterproofing feater( splash, rain, shower, accidental exposure of water)cover up to one meter for 30 minutes. You even don't need to buy any waterproofing carry case.

The only odd thing is, it is a bit of big in size and a little more expensive( plans start at $10/month) Rather than classic cellphone technology.
SPOT uses satellite technology for tracking.
You can set the time limit between 2.5 to 60 minutes for getting updates.
 You can receive text or email along with Google Maps even in the situation of any power cut or low battery condition.
So, why are you waiting for, make secure your expensive toys with real-time hero SPOT?
Best GPS Tracker for Pets
It's ideal for those who have one or many sweet furry members in their family. Whistle 3 uses cellular technology to give you pinpoint spot information about your pets, continuously up to 24 hours. If you set an alarm, you will receive an alert if you cross the "safety area", so that you may find your pet before it escapes.
Whistle 3 weighs about 8 pounds and fits easily in the pet's key chain. Great 7 days durable battery life and truly waterproofing feature make it more trendy. Though it is compatible with iPhone & Andriod software, the only down feature of it is unlike satellite network it only uses older AT&T's cellular network. Whistle 3 plan starts at $6.95/month.
Also Read: 15 Best Productivity Apps for Business Travelers and Solo Backpackers.
Best GPS Tracker for Luggage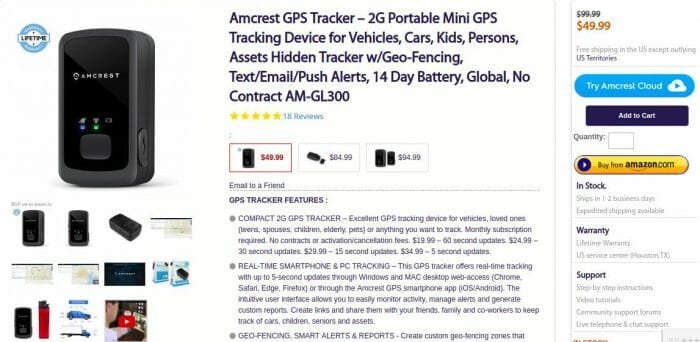 Many of us lose luggage on a foreign/public tour. That's why Amcrest is gone be your luggage guard while traveling. it's a tiny match-box sized GPS (waterproof), can easily be hidden in any kind of checked travel pack/suitcase/luggage/teenager's backpack. You don't have to depend on Airport authorities any more to find your bag anymore. Because of a 2G GSM network technology compatibility with both AT&T and T Mobile send you alerts, when the cellular network is available. Battery quality is also good.
Its price is so little comparing your peace of mind. It prices double than a car one.  Features like Geo-Fencing, real-time location alerts, every after 60 seconds with GPS location access on a smartphone or computer are very useful to find your missing luggage.
Best GPS Tracker for Elderly Persons
It's your responsibility to retain all time regard to your elderly loved ones as they did for you back. With an excellent tracking efficiency and a built-in SOS alert system in a tiny locket like body gain it super slick to use/wear. Both GPS and 3G cellular network and wi-fi connectivity are workable on this GPS via a sim card. Means both indoor and outdoor network consistency will be great.
To get it you don't require any advanced subscription charges. Just pay for getting the service as long as you want and cancel it whenever you want. But remember there will be a 3G data cost additionally to be paid. Wear it in your collar chain. Your loved one will get alerts and take actions whenever you need help from you. It is waterproof, can be used in pools and joy water ride also. Let live your older loved ones/grandparents life in happiness and freedom in a secure way.
Best GPS Tracker for Kids:

Presenting GPS tracker in a kid's SmartWatch is the coolest new feature to secure your children's movements. Simply, go to the app store and download the Wonbo app to your Andriod or any other device and start locating your child from anywhere through its GSM cellular system. You can also use Wonbo website to test or locate your child despite having the app.
There are an array of smart features too.
through an "SOS" button a child can contact the parents without dialing their full number.

There is an in-built 'Speed-dial" system. As a parent, you can create your own geographical area and can get an immediate alert if a child crosses it.

For its trendy look, your child will love to wear it. It comes on a three vibrant color option- pink, lime green, turquoise blue.
I bet, this list of GPS trackers will help you to tighten the security loose ends you are fighting with. If you think that we have missed adding interesting GPS tracking devices, always feel free to contact with us.