Facebook Wants Users To Increase Their Account Security
Getting trapped by malicious Facebook applications is one story, there are numerous other occasions when you might lose access to your Facebook account. Keyloggers, Phishing, malicious links, weak passwords, poor security question – you name it. The situation is worse when the imposter completely changes the login credentials associated with your Facebook profile and continues to impersonify your Facebook profile – pretending to be YOU.
Now there are a couple of more things to worry about, if someone manages to hack into your Facebook account by whatever means possible. First, he will immediately know your real email address, phone number and your other whereabouts, which is a really big security risk.
Second, the hacker might read your archived messages, past chat logs, connections and do other vulgar acts with your close friends and family members. The worst thing is that your friends might think that it is YOU who is doing these things while you are completely unaware of what's going on in your virtual life.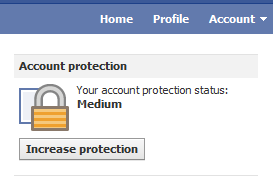 Facebook knows this but unfortunately, not many users are really serious regarding the security of their Facebook account. Most people want to increase the security of their Facebook account, but choose really weak passwords and often do not bother about their privacy settings which lays the welcome mat rolling for spammers, hackers and malicious sites trying to trap you.
Interestingly, Facebook has recently started a new alert campaign which encourages users to increase the security of their Facebook accounts by following a simple wizard. Facebook knows that 90% of its users are really novice and they don't have much clue on how things work. So this wizard will help you perform a security check and review all the login details, security question and enter an alternative email address.
The link to the "Update security information" wizard appears randomly in the right sidebar and takes you to a page where you can review all the login details, associated with your Facebook profile. Here is how the page looks like:
Keep Your Facebook Account Secure From Hackers And Spammers
If you want to ensure that your Facebook account stays secure, here are a few Facebook security settings you should know and implement right now:
1. Spend some time on your "Account settings" area and learn how security and privacy settings work in Facebook. Better to learn the important stuff first than regret about it later.
2. Sign up for Facebook login alerts on your mobile – it's a free service offered from Facebook which sends instant login notifications to your phone, the moment you or anyone else logs in to your Facebook account. If you receive a login notification while you are not logged in to Facebook, be rest assured someone else has managed to take a sneak peak.
3. If you use multiple computers or public internet cafe's to access Facebook, you should sign up for Facebook login approvals. This is another useful security feature of Facebook, which lets you use a login code along with your password. The advantage of using Facebook login approvals is that if someone manages to guess or crack your Facebook password, he won't be able to log in, as the one time login code will be sent to your mobile phone.
4. Always check the URL in the address bar before typing your Facebook username and password. There are so many sites which look exactly similar to Facebook but the reality is that they are not a part of the original Facebook website. These are malicious sites who frequently try to sniff the login details of innocent people, under the cover of lucrative offers and free stuff.
5. Don't click on any suspicious link, Java Script codes or add an application you don't trust. Some of these applications and games can perform malicious activities on your profile and excessive spam behavior might get your Facebook account flagged.
6. Do not use your obvious email address or work email address to sign up for Facebook. If you want to keep hackers at bay, use an email address and username which no one knows at all. This is one of the best ways to protect your Facebook account from hackers, because if the third party is unable to guess your username – he will never be able to get through.
There is another advantage of using a private, lesser known email address for signing up on social sites. Third party applications, Games and sites who use Facebook connect will never know your real work email address so all the spam promotions and junk notifications won't clutter up your main email inbox
7. Go to the Facebook security wizard page and carefully follow all the instructions. Review this information routinely and check the security meter indicator on the top right corner.
8. Remove unnecessary applications, games and third party apps which you never use. Don't ignore this step
9. Do not fall for sites who ask you to create an account with them using your Facebook account and ask you to type your Facebook username and password. Facebook has a Facebook connect API which never asks for usernames or passwords on third party sites.
10. This is obvious as well as important.
Do not share your Facebook password with friends, spouse or the one you love. You never know when your relationships might break (God forbid) and the person might try to defame you online by changing your Facebook password and posting abusive messages on the profiles of friends. Your online life is yours and you should never ever share any password with anyone else, not with your mom and neither with your wife/husband. Never!