Nexus 6P vs. 6 – Detailed Comparison
Google has just extended their Nexus series. Now it has been manufactured by the Chinese mobile company, Huawei. The latest Nexus mobile is called Huawei Nexus 6P, which will eventually help selfie maniacs to capture better selfies. Apart from having the front camera improvement, is there anything better in Nexus 6P? Let's check out this detailed comparison and find them out yourself.
Motorola Nexus 6 vs Huawei Nexus 6P
After one year of launching Nexus 6, Google has almost launched Nexus 6P with couple of improvements. The looks, hardware, software etc. have received enlargements but they are not major upgrade. Although, people haven't used it, yet they have started criticizing this device because of downgrading few things and increasing the price tag.
Network
In terms of cellular data, there is no such major improvements in Nexus 6P both of the devices support GSM, CDMA, HAS and LTE. The 4G LTE speed remains same. Previously, it used to be 42.2/5.76 Mbps in Nexus 6 and now this is same in Nexus 6P. This is obvious because the 4G LTE connectivity frequency is also same. You will get LTE band 2100, 1900, 1800, 1700, 850, 2500, 900 and more.
Dimension & Weight
Now, Nexus 6P is going to excel since it has got a quite enhancement. Although, the height of Nexus 6 and 6P are exactly same but there is a little difference in width and thickness. As the height remains same, it will be 159.3mm in both. However, Nexus 6 has 83mm width but Nexus 6P has a width of 77.8mm. At the same time, 10.1mm was Nexus 6's thickness, but it has been changed now. Nexus 6P has a thickness of 7.3mm. This seems a major change in this new device. The weight of both devices has a little difference. Nexus 6 is 184g but Nexus 6P is 178g. Although, this is not huge but still this upcoming device is quite lighter than old one.
Display
Google has not made any compromise with the display. You will get AMOLED capacitive touchscreen with 16M color density. But, there is a twist. Nexus 6 has 5.96 inch display bit Nexus 6P has 5.7 inch display. Nevertheless, there is another twist. The screen resolution is same but the pixel density has been changed. You will get 1440×2560 pixel of resolution with 493 ppi pixel density in Nexus 6. But, Nexus 6P has 518 ppi pixel density with the same screen resolution.
However, the main improvement of Nexus 6P is it is coming with Corning Gorilla Glass 4 with oleophobic coating. On the other hand, Nexus 6 has Corning Gorilla Glass 3, which is not so bad though.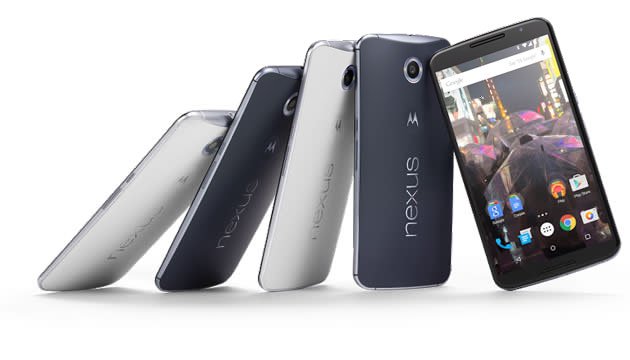 CPU & GPU
You will notice a little improvement in Nexus 6P, when it comes to CPU and GPU. Nexus 6 has Qualcomm Snapdragon 805 chipset with Quad-Core 2.7 GHz Krait 450 processor. However, now, you are about to get Qualcomm MSM8994 Snapdragon 810 chipset with Quad-Core 1.5 GHz Cortex A53 & Quad-Core 2.0 GHz Cortex-A57 processor in Huawei Nexus 6P. The GPU has a little change. You have got Adreno 420 in Nexus 6 but Nexus 6P has Adreno 430.
RAM & Memory
In terms of RAM, Google is getting the number 1 position because they do not integrate low quality RAM in their devices. The same thing remains here as well. You will get 3GB of RAM in both of the devices. However, Nexus 6 is available in two different variants i.e. 32GB and 64GB. But, Nexus 6P will be available with 128GB memory as well.
OS
Google's new Android version is going to roll out from upcoming week. However, neither Google not Motorola has announced anything about the Android 6.0 update for Nexus 6, when Huawei Nexus 6P is having Android Marshmallow. Obviously, Nexus 6 will get the Android 6.0 update but it will take much time to roll out for this device.
Camera
Instead of getting improvements, Google has downgrade the rear camera. Previously, they included 13MP camera with autofocus, optical image stabilization and dual-LED flash in Nexus 6. The image resolution was 4128 x 3096 pixels. However, now you will get 12MP camera with laser autofocus and dual-LED flash with a resolution of 4608 x 2592 pixels.
The front camera has got a major change. From 2MP to 8MP in Nexus 6P. Now, you can also record video using the front camera at 72p@30fps.
USB
The new mobile is coming with Type –C 1.0 reversible connector, which is new in Nexus devices because Google has always used microUSB 2.0.
Battery and Backup
Both of the devices have non-removable batter. But, it has a little change. Nexus 6 has Li-Pro 3220 mAh battery that is capable of providing 24 hours of talktime. However, Nexus 6P has Li-Pro 3450 mAh battery.
Final Word
Now, you need to decide whether you want more stability of better front camera. According to some mobile experts, Nexus 6P is better than Nexus 6 when it comes to LTE, camera and display. However, some experts have voted for nexus 6 because of performance and price. By giving some little improvements, Google has raised the price from 540 euro to 650 euro. This is a major change.