Samsung Galaxy S20 Ultra Specifications, Features and Price
Samsung Galaxy S20 Ultra is the third mobile in the S20 series, but it is the most powerful Android smartphone you can purchase today. From the display to the camera – everything is top-notch and the best on paper. However, how practical is this smartphone? Do you need Samsung Galaxy S20 Ultra in your pocket? Let's delve into the specifications, features, and price to know everything about this new smartphone with extraordinary configuration.
Samsung Galaxy S20 Ultra Review
Design And Build Quality
The design of this smartphone is entirely different from other mobiles that are already ruling the market. The front side is nothing but the display with a punch hole that represents the camera. On the bottom side, it includes the in-display fingerprint scanner. On the rear side, you can find a big bump, and this bump contains some of the essential components of this smartphone. As usual, Samsung included an aluminium frame, and the material of the overall build is excellent. You can feel the difference while holding this mobile in your hand, and that is how good it is.
Talking about the side, it has a dimension of 6.57 x 2.99 x 0.35 inch, and it weighs 222gm. Although the weight of this smartphone is higher than usual, you might not have any problem if you have a big hand. However, small hand people can get serious issue because of the size. Apart from that, it has Corning Gorilla Glass 6 on both sides for protection and IP68 rating. In the bottom, it has USB-C port that you can use to charge the battery. Regarding the color variants, you can find Cosmic Grey and Cosmic Black.
Read More: Samsung Galaxy S20 and S20+ Specifications, Features and Price
Display
The display can always make or break a smartphone. In this case, the display of Samsung Galaxy S20 Ultra is a big plus point that can surely make the audience in the global market. To be specific, this beast has 6.9inch Dynamic AMOLED 2X capacitive touchscreen with a resolution of 1440 x 3200 pixels. On the other hand, it has HDR10+ support and 120Hz refresh rate at FHD and 60Hz refresh rate at QHD. The panel of this display is nothing but excellent. The color saturation is much better than others, and the overall display is vivid in broad daylight.
You should get the color that way it meant to be. The good thing is that Samsung did not include a curved display this time. Instead of a curved display, you are getting a flat display. Although a curved display was not an issue, many people faced problems while installing a screen protector.
Performance
As mentioned in every phone review article, you get an excellent performance only of the hardware is good enough to bear your apps. This time, you won't find anything to complain about since Samsung has made sure of that. On paper, it has probably the best hardware you can see right now. That means it has Qualcomm SM8250 Snapdragon 865 in the USA edition and Exynos 990 in the Global edition.
On the other hand, you can see Mali-G77 MP11 in the Global edition and Adreno 650 in the USA edition. Although there is no difference between S20/S20+ and S20 Ultra, you can undoubtedly find a slight variation in the performance. That happens because of the amount of RAM they are giving.
You can see minimum 12GB of RAM in the Samsung Galaxy S20 Ultra. If you need more, you can opt for the 16GB variant as well. Talking about the storage, they are offering 128GB, 256GB, and 512GB options. However, the 512GB variant includes the 16GB of RAM. No matter which edition you purchase, you can increase the storage with a microSD card. However, they use the Hybrid SIM slot. In other words, you can use either one SIM + SD card or two SIM.
Camera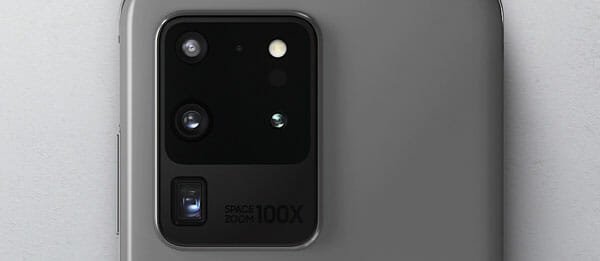 It is where the main element of this smartphone is lying down. You can buy any Samsung mobile; you will always get two things better than others – display and camera. This time, Samsung included 108 MP f/1.8 26mm sensor, and you can use it as the primary camera. According to some people, Samsung added a high-end digital camera in this camera that can capture and record impressive scenes without any issues. On the other hand, you can find 48 MP f/3.6 telephoto lens, 12MP f/2.2 ultrawide lens and 0.3MP depth sensor. The most important thing about the 48MP camera is that you can get 10x hybrid optical zoom and 100x digital zoom that is named after Space Zoom by Samsung.
The videography would be smooth on this smartphone since it can record 8K video at 24FPS, 4K video at 60FPS, 1080p video at 240FPS and 720p video at 960FPS. Apart from that, it sports OIS so that you can record shake-less videos effortlessly.
Regarding the front camera, you can find 40MP f/2.2 sensor for a selfie that can record 4K video at 60FPS.
Battery
When you have such a big display, a camera, etc., you must need a bigger battery. Otherwise, you won't be able to use the smartphone for a long time. To deal with that, Samsung included 5000mAh battery in this smartphone along with a 45W charger that can charge this smartphone from 0 to 100% in an hour.
Connectivity And Other Features
Samsung Galaxy S20 Ultra has 5G compatibility – though 5G is not standard in every region, as on today. On the other hand, you can get Wi-Fi. Wi-Fi Direct, Hotspot, Bluetooth, GPS, NFC, FM Radio (the USA and Canada), etc.
Price
The price of Samsung Galaxy S20 Ultra starts from ₹92,999.
What do you think about this smartphone? Will you spend ₹92,999 to purchase a mobile?