Get Free Gmail Sms Alert for New Email in Your Mobile Inbox
Gmail still plays important role as a part of private communication. You can read Gmail offline and backup Emails from Gmail but have you ever got sms alerts for incoming new emails in your mobile inbox? Sometimes you feel repentant when you have no internet connection, and you need to get in touch with Gmail inbox as there are important emails to come.
With the help of some native extension, you can get new Gmail notifications even without logging into Google mail. You should be informed about the fact that one can get real-time Gmail notification in Google Plus account anytime. I am bit surprised because Google has not included any known option to receive free text message notification alert to your mobile number still now.
However with Google Spreadsheet, Google Calendar and Google Action-script integration, I have modified a Sms based real-time mobile alert system for Gmail which was originally introduced by Romain Vialard. This technique let Google send you sms alert when new Gmail comes.
Get Gmail Notification Sms Free – How to
With the help of some third-party services or using sms gateway in email forward option one can get 'gmail sms alerts' but of course these services are not free and there might be some privacy related issues. However you will get instant answers to these queries regarding a just-received email.
Subject of the email.
Name and email address of the sender.
Exact time with date for each new individual unread email.
Getting started with 'Free Gmail mobile alert system', you just need to cover few simple steps as mention below.
Step I: Make Free Sms Reminder with Google Calendar Set-up
Sign in to Google Calender.
From top-right corner of your browser Click on Gear button and select Settings.
Go to Mobile Setup tab and verify your mobile number there.
You will automatically be redirected to Reminders and Notifications page.
Set Sms option as your default event reminder and set the time to 3 minutes.

Now click on save button to complete Google calendar configuration for phone notification.
Step II: Configure Gmail and Create Filter
Sign in to your Gmail account and from the icon select settings.
Go to labels tag, create a new label with the name sendsms.
Now create a new filter from Filters tab and to get sms alerts for all new emails from Gmail inbox.
Enter "is:inbox" in the 'Has the words' field.
To bypass email alerts for social and promotional emails enter "category:social,category:promotions" in "Doesn't have" field.
See the picture below:
Select "Create Picture with this Search" option.
Tick the box "Apply the label" > then select "sendsms" > click "Create filter".
Step III: Configure Google Spreadsheet and add some actionscript
Sign in to Google spreadsheet.
Create a new spreadsheet.
Navigate to Tools and choose Script Editor.
Get the code from this link and paste it in script editor page.
Select Resources > Current project's triggers.
Click on "Add a new trigger" and configure the trigger as per the below image.
At the Run field select 'sendsms'.
At the Events field select Time Driven >> Minutes Timer >> Every Minute. Then click Save button.
To authorize the script, click on continue and Save respectively.
Now click on Save icon from the top menu and close the Window.
Now back to Google spreadsheet and you will find 'Gmail Sms Alerts' tab there.
Select 'Authorize'.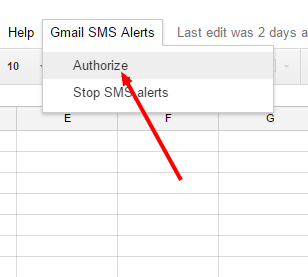 Click on Ok.
Finally when you will be asked for Gmail integration permission, Accept it.
That's it. Now you'll instantly get an sms alert as soon as any email will come to your Gmail Inbox.
Setup Gmail SMS Alerts for Free – Final Words
Text message notification for Gmail configuration is little bit tricky. For this workaround, you should follow every steps carefully. Either you will be unable to get free email notifications to your registered mobile number. In my personal opinion, Google should include this feature so that common people use it.