Best Photo Editing Apps for Android- Capture, Edit, Store and Share
Ok. I am not a SLR cladded serious photographer and that does not cease me capturing what I feel through my eyes. I just point my android and capture everything that tender me a good feeling. As I am a rookie and know pretty less about the whole process of capturing, editing and storing of photos, it troubled me all the time. These photo editing apps for Android made my life as a photographer simple.
Capture It First
Capture your view with Google Camera. To me it's the most important part of this process. It's always great to have a really good snap to start with and Google Camera braces this facet really well with a pretty big capture button. It's capable of capturing quick photos and videos with brilliant picture modes like, Photo sphere for a wide 360deg view, Panorama for high resolution shots and more. It works on devices running on Android 4.4+(Kitkat) but it performs best with Google Nexus.
Don't hesitate to rotate your device while taking a shot as the capture button will always stay on the bottom side of the phone regardless of the direction you flip your device's camera. With all these brilliance this app is a great one, but it's also a rich one. Appallingly, every Android, those are roaming on the globe do not have a Gyro sensor and a 1GB memory to run this rich app. Personally, if you are really keen to turn your smart device into a full fledged high end camera, then it's always cheaper that your dreams.
There are a herd of similar apps available in store offering almost the same features like, Camera 360, Candy Camera and more. Try anyone that fits your needs.
Edit your best shots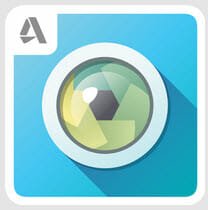 We all want our best captures to excel to a better than the best state by editing it. Picture editing has always been enticing art for photographers. A creative picture editor turns a good capture to an outstanding one by adding their feelings to it. You really need a stand out picture editor app for polishing your captured gems. With Pixlr Express you have the authority to choose from over 2 millions combinations of photo effects. This powerful editor enables you to easily crop, rotate, resize and overlay your capture.
Pixlr express houses an array of brilliant features like, one-click fix to rectify odd colors, Creation and customization of a photo collage, easy photo sharing button for email and Facebook. Also you can customize the mood of the whole capture by altering the tone of it. Add some sweet memory to it by converting it to a pencil sketch or a water colored one. Give it a personal touch by annotating it with fonts, stickers and overlays. These features are the main ingredient by virtue of which Pixlr Express tops the list of photo editing apps for Android.
Apps akin to Pixlr Express like Skitch, Pixlr-o-matic, PicsArt offer the same comfort to their users.
Store them in the Cloud and Share anything
Our photos are the one of our bragging rights. Flickr is for pressing photographers who live photography. It's colossal 1000GB free cloud storage is a safe house for every stellar photographer. Being a true photo storage service, this app got everything. With features like, upload photos of different resolutions, granulated privacy controls and a coveted public API it is the unparalleled topper in this particular niche. Simply, save your precious photos at a single place and take it anywhere.
It's also an advanced photo editor having all the tools under its armour. Simply, capture the video of your HD life and share it directly with social communities like, Facebook, twitter and Tumble. Follow and learn from the best of the photographers on it. There are also a bunch of competing apps like, Google+ offering 15GB of storage, Amazon Cloud Storage offering 5GB and others.
It's always a tough task to maintain all these stages, but these apps are here to make it light for you.Never stop capturing the feelings of your eyes.