Samsung Galaxy J7 vs Moto G 4 Plus : Which is Better and Why
Couple of weeks ago, Samsung launched two new mobiles called Samsung Galaxy J5 and J7. Although, the J5 is lower level mobile but Samsung Galaxy J7 is comparable with Moto G 4 Plus, which was launched few days ago by Lenovo. Both of the mobiles have some cool features. Samsung has launched a very compact device. On the other hand, Moto G 4 Plus comes with so many great features what may attract you any kind of mobile users. Both of the devices are priced almost same. Although, there is a difference, yet, you can get them at almost same price. For your information, you should know that Galaxy J7 costs Rs. 15, 990 and Moto G 4 Plus costs Rs. 14,999. Now, if you are confused between these two mobiles, do check out this features configuration, what will let you opt for the better one.
Samsung Galaxy J7 vs Moto G 4 Plus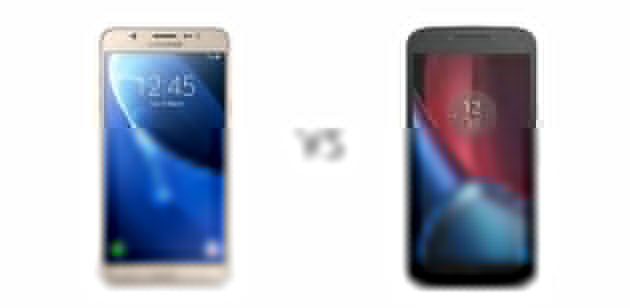 Design
The design of these two mobiles should get same rating as both of them are having quite good material. However, the Moto G 4 Plus has a metallic finish, which makes the phone even better. It has a single button on the front panel but you can find three different buttons on the front side of Galaxy J7. The dimension is almost same. The dimension of Samsung Galaxy J7 is 151.7 x 76 x 7.8 mm. On the other hand, the dimension of moto G 4 Plus is 153 x 76.6 x 9.8 mm. Although, the size of Moto G 4 Plus is bigger than the other one, but it weighs less. It weighs only 155gms but Galaxy J7 weighs 170gms.
Display
Samsung always produce a great display and there is no exception in this case. You will get 5.5-inch Super AMOLED display along with 16M color depth. The screen resolution is 720 x 1280 pixels. However, Moto G 4 Plus has a better display. Although, the size is same but you will get IPS LCD display with a resolution of 1080 x 1920 pixels. Therefore, some high end games will play without any problem. The plus point is it has Corning Gorilla Glass 3 for protection.
Performance
The performance depends on the hardware and software. Talking about the software, you will get Android 5.1 in Samsung Galaxy J7 and Android 6.0.1 in the Moto G 4 Plus. This is obviously a plus point of this mobile. The advantage of Galaxy J7 is you will get 1.6Ghz Octa-core processor, which is obviously a good thing. However, if you check the other mobile, you can find 1.5GHz Quad-core processor or 1.2Ghz quad-core processor. As there are two different variants, you will get two different processors. Galaxy J7 features ARM Mali-T830 MP1 but the Moto mobile has Adreno 405. Both of them are equally good. Talking about the RAM, you can find 2GB RAM in Galaxy J7 but 3GB RAM is included in Moto G 4 Plus. At the same time, you will get 16GB internal storage with Galaxy J7 but 64GB is included in the other one.
Camera
Camera is something what people always check before purchasing a mobile. Therefore, if you are a mobile photographer, you can certainly find these mobiles good for your daily job. Samsung Galaxy J7 has 13MP rear camera with LED flash and all the other features. You will get 5MP front facing camera as well. On the other hand, 16MP rear camera can be found in Moto G 4 Plus along with 5MP front facing camera. Features wise, Moto G 4 Plus is far better than Galaxy J7.
Battery & Others
No matter whether you want to buy a smartphone or an entry level mobile, you should always check the battery quality. Talking about the battery, you will get Removable Li-Ion 3300mAh battery in Samsung Galaxy J7. On the other hand, you will get non-removable Li-Ion 3000mAh battery in Moto G 4 Plus. Obviously, you will get better battery backup in Samsung mobile.
The most interesting and the top most advantage of Moto G 4 Plus is it comes with fingerprint scanner. Therefore, you can protect your mobile in a better way.
So, what do you think about these two mobiles? Which one is better and why?