How To Schedule Tweets In Bulk At Particular Time Of The Day
Scheduling is an important word in the dictionary of any web worker. You can't be online 24 hours a day, there are times when you won't be present in front of the computer and want to schedule emails, tweets, blog posts and other routine jobs.
There are so many Twitter tools out there but only a few of them lets you schedule Tweets for free. Either the services for scheduling tweets are premium or they are much too complicated for the end user. And I am not talking about Twitterfeed, Hootsuite or other RSS to Twitter services which lets you auto post blog posts to Twitter at regular time intervals.
How To Schedule Tweets In Bulk
This is where Buffer comes in, it's an Insanely useful and easy to use service which lets you schedule tweets at particular time intervals of a day.
Using Buffer is fairly simple, first you will need to sign up for an account and connect the app with your Twitter account using oauth. Next, you have the option to do any (or all) of the following:
I am a great fan of bookmarklets, hence I choose the first option; you can install the Chrome or Safari extension if you want.
Hitting the bookmarklet or the extension button will allow you to create a sample tweet (known as buffer) and then schedule a twitter update at a specific time of the day. When you're done scheduling the tweet, it's sent to your "Buffer queue" which means that the app will update your Twitter status at the specified time. So if you're out of office, travelling or on a holiday, it might be a good idea to use Buffer and auto schedule specific tweets at different times of the day.
From Buffer settings, you can enter your Bit.ly login credentials if you want to track link statistics, hits and click through's of the scheduled tweet. All in all, this is a nice option to consider if you want to save time on Twitter and schedule bulk tweets without having to pay a dime for it. One downside of Buffer is that the service doesn't allow RSS integration but that's perfectly fine because there are already a dozen services which allow bulk posting to Twitter from any RSS feed.
The free version of Buffer supports only one Twitter account with a maximum of 10 buffers at queue. But that's fine, considering the fact that most of us have a primary Twitter account and a secondary one for blogs, services, community building and so on. If you want more features, you can pay $5 a month and use multiple Twitter accounts and track the statistics from Buffer analytics with more Tweets in the scheduling queue (50).
There are more other tools those do the same thing. Most of them are paid tools and they work perfectly. Do take a look at them.
1] Tweet Attacks Pro
Tweet Attacks Pro is a premium-class social media account management tool for people, who deal with hundreds of accounts at the same time. From Twitter to Instagram to Facebook, you can manage all the account with ease with the help of this software. It is a desktop tool that costs around $105 (discounted). However, if you want to manage more than one accounts, you need to purchase a higher edition. Before using it, you need to learn everything about this tool. From adding a new account to how to schedule a tweet – you need to teach yourself all these things. Otherwise, it will be a time consumer.
2] Social Pilot
Social Pilot is made for managing account remotely. You can do almost everything in your account with the help of Social Pilot service. If you do not like to use a desktop software, this is the tool you need. It is possible to schedule multiple posts on Twitter so that you can run a campaign or something else. It has a preview pane, which shows how it will look on the actual Twitter interface. There is another feature called Mass Planner. It lets you make changes to multiple contents in bulk. The other essential feature is called Social media Planner. As it says, you can plan your posts based on month, week, day, etc. This service costs around $100/month.
3] Twittimer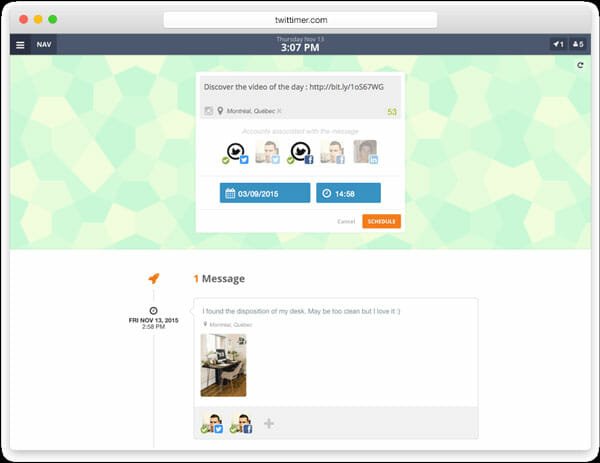 Twittimer is another tool that helps you schedule multiple tweets at once. The good news is it is available for free. Therefore, you can try it and check if the multiple schedule facility is suitable for your campaign or not. Obviously, you need to authorize your Twitter account and allow this tool to access your profile before doing anything else. The UI comes with a timeline that allows you to check all the scheduled posts on one screen. Not just Twitter, you can schedule multiple posts on Facebook and LinkedIn as well.