Everything you need to know about the brand new Surface Book by Microsoft
Software giant Microsoft announced it's own first ever built laptop in it's mega event this year. It's called the Surface Book(yeah, I know). By name one can guess that it's the laptop built with the company's surface technology with which the Surface Pros are built. This laptop came out along with 4th successor of Surface Pros, which is Surface Pro 4. With this announcement, the company thinks to take it's own stand on laptop market. With it's design, the device looks pretty attractive.
Let's take a quick look at the device specs on paper.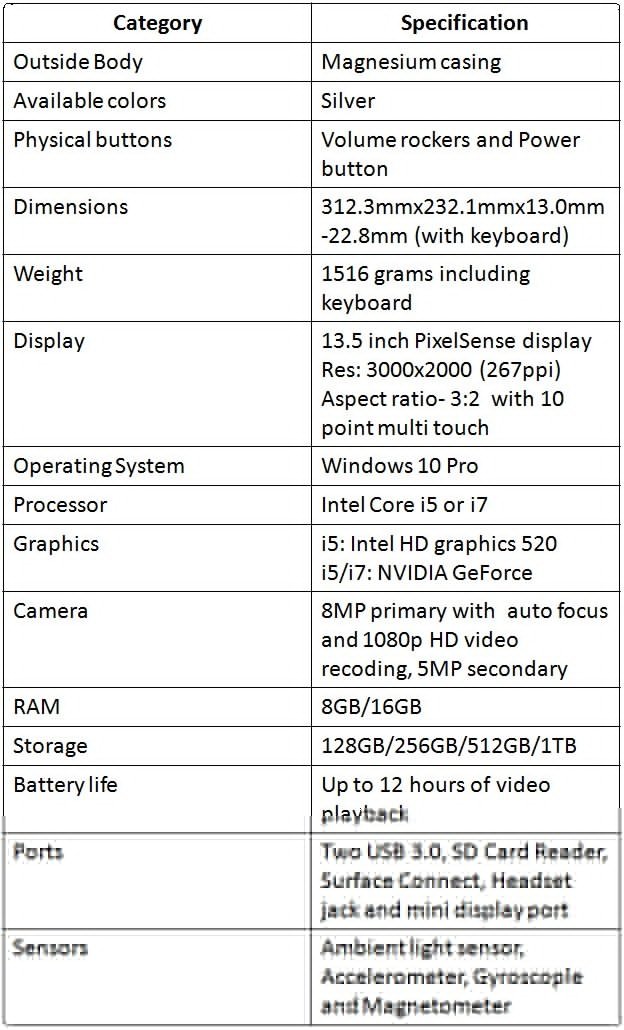 Design and Dimensions
Even though the name matches with Apples Mac Book, its not just another book from a different company.The biggest asset of this device is it's design.This device comes with Magnesium casing with flexible joint between the screen and the keyboard. The company calls this as "dynamic fulcrum" mechanism using "Muscle Wire" technology. What this basically means is, you can detach keyboard from laptop to use it as a tablet if you want to or you can attach keyboard to the screen. Since the hinge is flexible, the screen is moves and stands at any angle perfectly, even it can be flipped backwards. I think this is an amazing feature. It's available in silver color. It has two USB3.0 ports, which means you can plug into the device in both directions.
This device is thinner with less weight than most of the present day laptops. It weighs 3.34 pounds.
Technical Specifications
Surface Book comes with latest Windows 10 pro to give fresh experience to its users. This device available with different processors and with storage. It comes with Intel's Core i5 or i7 which enables the device to handle high end processing well with 8GB/16 GB RAM with 128/256/512/1024 GB of storage. One can expect that this device won't disappoint high-end users with it's performance.
Camera
This device comes with 8MP primary and 5MP secondary camera sensors which is similar to Surface Pro 4. It's possible to take some 1080p HD video with it's rear camera. Though this is not best camera, it would be enough to take some nice pictures and videos.
Battery
The company claims that this device is capable of up to 12 hours video playback. This is an improvement from Surface Pro 4, which is capable of only 9 hours video playback. This would give better battery life and would last more than a day.
Unique features
As I said earlier, It's big asset is its design.This device can be used as both tablet and as laptop. With it's flexible joint, you can bend this device the way you want to.
With embedded stylus, known as surface Pen, you can perform some cool things like taking notes, drawing, editing, presentations etc
It runs Windows 10 with Cortana integration, which allows users to perform some voice command activities on their laptop

Conclusion

This first ever laptop from Microsoft has some unique features. But, this guy starts at $1499. Even though it's not available in India yet, this is very expensive device. If you are expensive user,then this guy could deliver some better experience. More information can be found on its Official Website.

What do you think regarding this device? Do let us know your opinion in comments.

Image source: Microsoft.