StrokesPlus lets you create mouse gestures to perform tasks
Generally, we use mouse or touchpad to do different things like open/close menu, cut/copy/paste or anything. To make that faster, there are some keyboard shortcuts. But, if you notice that minutely, you can find that some keyboard shortcuts need two hands to press various buttons. That means if you want to use your laptop or computer one handed, you will have to fall into trouble.
But, here is a software called StrokesPlus, which helps users to create mouse gestures to perform different tasks like cut/copy/paste, back, forward, open explorer/any other thing, refresh, undo, volume up/down/mute, Window minimize/maximize/close and many more. StrokesPlus is a free software that is available for Windows 10. Another exciting thing is installation is completely optional – it depends on the download package, though.
Another unique feature of StrokesPlus is you can set gestures based on application. For example, you can set one gesture to open File Explorer from Desktop. The same gesture can be used to refresh any web browser or open certain website. Another feature of this software is you can set keyboard shortcuts as well.
Use of StrokesPlus
StrokesPlus is very easy to use the tool and not much time confusing to set it up. As it comes with preset gestures, you can do basic tasks using those. By default, this software has some predefined gestures for desktop and internet browsers alongside some global actions. The first two categories will perform a task on Desktop and any installed web browser. You can use Global Actions anywhere unless or until you set the same gesture for that app or location to do a different task.
To get started with StrokesPlus, at first, download and install it. As mentioned before, you can download the portable version as well. But, this is suggested to use the installer. Otherwise, your settings will be gone after restarting your PC.
Anyway, after installing and opening StrokesPlus, you can find a window like this,
Just expand the primary category, you can find some gestures like these,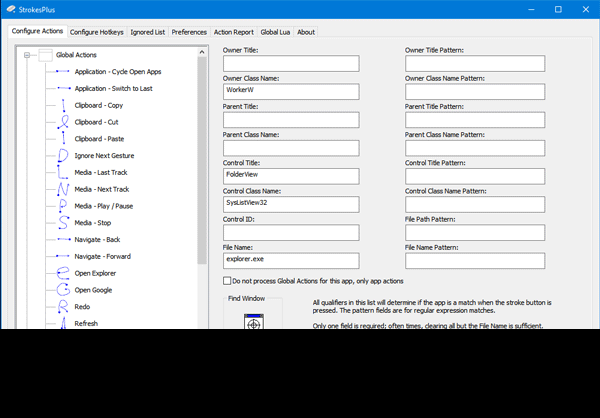 You can use either touchpad or right click of your mouse to draw the gesture. If you find a gesture like this,
You will have to start drawing it from the left side. In other words, the dot indicates the starting point.
Now, if you want to set a gesture for a particular app like Firefox or Chrome, do follow these steps.
At first, click on the Add App button and enter a name to identify it quicker. Following that, enter firefox.exe (to select Firefox), chrome.exe (to select Chrome) or anything in File Name section on your right-hand side.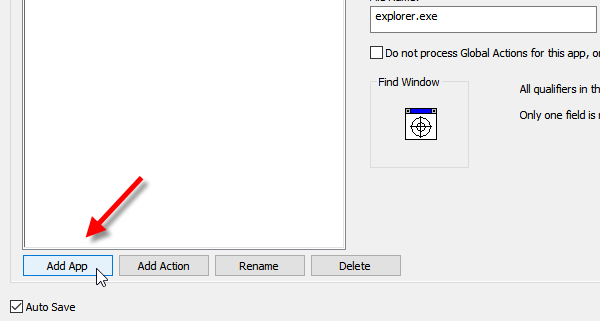 If you want to select multiple apps, enter all the file names in the File Name Pattern box like this,
firefox.exe|chrome.exe
Don't forget to save your settings. Following that, click on Add Action button and enter a name. After that, select a gesture from your right-hand side and save your settings.
Now, if you want to ignore any location or app, you can use Ignored List tab. The very next tab is Preferences, where you can customize it according to your wish. You can choose gesture line color, width, and more other things.
If you like, you can download StrokesPlus from here.