Top 7 Fake Call Apps for Android – Watch Out for Number 4
Fake calls apps can be great for so many reasons. Whether you are looking to troll your friends or get out of a boring situation, a fake call app is an answer to your situation. In today's guide, I will cover top 7 fake call apps for Android that will leave you in splits.
We will also share a fake calling app that will distort your voice to that of a girl, a monster, an alien and a Japanese client, so you can call your friend and arrange a fake date or a fake meeting.
Without further ado, let's begin with our list of top fake call apps available for Android:
1. Fake-a-Call Free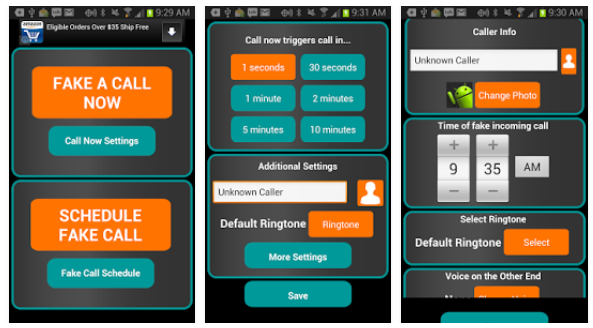 Fake-a-Call Free is perhaps one of the more famous fake calling app on the Playstore. The free version of the app will allow you to choose a number or contact, schedule a call, record a voice that will be played from the other end when you are talking on the phone, and choose ringtones. There is an also a paid version but for most people, this should be enough.
Playstore Link
2. Voice Changer While Calling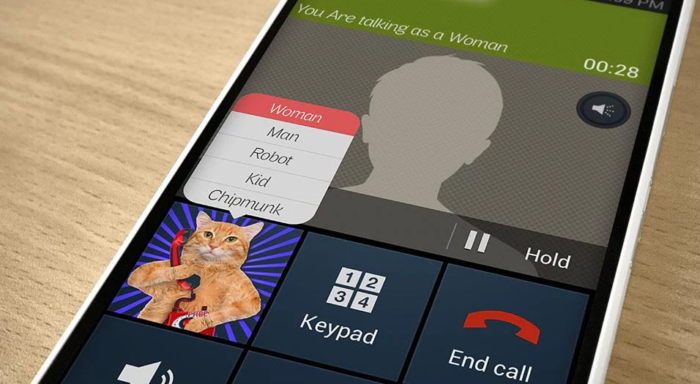 As the name suggests, this app will allow you to change your voice when you are calling your friends and relatives to prank the heck out of them. You can play a seductive girl or an arrogant boy or pretty much anyone you can think of.
Another useful feature that the app provides is the ability to record your calls. This way, you will have proof of your prank and have a blast with your friends after the deed is done!
There are 5 options available to choose from like man, woman, robot, kid, and chipmunk. Select an option and your voice will be changed accordingly.
Playstore link
3. Fake Call 2
Fake Call 2 is another fake call app for Android that will allow you to escape boring situations quite easily. However, this time, you can do it while getting a call from your virtual girlfriend. You can set a picture, the time delay to receive the call, caller voice, and any number from your contact list. The graphics are very real and cool. You can also record caller's voice.
Playstore Link
4. Voice Changer With Effects
With more than 50 million downloads, Voice Changer With Effects is easily one of the most popular fake call apps for Android platform. What is so special about this app? It has a long list of features which includes effects like zombie, ghost, alien, fan, drunk, killer and more. With social sharing and voice recording built in, you can share a laugh with your friends any time of the day you want. Usual features like setting image, the caller tune, choosing contacts are all there.
5. Voice Changer During Call
Voice Changer During Call is an amazing app with over 45k reviews on the Playstore. Apart from the usual boy, girl, and robot voice effects, this cool little app also offers Japanese, evil, drunk, and giant voice effects. Fool your friends into believing that they just got a call from a Japanese client.
Playstore Link
6. Funcall – In Call Voice Changer & Call Recordings
A fake call or prank call app which will allow you to change your voice during the call. You can call your friends with a different number and voice but not only that, the app also supports international phone calls. So, now you can call your friends living in other parts of the world.
You can record your phone calls, change your voice, make international calls, play weird and funny sound effects in the background during the call, and choose between different sound types.
Playstore Link
7. Fake Call Kids Police
Another fake call app for your Android smartphone. The name says it all. You will be able to fake a call to your Android device with the image and voice of a kids police officer. While the idea is good enough, the animation is poor and not very believable. Seeing that the app is targeted at kids, it is fitting. So, if your kid is not eating his food or doing his homework, you can use this app for fun.
There is a good variety of fake call apps for Android on the Playstore. Let us know in the comments how you used these apps to get out of a situation or prank your friend. If you know an app that is worthy of making the list, let us know!