Meet Tribe – An App That Lets You Chat With One Hand
Messaging is one of the most used applications on our smart phones today. Be it SMS or chatting over Internet using Facebook or WhatsApp, we got used to get connected and share our views with our near and dear ones via chatting. We chat with our friends, family members, colleagues to communicate with them and share vital information sometimes. To connect with our relatives and friends who are far away from us, we use video calling feature more often. Especially elder people or who do not use smart phones more often prefer to communicate visually as it makes them more connected.
But arranging a video call needs presence of both parties. So, scheduling needs to be done prior to the call. If any of the parties got another important task at the same time, then we have to postpone the call. Especially when you are dealing with your parents, there is a high chance that they may get disappointed inside, even though they don't express it.
Meet Tribe – magical messaging app which is a solution to all your problems.
How Tribe Messaging App works?
It is a messaging app where the communication is done through videos. Hold on, I know the questions you will probably get by knowing that. Fortunately, this app offers solutions to many of them. Like any other messaging apps out there, you can add contacts to this app, and start sending videos. Let's take a look at the features offered by Tribe.
No Keyboard
The communication is done visually only. If you are tired of using keyboard on your mobile, or getting hard time learning it fast, you can try this app.
Ease of Use
You can use this app literally with one hand. Choose contact you want to communicate with, start recording your message and just send. No unnecessary options, no confusion. If you want to send a message to your parents staying far away, they themselves can use this app pretty easily.
Interface
You can add contacts to this app and search for one by pulling down with your finger. You can send, reply to a message very fast. You can also add groups to Tribe app and communicate with them. This is very useful and you can add all your family members to a group and communicate with them visually at a time. This app uses the interface nicely and contacts and text are clearly visible.
Mini-Mirror
This app has a mirror to show how you look all the time. This will help you to check yourself before starting recording a message.
Tribe messaging app comes pretty handy when you want to directly communicate with your family, friends and colleagues. The best thing is that this app eliminates prior scheduling headache and you can send videos without worrying about their current availability.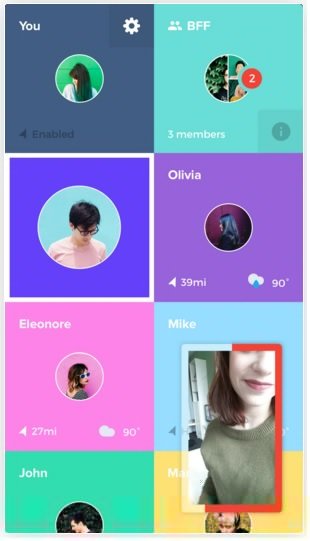 Great, but what about security?
Tribe removes a message after they got opened from their databases. If you want, you can save a video to your phone. This gives the ability to send private messages to your family without any hesitation. You can share happiest moments of your life with them pretty easily.
Ending Thoughts
The developers of this app claim that this app is like walkie talkie reinvented and this app exactly does that.Tribe messaging app gives you more intimate experience in communicating with your near and dear ones. Now a days, people started recording and sharing videos more often than ever before. The popularity for multi media is getting increased all over the Internet day by day. Fun and useful content being created and shared via Gif Images, short- span videos, dubsmashes are all over the place. This app gives you more private experience while sharing your personal videos to your friends and family. Although you may not need this all the time, some times you can communicate with just text and links. But when you have to share using a video, Tribe app would literally gives you wings. This app also has unlimited on-demand video support from the team with pretty smooth experience.
Tribe messaging app is free and you can try it on iOS and Android.