30 Unknown Free Android Apps You Should Know About
With the ever evolving Android app world, some gems may undeservedly end up at the bottom of the pile. This article aims to find such useful apps that may have evaded the attention they deserve. Check out the best unknown free android apps out there.
Best Free Unknown Android Apps
1. Fast Customer (929 KB)
Whenever this app goes on full time steroids with the latest future updates, it will effectively eradicate from the world the need to hold in the caller waiting line when dealing with customer care executives. The concept is this – open the app and select the customer care service you want to get in touch with (even specific departments). The app will call the targeted service, put it on hold for you, and as soon as the executive is available to talk to, you will get a call on your phone from the app. It is currently limited to only the US and Canada. More countries will be added in future updates. Bye bye to "please hold the line, your call is important to us" (yeah right!).
2. Disa (Beta version) (36 MB)
Don't you just hate it when you have to switch between multiple chat apps to be in touch with everyone on your list? Disa has come up with the perfect solution – why not club all the platforms in a single app? A brilliant idea and an even better execution. With Disa you can easily organize your communication networks by merging together various chat services like facebook messenger, whatsapp, telegram, hike, and many more. Keep in mind that this is just the Beta testing version and things are gonna get even better in the future numerous plugins. Surely a must have app.
3. Run Pee (17 MB)
Talking about the things we hate, the second in line is peeing in between a movie at the theatre. You won't believe there is an app that helps you with that too. Run Pee has a dynamic ever updating database that tells you the best time to run and pee in between the movie, so that you don't miss any major scenes. There is a built-in 'RunPee Timer' that alerts you by vibrating when the expendable scene is near. "We've got your bladder covered" is how the developers subtly put it.
4. Rando (2.1 MB)
An innovative app that let's you send pics to random people around the world. Just click a picture and send it out (somewhat like setting a bird free). Once the pic lands somewhere randomly in the world, you will get a pic from a stranger back. A fun way to get in touch with the world. Although make sure you are not sending out any personal images. User discretion is advised.
5. Word Snitch (11 MB)
If you are an avid reader and use multiple news or ebook apps on your smartphone, you know how difficult it is sometimes to jump to and fro from the dictionary to know word meanings. Word Snitch solves this by pulling up the meaning of the word right above your current app. Simply select and copy the word which will prompt word snitch to operate, show you the meaning, and save the word for later reference. Even Harry Potter wishes he had the Word Snitch (sorry that was lame).
6. Forest (5.5 MB)
Talk about blackmailing and this app tops the list! Forest is a productivity app that let's you plant a seed which grows into a tree within 30 minutes (maximum 120 minutes). But as long as the tree is growing, Forest will encourage you not to exit the app and use the smartphone, because if you do so, it will kill your cute tree! It is the most creative way to beat phone addiction that I have ever come across. So go ahead and plant a tree! (though please do it non virtually too).
7. Drupe (10 MB)
This is another productivity app that aims to give priorities to your contacts and the way you interact with your contact list. You can access your friends on any app with just a single swipe through the contacts. The best part is that your contacts neatly stay on top of everything through 4 little dot (drop down menu). It also helps you to keep your address book up to date and solves the problem of duplicate contacts. There's more! It has a dedicated feed that shows you all your recent activity at one place, be it of Whatsapp, Facebook, SMS or Call Logs.
8. Monect (7.8 MB)
Did you ever have an urgent need of an extra mouse, keyboard or a gamepad? (even a wheelpad?) Well you can now convert your smartphone into one with Monect! But please note that in you must have the PC client of the software installed before you use this app on your Android. The set up and functioning of the app is a bit complicated so I will recommend you to read my full article on How to install and use Monect.
9. FlipLip (13 MB)
An innovative app in the 'have fun with your friends' niche, Fliplip turns your recorded voice messages into hilarious ones, giving you a new voice. Just pick up the phone, record your message and use one of the various voice filters. You can directly send them out to your friends on Facebook Messenger or save them on your phone for later use. Happy Flipping! (helium voice)
Image Source : FlipLip
10. Wakie (23 MB)
One of the most phenomenon new apps on the play store, Wakie is a community of people who wake each other up (after a good sleep) through phone calls. You simply set an alarm on Wakie and you will be woken up by a stranger as an alarm! All phone calls are made though the app itself and are free of cost. Although the app is only confined to US, UK, Ireland, Canada, Singapore and Hong Kong right now, it is set to go viral soon as the developers plan to expand it to the whole world. So be onboard already!
11. Offtime (Size varies with device)
One of the best productivity apps out there (even selected as one of the best apps of 2014 by Google), it is a pity Offtime does not have as many downloads as one might fathom. Like Forest, Offtime helps you to cure phone addiction through blocking notifications, calls and messages and even usage of other apps or the Internet. As a bonus the app also offer you analytics on your phone usage patterns. If you like the app, please support them with your donations!
12. Calcu (1.8 MB)
Calcu makes maths beautiful (not that it wasn't already). With an awesome user interface, Calcu also offers a host of 12 themes to choose from. It has the capability to function both as a normal and a scientific calculator with the power of gesture calculations as well. Easily one of the best calculator apps in the market.
13. Link Bubble Browser (2.5 MB)
One of the common problems of surfing apps like Facebook are external links where you have to jump to you browser time and again to visit them. Link Bubble thrives to solve this by providing you with a neat bubble that pops up above the current app you are using. The bubble loads the click link in the background and in the meanwhile you can continue using the current app and save a lot of time.
14. Versus (5.2 MB)
Comparison between things has ever been easier. Versus helps you compare 2 or more things in almost any category. The list of categories is growing by the day, enabling you to take informed decisions ranging from which phone to buy or the city to travel to. Just enter your needs and watch versus take care of the rest.
15. Wally (1.2 MB)
Wally is an awesome source of high definition wallpapers with a huge database and a number of categories which is ever growing. You can filter wallpapers by categories, resolutions, tags, text and even aspect ratios. If you are an anime fan, Wally will make you go nuts with its anime collection. One of the best parts is that its smooth interface has been developed keeping Google's material design in mind. Surely the best free wallpaper app.
16. Hover Chat (11 MB)
Also known as Ninja SMS, Hover Chat does the same for your stock SMS app what Facebook provides with Messenger, a hover feature with a floating window to reply to text then and there, without ever leaving your current app. There can be multiple hover windows and the sent messages can even be encrypted (to keep the damn government away).
17. Lucid Launcher (3.6 MB)
Lucid is a neat launcher that aims to improve productively while keeping the user interface and stability alive. What makes this launcher different from the rest is that it delivers a lot in a small package, unlike other heavy launchers that clutter your phone's memory. There are tens of customizing options powered by numerous widgets and themes. Launcher lovers must try this one out.
18. Wait Now (1.1 MB)
Are you an average human being when it comes to reaction time? Or do you possess some superhero power (the spidey sense)? Get your questions answered with Wait Now. All you need to do is touch the screen as it turns green. Simple enough. Challenge yourself to beat your own reaction time scores or compete with friends.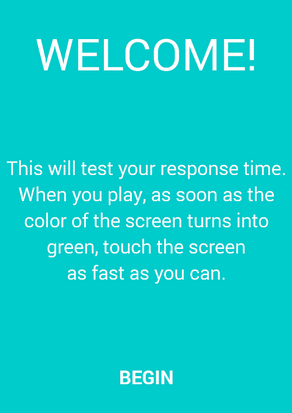 19. Tidy (9 MB)
If you are one of those persons whose gallery is filled with images and photos, turn to Tidy immediately. The app helps you organize your images with just a swipe. It has the potential to cater to thousands of photos in minutes, grouping them into broad categories like time and place, even shape.
20. Morning Routine (12 MB)
For all you alarm snoozers out there, your savior has arrived. Morning Routine is an alarm clock that make you do additional things to turn it off which may range from launching another app like the news reader or music player to scanning the barcode of that shampoo bottle in your bathroom! It will make you go nuts but won't let you sleep. Even the user interface is too good to be true for a free app.
21. Moves (2.6 MB)
Moves tracks everything you do, be it cycling, walking or running. It even counts the number of steps you have walked. Other features include recognizing the places you visit the most like your workplace, home or that regular movie theatre. The purpose of Moves is to provide you with highlights of your day to day activities so you can take better and informed decisions about the changes you want to incorporate. A must app for your phone.
Image Source : Moves
22. Tapet (2.3 MB)
Another interesting feature in our series is Tapet – which generates high definition quality wallpapers for your phone. It makes use of pre feeded designs and a math algorithm to arrive at the best possible wallpaper for your phone, making use of the full potential of its resolution. The app can also construct a new automatic wallpaper for you every hour, and no wallpaper will ever repeat itself. So keep saving them!
23. Twin Camera (size varies with device)
Clone yourself with your camera! Just take two photos in two different positions with the same background and merge them. Explore your creativity and freak out your friends! The app also has a self in-built timer and it is highly recommended that you use it to enhance the photo quality.
24. The Viral Shots (2.8 MB)
Want short, crisp and viral content? Go for this new android app right away! The Viral Shots delivers all the viral news around the world which is both interesting and fun to read. The best of all features is that the length of the articles are quite short and perfect to read on the go. And if you are willing to read the full detailed article then you can simply click on the mentioned source and read it in your browser.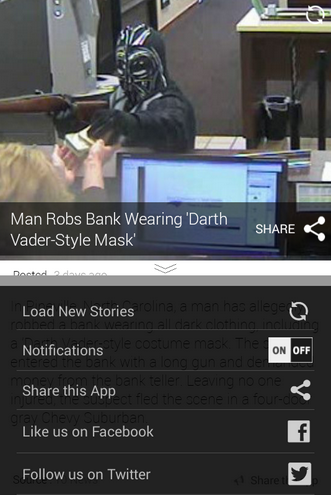 Image Source : The Viral Shots
25. CM Transfer (2.2 MB)
Share files between smartphones at lighting speeds with CM Share! It is 160 times faster than bluetooth (or so the app play store page says). You can also share apps directly from one phone to another. Even movies spanning GBs can be shared within seconds or minutes!
26. ClipDis for Messenger (17 MB)
Turn text to mashup videos with ClipDis! Bored of messaging? Use ClipDis and experience an all new way to chat via Facebook Messenger. Every word you type will be converted to pieces of videos and they will be mashed together to make a single video. See the video below to understand how it works for yourself!
27. Citrus Cube (9.1 MB)
Citrus is your finance assistance that helps you keep the track of all the recurring monthly or weekly expenses. You can also pay these expenses easily through the app may it be mobile phone, DTH or other utility bills. The app will keep on reminding about the payments through notifications. It is developed by the team behind Citrus Pay which is a payment gateway that handles payments of many websites like LensKart, PVR and Etihad Airlines.
28. Ringo (Size varies with device)
Ringo is an all new player in the market that offers crazy international calling rates, 25% lower than any other app in the niche. As a promotional offer, you can download Ringo right now and make your first international call for free. The best part is that it uses dedicated networks instead of WiFi or 3G/4G to make the calls which gives it an edge in areas of low Internet connectivity like India.
29. Ask Me Anything (11 MB)
An official app from Reddit, Ask me anything has an insane collection of interviews of famous personalities around the world including movie stars, sports players and even astronauts. Many celebrity interviews have a lot of exclusive information too. The highlight of the app? It let's you ask your own questions which may be asked in future celebrity interviews, so you may actually get your personal question answered! (mind blown)
30. Unclouded (8.3 MB)
If you are sick of using multiple cloud services that seem too huge to organize, Unclouded is for you. The app let's you know which useful files are eating up the most of your cloud space and should be deleted. If you use a paid cloud service, this can save you a lot of money. The feature to work offline and automatically delete duplicates on the clouds makes it stand out.
Conclusion
All these apps were considered on the notion that the value they provide is not justified with the number of downloads they have. If you have any more of such apps on your mind, please let us know with your comments below!