How to Update Moto G 3rd Gen to Android Marshmallow
Google has launched Android Marshmallow a long time ago. Although, loads of new features did not come with Android 6.0, but you will certainly get some new features like Doze mode etc. There are many other improvements as well. For instance, now the old mobiles will provide better battery backup by optimizing it at its highest level. Some security enhancements have been included too.
On the other hand, Moto G was a huge success for Motorola. Following the 2nd generation, Motorola launched Moto G 3rd generation with lots of better features like internal storage, RAM, CPU, display quality and above all 4G support. You will get 13 MP rear camera along with 5MP front facing camera with Moto G 3rd gen. If you have bought this mobile, you are about to get a good news.
Even though, Moto G 3rd gen comes with Android Lollipop aka Android 5.1.1, but you can obviously update it to the latest version of Android called Android Marshmallow aka Android 6.0. This is probably the best option to get Android Marshmallow experience on a budget mobile (Except Android One). The next big thing is you can get the Android M update without waiting for any time. Unlike very last time, you will get Android Marshmallow update instantly as the company have launched it for all Moto G 3rd gen users.
Update Moto G 3rd Gen to Android Marshmallow
Although, the procedure to update Moto G 3rd gen to Android Marshmallow is very simple but if you are using Android for the first time, you can head over to this guide. This articles attempts to teach you how to download and install Android Marshmallow update in your Moto G 3rd generation.
As this is an OTA update, you will not have to face any complicated step at all. All the steps are very simple and not much time consuming to execute. However, you should have a good internet connection as you have to download around 445 MB. Better internet connection will help you to complete all the steps faster. Let's get started.
At first, open stock Settings app and scroll down to find out About Phone section. Here, you will get an option called System updates. Tap on it to. You will get a screen like this,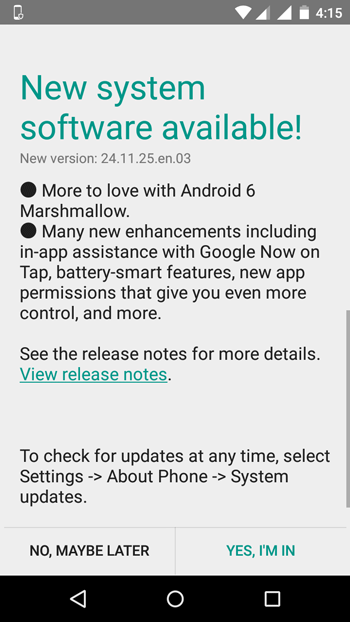 Tap on YES, I'M IN. Following that, you will get option to choose the download data source. You can find Wi-Fi only and Wi-Fi or Mobile network in the list. Just select Wi-Fi or Mobile network if you can afford that much data.
Otherwise, choose Wi-Fi only to use only Wi-Fi network to download your update. That's it! Now, your phone will start the download and you can find the progress in status bar.
After completing the download, you will get a screen where you have to tap on INSTALL button.
It will take 10 seconds to restart your PC. After that, don't touch your mobile's screen. Just let it do what it has to do. After that, you will get the following screen,
That's it! The installation takes around 15 minutes to complete.
You are new to Android Marshmallow. Did you know that Android 6 has a built-in file manager?