UpNext : A Portable Music Player Extension for Chrome
Listening to music is one of the regular activities that most people do on web. There are plenty of web services, smart phone apps to deliver some good quality free music out there which are being used by most people daily. The popular services like YouTube, SoundCloud help people to discover new and their favorite music easily. Famous DJ's and singers have their accounts on both SoundCloud and YouTube and they release their new albums on their accounts.
If you want to listen to music either on YouTube or on SoundCloud, first you have to go to that website and search for that song and play that song after you found that. If you are listening to YouTube, the video streaming might consume extra bytes for you. Also, if you want to listen to another song, you have to go to the tab where you opened the site, and search for another song and play. This will consume some time if you are busy and doing some important work.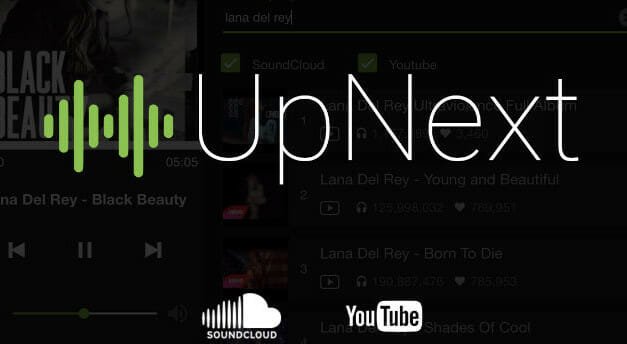 What if you would be able to search music content from both YouTube and SoundCloud at one place? UpNext(formerly known as "Soundcloudify") is exactly what you are looking for. You can get it for Chrome here. It is very simple and portable, yet elegant. It's got some very nice features.
After you add this to your Chrome browser, a little icon appears beside your address bar. If you click that, you could see a bunch of categories to listen to such as Reddit Hot,Popular Music, Ambient, Classical, Country, Electronic, Hip hop, House etc. Pic one chart and listen to popular music in that category. This category results are mainly fetched from SoundCloud.

Now go to search tab, to search a particular song. You can search for an album or a song or JukeBox. It shows suggestions to select. Select the track you want and press play. The best part is, if the result is from YouTube, it will just show the thumbnail and you won't suffer from consumption of extra bytes because of unwanted video and wait for buffering if you are with slow internet connection. You can even limit the search results either to YouTube or to SoundCloud or both.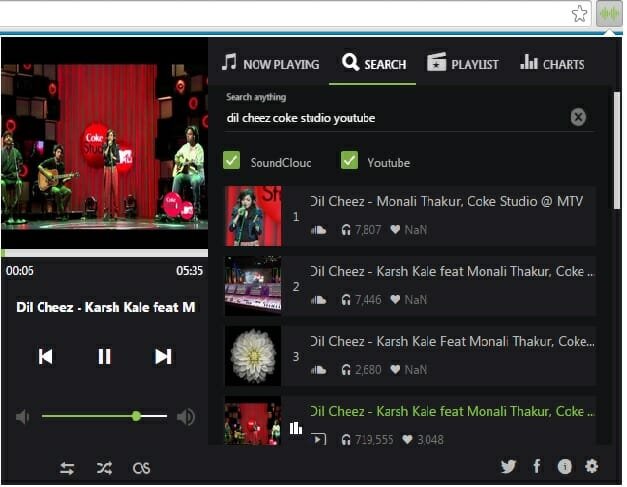 If you like a song, you can add favorite it, and add it to a playlist by clicking the plus button. Create a new one, or add it to existing one. You can even import playlists from YouTube or SoundCloud by using import option where in you need to paste the URL of the playlist.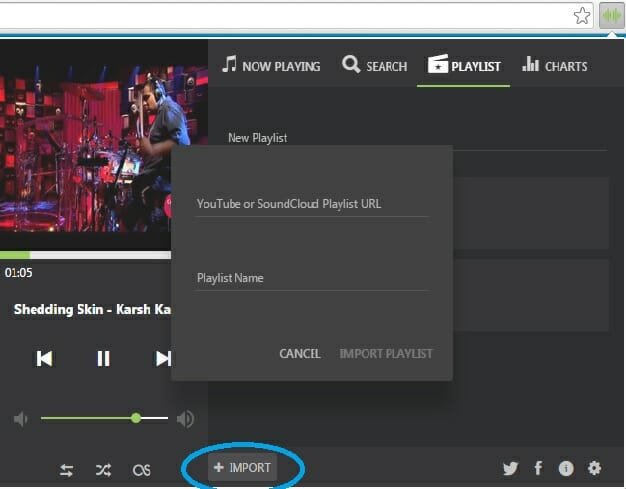 After you enter URL of a playlist, UpNext automatically fetches the name of the playlist for you. You can change it if you want.
There are some music options like repeat all, repeat one, shuffle even you can use scrobble option with your last.fm account by allowing this app access in your last fm account.
The best use of this extension is you can just play a play list or list of songs and minimize the extension, plug your earphones and forget about it. It just sits inside your browser and plays music , no need to worry about it again. Another best part is it combines the results both from YouTube and SoundCloud at one place. If you are a music freak, I am sure you're gonna love this.
What do you think of this extension? Let us know in comments.