4 Apps to Watch Live TV in India
Nowadays everything is getting more compact. From mobile to computer to TV – now you can carry everything in your handbag. Talking about the TV. Obviously, this is not possible to carry minimum 32-inch TV in your bag, but you can certainly turn your mobile phone into a live TV and enjoy all the shows on the go. Sometimes when we are travelling, we often miss our favourite shows. Alternatively, at times we just cannot watch shows on an actual TV. At such moments, you can easily watch live TV on your mobile. Obviously, you will need internet connection and subscription to enjoy the live shows, but on the other hand, you do not have to pay the cable bill. If you are looking for a live TV app in India, here are four of them those will let you watch live TV without any problem.
4 Apps to Watch Live TV in India
1] Hotstar
Hotstar is probably the most useful and reliable platform to watch live TV in India. This service is designed mainly for Indian viewers, who can enjoy live TV shows, movies or anything else by paying just Rs. 199/month. Hotstar consists with loads of movies, TV shows, etc. but it blocks free account users from watching live TV.
Availability: Hotstar is a cross-platform app as well as a web tool. You can watch live TV on a laptop as well as mobile using the app. However, you should have either Android 4.0.3 and later version or iOS 8.0 and later version.
Talking about the user interface, the interface is full of options and shows thumbnails. To get started with Hotstar, it requires an account that can be made using Facebook or Google+ account. After signing in and purchasing a subscription, you need to find the TV channels or show name (if you want to watch a particular show). From Hollywood movies to Hindi daily soaps – everything is available on Hotstar.
2] JioTV
JioTV is the latest contestant in the market of live TV apps. Although JioTV is a very helpful app, you must have Reliance Jio sim card on your mobile to enjoy the TV shows. Otherwise, this is not possible to sign into the account while opening JioTV app on your Android or iOS mobile. Like Hotstar, you can enjoy live TV shows, sports, entertainment and more on the go. The user interface is good enough to understand everything. The best part is you can schedule record shows, watch past shows, check the schedule of a channel and more. The player will let you play forward or backward the show by 30 seconds. Obviously, you can play backward by as much time as you want but you cannot play forward more than 2:30 minutes. This is possible to find particular show or channel name in JioTV.
Availability: Like said before, JioTV app is available for Android and iOS. You must have either Android 4.1 & later version or iOS 7.0 & later version.
3] MobiTV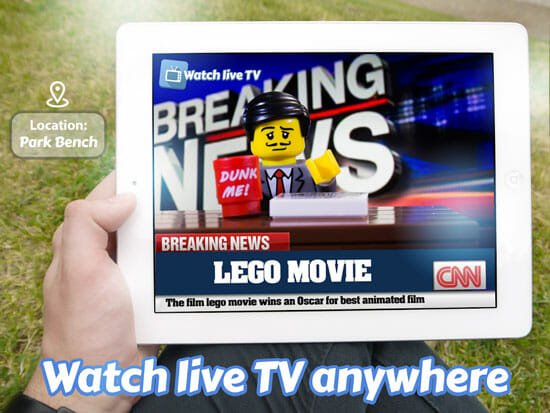 MobiTV is a very easy to use live TV app for Android. The smooth application will let you navigate through various channels based on category. The interesting feature of MobiTV is you can find channels either by category such as entertainment, sports, news, etc. or you can find by region. For example, if you want to watch Indian channels, you can opt for that. The same thing can be done for Italian channels, Canadian, UK and more others. There is no doubt that the user interface can attract more people. Regarding features, you will be able to watch live TV as well as find other shows or channels while watch TV, record at a predefined time, view graphics of shows, use Chromecast and more.
Availability: This app is limited for Android users, and you should have Android 4.0.3 and later version to install it. Download
4] FilmOn
Although the name says "Film," but you can watch every other show related to sports, comedy, etc. the user interface is almost same as MobiTV, and the subscription is also identical. You would be able to enjoy more than 1000 channels and their shows on FilmOn app. the channels appear on the left-hand side, and the player appears on the other side. Therefore, you should not get any problem related to watching the videos.
Availability: FilmOn is available for various platforms including Windows, Mac, Android, iOS, etc. If you want to install it on Android, you must have Android 4.1 or later version. If you want to install it on iOS, make sure you have iOS 7.0 or later version. Download: Android | iOS
There might have more other apps to watch live TV, but these are the best regarding streaming quality, bandwidth consumption, functions, etc.