Alienware Aurora R8 Gaming Desktop Review – A Gaming Beast
Nowadays people are opting for gaming on a 4K monitor instead of old 1080p. If you are a gamer and thinking to upgrade your existing computer to a new configuration, you should check out this pre-assembled computer called Alienware Aurora R8. Meaningless to mention the manufacturer as every gamer and hardcore computer user knows that it is Dell. Here is the full specification and review of Dell Alienware Aurora R8 so that you can make up your mind.
Alienware Aurora R8 Configuration
Before getting into performance, you should know what is inside the case. Let's get started with the case itself as it is a unique looking PC you are getting from Dell. The Alienware logo is visible, and so is the RGB lighting on the right side. It looks premium, but it is made of plastic. However, the build quality of this case is no bad, undoubtedly, but it can grab scratches very quickly. Talking about the case size, it is significant – to be precise, it is 18.6 x 14.2 x 8.4 inches.
Under the hood, it comes with 9th Gen Intel Core i9 9900K processor with Intel Z370 Express Chipset. There are four different versions of this pre-assembled PC, and it is the top model. On the other hand, it included 64GB Dual Channel HyperX FURY DDR4 RAM with a speed of 2933MHz. To increase the performance of a PC, you must have SSD instead of HDD. That is why Dell included 2TB M.2 PCIe NVMe SSD to boot up your computer and 2TB HDD to store your files. On the top of them, you are getting NVIDIA GeForce RTX 2080 Ti 11GB GDDR6 graphics card. Talking about the power supply, it includes Alienware 460 Watt as well as Alienware 850 Watt Multi-GPU approved PSU.
Regarding the I/O ports, it comes with 1 headphone port, 1 microphone port, 3x SuperSpeed USB 3.0, 1x SuperSpeed USB 3.0 Type-C, 1x SPDIF Digital Output, 6x Hi-Speed USB 2.0 Type-A, 1x SuperSpeed 10Gbps USB 3.1 Type-A, 1x SuperSpeed 10Gbps USB 3.1 Type-C, 3x SuperSpeed USB 3.0 Type-A, 1x RJ-45 Killer Networks e2500 Gigabit Ethernet Port, 1x DisplayPort, 1x Audio-In / Microphone, 1x Front L/R surround line-out, 1x Side L/R surround, 1x Rear L/R surround, 1x Center/subwoofer LFE surround, and 1x Line-in.
Apart from these, you can find Wi-Fi and Bluetooth connectivity to connect your gadgets wirelessly.
In simple words, you are getting one of the best pre-assembled computers at this price point. Now, if you want to know how it performs in the real world, you should keep reading.
Performance:
Theoretically, there should not be any issue related to performance. No matter whether you use it for gaming or everyday task like writing projects, creating PowerPoint presentation, internet browsing, AutoCAD, Photoshop, etc. – it will perform equally. Practically, it gives an out-of-the-box performance so that you do not find any difference between on paper and in real life.
While testing some games like Metro Exodus, Battlefield V, etc., we have gathered some information that might be helpful for you. It doesn't matter if you play simple tic-tac-toe or some heavyweight games like them, the performance is the same. A high frame rate is expected from this gaming build, and it provides that without any issue.
For Metro Exodus, it provided around 80 FPS with RTX Off and 60 FPS with RTX On. This performance is based on 1080p. In 4K resolution, the frame rate drops to around 50FPS with RTX Off and 33FPS with RTX On.
For Battlefield V, we got some impressive numbers. While playing Battlefield V in 4K, we got around 70FPS with RTX Off and 50FPS with RTX On. On the other hand, it gave around 150FPS with RTX Off and 120FPS with RTX On at 1080p resolution.
These simple stats should be more than enough for you to know how god the performance is of this build.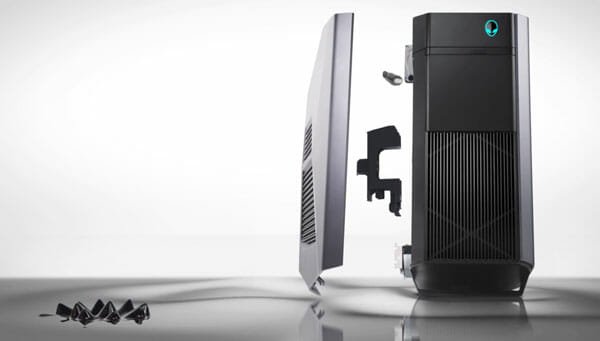 Talking about the multitasking, there should not be an issue because of the 8-core 9th Gen Intel Core i9 9900K processor that is included in this build.
Pros:
There are a countless thing that should be on this list, and some of them are-
NVIDIA GeForce RTX 2080 Ti 11GB GDDR6 graphics card
The overall premium-looking appearance of the case
Number of input and output ports
RGB lighting
Easy to upgrade or install a new hardware
A huge amount of SSD
High-end processor
Cons:
There are some setbacks of this pre-assembled build, and some of them are-
The build quality is good, but it could have been better
They used plastic instead of metal
Comparatively louder fan
Considering these minor problems, you might not find any other issue in this build.
The last but not the least thing is the price. This gaming beast costs $3990.79 on the official Dell website. The best thing is that you can customize the hardware according to your requirements before purchasing. They offer almost eight different configurations so that users can get whatever they need. Check the deal