How to Backup Social Media Data to Windows PC?
Everyone has an account in most of the Social Networking Websites like Facebook, Twitter, Linked In, Instagram, Pinterest and many more like them. We will be using them daily to stay in touch with our friends and loved ones. We often share photos, videos and our memorable moments over these social networking websites. Most of us are much used to them and we want to stay connected with them all the time. You need to open many tabs on your PC in order to access them and that was too weird to keep those many tabs open. Now, you can access all your social networking accounts at one place using SocialSafe software in your Windows PC.
SocialSafe for Windows PC
It might be Facebook, Twitter, Instagram or any other social media you can stay connected with them all the time using SocialSafe. It even allows you to save photos, videos and can access likes and comments you received using SocialSafe. You can view all photos and videos shared with you and by you using this. SocialSafe allows you to access all your social media accounts at one place saving your from opening many tabs.
Recommended: 3 Best Resume Building Softwares For Windows Users
Use SocialSafe to backup Social Media data to your Windows PC
Download the SocialSafe for your Windows PC and backup Social Media data in PC itself. Once installed, sign in to your various social media accounts and allows it to sync. With this you are free to use all your social networking websites at once place and it allows you to save them all in your desktop. Data is safe as you are not saving it on cloud or sharing with everyone, but saving it in your own desktop.
If you have a multiple accounts on Facebook, Twitter and handling many pages on Facebook, you can log in and access them at one place right from your desktop using SocialSafe. It is very easy to safe and once you are logged in to your accounts in starts syncing them all.
Tabs in SocialSafe
There are total 6 tabs in SocialSafe and every tab has an importance.
Journal Tab
Whatever you have done in your social networking websites can be seen here. It shows what you have done every day. You can jump to any day and see what you have shared with your friends, your likes and comments. It allows you to look back and enjoy particular days.
Accounts Tab
This tab shows all the social media accounts which you have linked. It also shows what all accounts you can link, if they are not linked yet. It is easy to know data of which social media accounts you are saving in your desktop.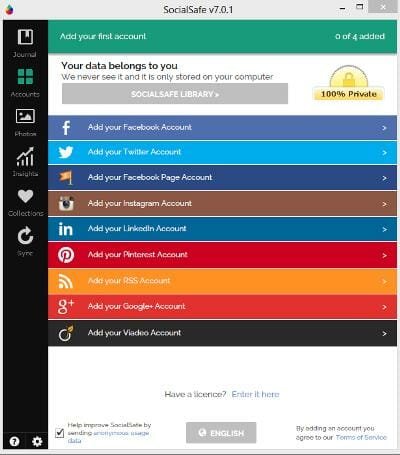 Photos Tab
All photos from all your linked social media are shown here. You can view photos that have been shared with you and photos that are shared by you. It is really good one to see all photos from all your social networking websites at one place and allowing us to back up social media data.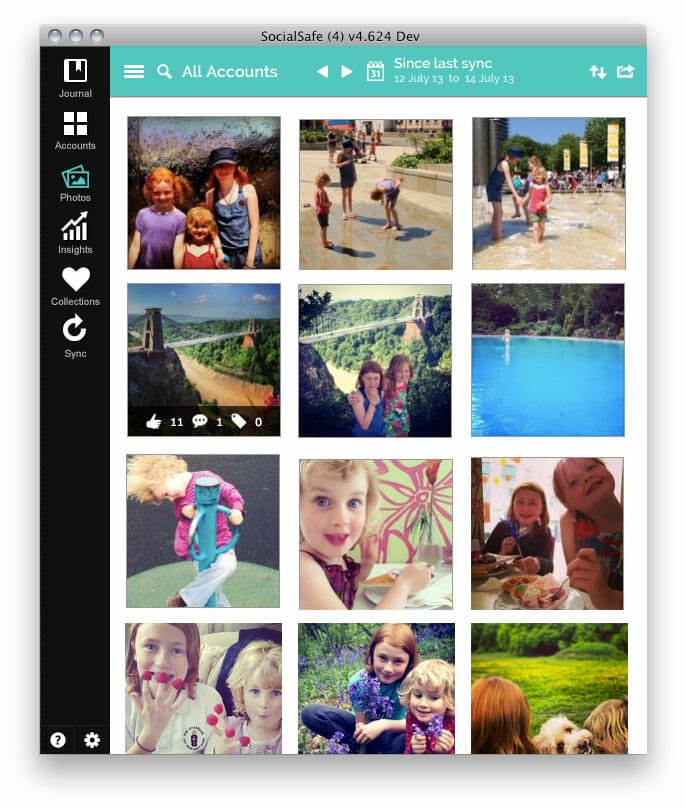 Insights Tab
This tab shows your entire activity which you have done. If you liked a photo, shared a video or commented on a post, it is shown in this Insights tab. You will get to know what you have done on your social media so far.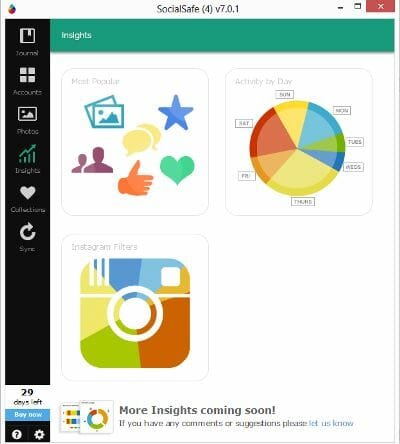 Collections Tab
There might be many photos, videos and posts on our social media. We can separate our favorites from them and can be seen in Collections Tab. All your favorite posts, videos and everything are shown in this tab.
Sync Tab
This tab allows you to Sync the new data whenever you want. You can even set the schedule to sync the data. In settings section, you can set your preferences. It resumes the data sync from the previous sync and this saves lot of time.
Conclusion
SocialSafe is really good app for Windows PC to backup Social Media data without any risk. Download SocialSafe for Windows PC and backup Social Media data and accounts for free. Have you use SocialSafe before? Do you know about many more apps or softwares which helps us in the same way? If you have anything to add, please do share with us through comments.