Want to Concentrate on Work? Use These Firefox Extensions
When it comes with browser security, Firefox always tops the list. Although people need to pay for getting internet access, they waste their money and time on various addictive websites such as YouTube, Facebook, Twitter, and so on. If you are one of them and you want to utilize your time in a better way, you need to remove all the distractions from your browser as well as PC. For that, you can use these Firefox add-ons to get rid of online distractions.
Best Firefox Add-ons to Get Rid of Online Distractions
Like Google Chrome, if you are using this browser for online browsing, it can consume your valuable time as well. Therefore, these extensions will let you fix that problem as much as possible.
The new tab page of any browser plays a vital role in wasting your time since it shows various information including most visited websites and all. For example, the Firefox browser shows the same in every new tab page. This page can contain Facebook timeline, YouTube videos and so many other things. Therefore, this is important to make it blank so that you can stop thinking about them. Although the in-built option is quite helpful in this case, you can also use these extensions to get the same.
1] Blank New Tab Page
As the name suggests, you will be able to get a blank new tab page after installing this extension. It doesn't matter which Firefox version you are using, you can certainly install this add-on to get rid of all the clutters you have in your new tab page. Download
2] Blank New Tab
This add-on does the same as the previously mentioned add-on. Being said that, you can hide all the tabs those show most visited pages and all with the help of this simple add-on. The only difference is it is a much lighter add-on. Download
Although you can open millions of websites in your browser, there are only few websites those consume the most of your valuable time. For example, people waste a lot of time on Facebook, YouTube and others. If you are watching an educational video or a video to learn something important, this is fine. However, if you are continuously watching junks on YouTube, you should block such website right away so that you can improve your productivity. Just like that, there is Facebook. If you are doing business or chatting with someone for work or school or something like that, it is totally fine. However, if are just scrolling the feed hours after hours, you should do that same with Facebook as well. There are several Firefox add-ons those can help you block any website whenever you want and some of them are mentioned below.
3] BlockSite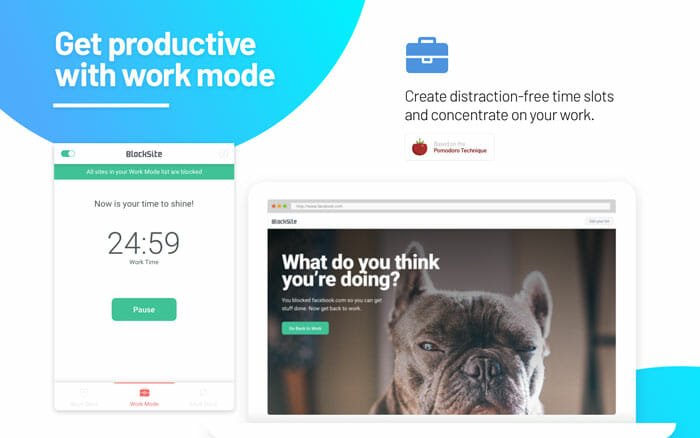 BlockSite is probably the best Firefox add-on that you can use to block any website within moments. It takes hardly 15 seconds to block a particular website in Firefox browser. The best thing is it has keyword based blocking. Having said that, you can enter a keyword and this add-on will block all the websites those are having that keyword. It can hide websites from Google and Bing search engines as well. Download
4] Website Blocker
Let's assume that you have something important on a particular date and you want to concentrate on your work till that date. At such moment, you should use Website Blocker. This add-on comes with an option that helps you block a particular website until a particular time. On the other hand, you can also block a website permanently. Download
If you often open Facebook, you should notice that you are just scrolling the Facebook feed without any reason. There are many people, who open the Facebook account and keep scrolling. Sometimes they check others' updates and sometimes they just keep scrolling. If you are one of them, you can block Facebook. However, if you need to open Facebook for some work or something important, you can use this add-on that will let you hide the Facebook news feed in Firefox browser.
5] Disable Facebook News Feed
As the name defines, this simple add-on will let you disable Facebook news feed within moments. It will show all the other things like Chat sidebar, groups, saved videos and so on. However, you can find a blank news feed on Facebook website. Download
Like Facebook, YouTube can consume a lot of time. Therefore, you should control how you use YouTube. If you open YouTube frequently for watching useless videos, you should start using this add-on.
6] Magic Actions for YouTube
Magic Actions for YouTube is a great add-on for Firefox that you can use to control your watch time on YouTube. From getting various shortcuts to manage the related videos, annotations etc. you can do everything with the help of this add-on. Download
These are some of the best Firefox add-ons to get rid of online distractions. Hope they would help you to increase your workflow.